Halloween Kills Sets Pandemic Record For Horror & R-Rated Opening
Halloween Kills did indeed stay true to the estimates and will open on top of the box office. The 12th movie in the franchise scored $50.35 million, the best R-rated and best horror opening since the pandemic shutdown theaters in March 2020. While Peacock does not have the same subscriber count as a Netflix or even HBO Max, that it also is available to watch on there and still grossed so strongly is a fantastic achievement. This is also the third-best October horror opening of all time, behind the 2018 Halloween film and Paranormal Activity 3 from 2011. Expect a big drop like normal for horror films as they tend to be front-loaded, but we shall see.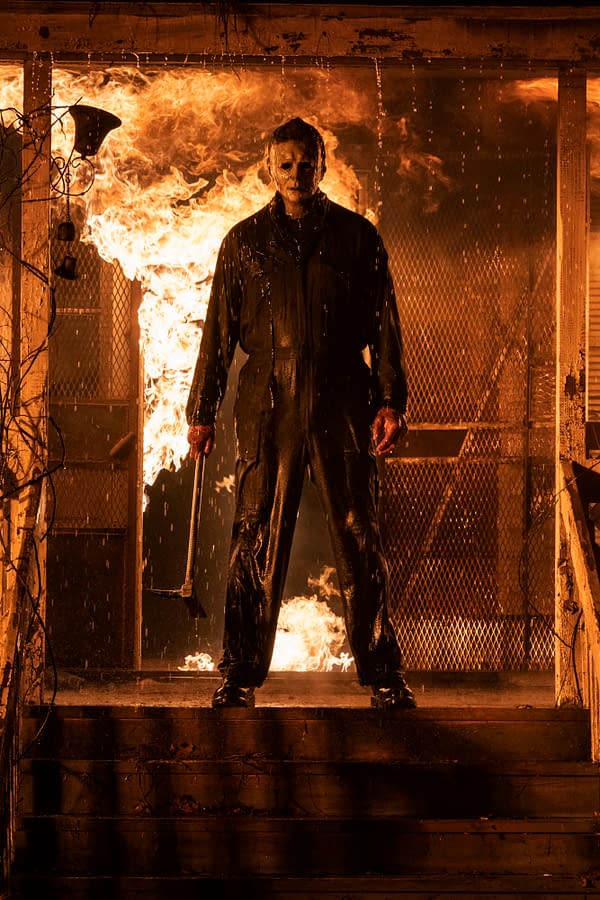 Halloween Kills Slays Bond, Venom Ahead Of Dune Next Week
In second place is last week's champ No Time To Die, the final Bond film starring Daniel Craig. In its second week, it pulled in $24.3 million, pushing it past the $100 million mark in the US. Not too shabby, but the real story is that it has now grossed $447.5 million worldwide, and after next week should overtake Godzilla Vs. Kong as the top money earner worldwide for the year. Bond was no match for Halloween Kills baddie Michael Myers though, who would surely defeat him in a head-to-head fight. In third place, Venom: Let There Be Carnage at $16.5 million, getting it to $168 million after three weeks. Fourth went to Addams Family 2, still hanging in there at $7.2 million. And rounding out the top five is Ridley Scott's The Last Duel, taking in a disappointing $4.8 million.
Next week is the day sci-fi fans have been waiting years for, as Denis Villeneuve's Dune finally comes to US theaters. Overseas where it has opened, it has taken in over $100 million so far, and it will surely beat out Halloween Kills, Bond, and Venom. This past weekend was the third straight week that the box office has crossed $100 million total, the first time that has happened in 18 months. Dune should make it four.