Hell Fest, the Best Horror Film You Didn't See This Year, Hits Digital Dec. 21, 4k Blu-ray Jan. 8
Hell Fest is coming home in time for holiday watching. The slasher flick will hit digital streaming services on December 21, with a 4K/Blu-ray/Digital pack coming to stores on January 8. This did double its small $5 million budget in theaters, but ultimately should have done so much better. We really enjoyed it and are hoping for more, but I guess it might not happen. Also, why they replaced the amazing poster art with this generic cover is beyond me, that is not a very smart decision.
The disc themselves are very bare bones, only including a making of feature and the trailer. It should look incredible in 4K, the haunted house setting was utilized really well and the colors will pop on a good set up.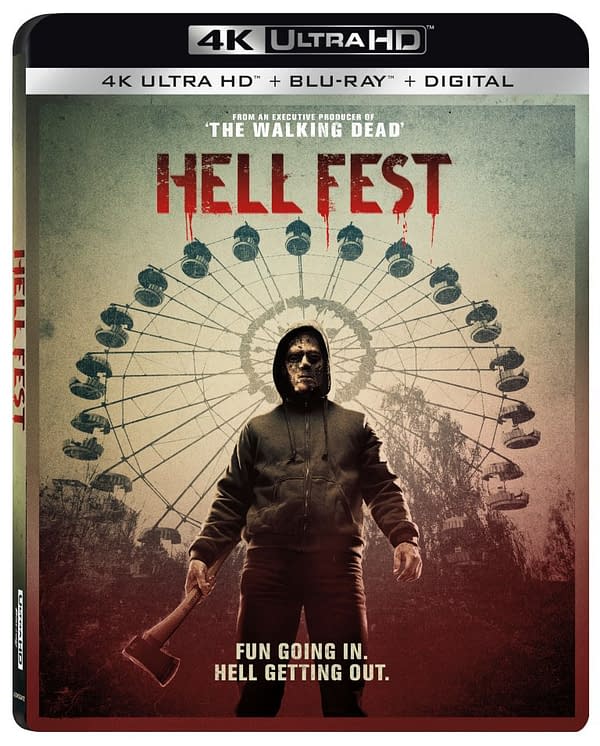 4K UHD / BLU-RAY / DVD SPECIAL FEATURES
· "Thrills and Kills: Making Hell Fest" Featurette
· Theatrical Trailer
Hell Fest, directed by Gregory Plotkin, stars Amy Forsyth, Reign Edwards, Bex Taylor-Klaus, Christian James, Roby Attal, and Matt Mercurio and an appearance by Tony Todd, produced by Gale Anne Hurd, an executive producer of TV's "The Walking Dead," executive producer Tucker Tooley (Limitless, Den of Thieves), with a story by William Penick & Christopher Sey and Stephen Susco, Screenplay by Seth M. Sherwood and Blair Butler and Akela Cooper hits digital on December 21, and 4K/Blu-ray/DVD on January 8.