Posted in: Movies, Review | Tagged: a24, alex wolfe, ari aster, gabriel byrne, hereditary, hereditary review, horror, milly shapiro, toni collette
---
Hereditary Review: A Modern Horror Classic That Will Be Remembered for Years [Spoiler-Free]
[rwp_box_recap id="0"]
Horror fans these days are spoiled. Us Monster Kids are getting challenging, well-made films that set new standards for quality in horror. A Quiet Place, It Chapter 1, Get Out, Raw, and many others have made an impact on audiences and the box office alike in the last year and a half. They have embraced that horror is not a jump-scare-a-minute process (although those still exist, and some of them have also been fun) but an unnerving experience that takes what we believe about the world around us and turns it on its head.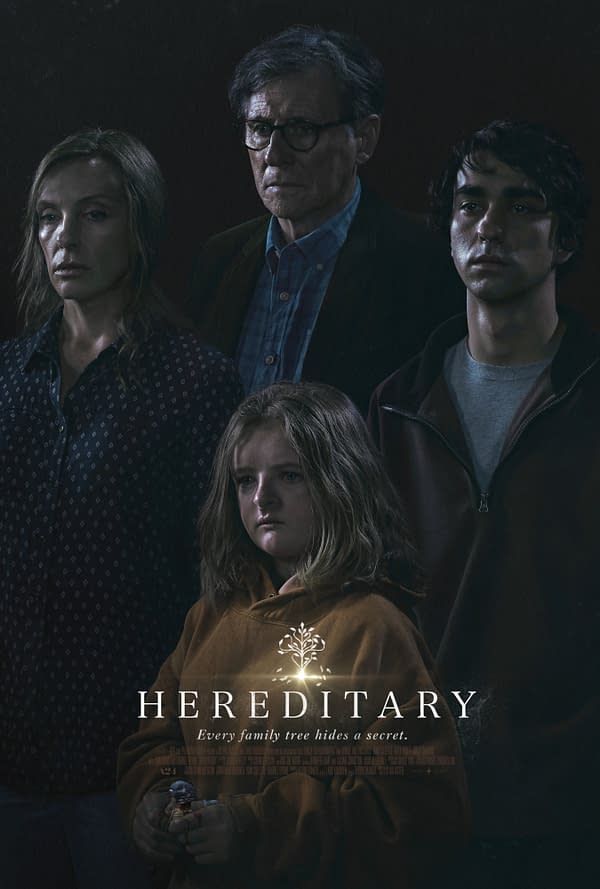 It is into this horror climate that Hereditary is being unleashed into the world. The film follows the Grahams, who are dealing with their grief after the death of their matriarch. Daughter Annie (Toni Collette), her husband Steve (Gabriel Byrne), and her son and daughter (Alex Wolfe and Milly Shapiro) all deal with it in different ways. Annie throws herself into her work, building miniature dioramas with painstaking detail. Steve tries to hold everyone together. Peter smokes tons of weed and hits on girls, seemingly unaffected. And Charlie… well, she was closer to grandma than anyone else. Soon she starts seeing her places. And mutilates a dead bird. And makes frightening sculptures…
The first half of Hereditary is one of the more depressing examinations on how people deal with grief put on film in a long while. Every person perfectly executes their share of the scenes — for once it was refreshing to see an actual family portrayed on screen. This death came at a terrible time for everyone, and their inconvenience coupled with their grief was greatly appreciated. Not everyone handles death the same way, and it cannot be stressed enough how well director/writer Ari Aster handles it all.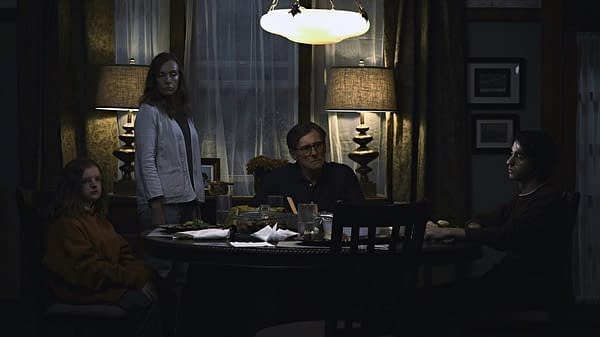 After another horrific event occurs, and things take a sharp turn into the horrific and gothic landscape the trailers promised. You will find zero spoilers here — suffice to say that things get dark. Really dark — the kind of dark that will have you squirming in your seat and maybe turning away when it becomes too much. By the end you realize you have been so engrossed in what is unfolding in front of your eyes that you are not breathing correctly and your fingers hurt from gripping the armrests.
Hereditary is Aster's first feature, and as fans of the genre we need to grab on to him and protect him. His flair for staying with the scene and not relying on quick cuts is refreshing. Staying with the scene, letting it all play out in front of us — that is the key to this film's success. Long-tracking shots have become all the rage as of late, and in horror they work on a level higher than any other genre. The script has wonderful surprises and dialogue that is honest and brutal. Some of the conversations between the family are as horrifying and upsetting as the supernatural goings-on.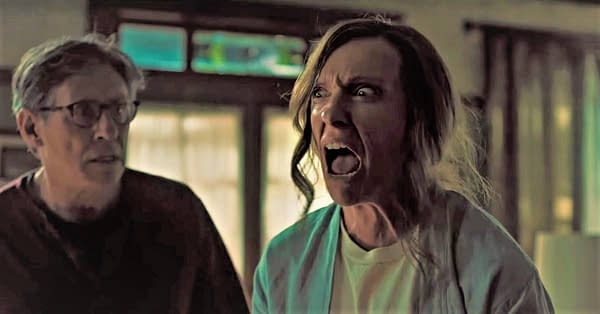 The cast is excellent. There is just something so special about watching actors operating on such a high level. Collette has never been better — her manic nature as the film progresses is a sight to behold. Byrne does some of his best work playing the husband who cannot feel anything but helplessly watch as his life unravels. Both kids are great, with Wolfe standing out especially. Without getting into spoilers, he is asked to do a lot and delivers in spades right up until the end shots. Milly Shapiro does so much with just a look on her face and a click of her tongue.
If dinging this film for anything, it would be that the ending scene feels like an ever-so-slight letdown. After a huge build to that moment, it almost feels anti-climatic. But the journey to get there is so worth it, you will have to see for yourself.
Hereditary will take its rightful place alongside The Exorcist, The Omen, and Rosemary's Baby as horror royalty. Give it a shot this weekend — and hold on tight.
---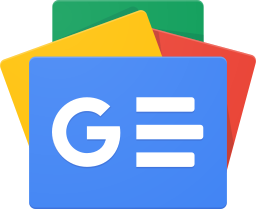 Stay up-to-date and support the site by following Bleeding Cool on Google News today!