John Cena To Star In Animated YouTube Red Show 'Dallas & Robo' With Kat Dennings
John Cena continues his long, slow, (really, it's very slow) climb to the top of the Hollywood mountain with a new role in an animated series from the producers of Robot Chicken.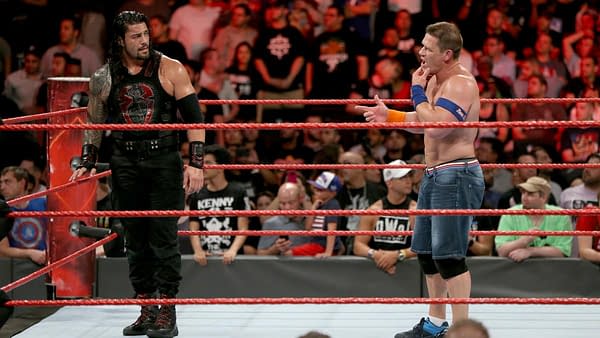 According to a report on WWE.com, Cena will join Thor star Kat Dennings to voice characters in a space buddy comedy to air exclusively on Google's YouTube Red service.
"'Dallas & Robo' centers around sassy space-trucker 'Dallas' (Kat Dennings) and self-proclaimed warrior-poet 'Robo' (John Cena) who must navigate their way around cannibal bikers, rival space truckers, and vending machine burritos as they try to make a buck in the seedy world of interplanetary big-rigging."
Reportedly, the producers originally wanted to make a live-action show, but plans had to be scrapped when they learned cameras couldn't see John Cena. Cena will also serve as executive producer on the project, whose other stars include Jane Lynch, Dana Snyder, Giancarlo Esposito, Clancy Brown, Bree Williamson, Nat Faxon, Taran Killam, and Milana Vayntraub.
"I'm thrilled to join Kat and the rest of this fantastic voice cast for Dallas & Robo," said the pro wrestler and actor who also holds a PhD in the subject of Thuganomics. "The writing for this series is flat-out funny and very creative, and I'm really looking forward to being a part of such a unique, entertaining project."
Dallas & Robo will debut in 2018.