This weekend saw the big press junket for the upcoming Marvel Cinematic Universe entry Avengers: Infinity War and MCU head-honcho Kevin Feige answered some questions about the possibility of another galactic character getting a spotlight.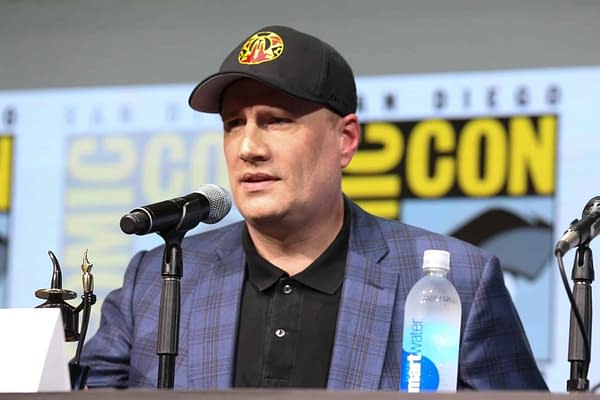 Specifically, that Feige addressed the likelihood of character Nova getting the spotlight at some point:
"Nova is… if we have a big board with a bunch of characters that have more immediate potential, Nova is on that board. Because of the connection to the Guardians universe, because there are more than one examples to pull from in the comics that are interesting. And you're absolutely right, he was in the earliest drafts of the [Guardians of the Galaxy]."
Unwilling to go into further details (you TEASE, Kevin!) about any timeline for such plans to happen, there were some mentions of the immediate future (possible team-ups and the like) of the MCU following the events of Infinity War:
"It'll vary movie by movie. You can't do that [big epic team ups] every two years. You're fooling yourself. You're fooling yourself but I love that our most recent movie was almost as self-contained as anything we've ever done in Black Panther and it was successful beyond our wildest dreams. It all just depends on the story."
Feige was also asked about some of the existing characters being chosen for feature films vs the Marvel Television empire:
"It's the internal group of us at Marvel Studios and then, of course, conversations with Alan Horn, the chairman of the studio, and it varies. It varies in terms of characters who audiences like and want to see more of, which is how you get to Ragnarok, or characters that we know are great and have wonderful supporting characters and literal worlds that we can tap into like Panther and Wakanda. So, it always varies. Now, we're at a point where there are a lot of both."
For the expected "what's next" end question:
"We're figuring those things out. It is a very unique embarrassment of riches right now because there are so many of the characters that audiences are clamoring to see more. The question is how do we show them all?"
Avengers: Infinity War opens worldwide on April 27th 2018.
Enjoyed this article? Share it!