Posted in: Movies, SYFY, Trailer, TV | Tagged: Anthony C. Ferrante, bleeding cool, cable, Cassie Scerbo, comedy, fantasy, film, Ian Ziering, Lavalantula, movies, sci-fi, Scotty Mullen, sharknado, sharknado 2: the second one, Sharknado 3: Oh Hell No, Sharknado 5: Global Swarming, Sharknado: Heart of Sharkness, Sharknado: The 4th Awakens, streaming, syfy, tara reid, teaser, television, The Last Sharknado: It's About Time, time travel, trailer, tv
---
Watch a Teaser for the Emmy-Eligible 'The Last Sharknado: It's About Time'
With Syfy claiming that its sixth visit to the franchise well will be its last (at least until Day+4 ratings post), we have an official title and teaser for the finale to the Sharknado universe: The Last Sharknado: It's About Time.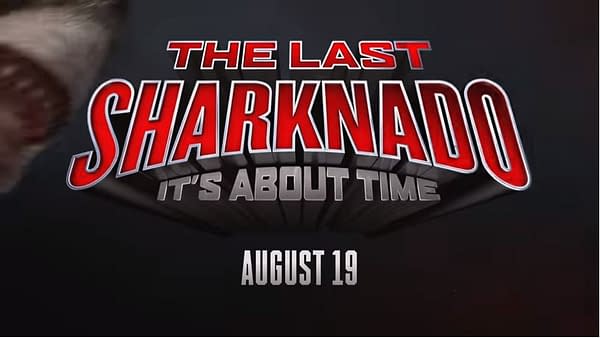 Premiering Sunday, August 19th at 8 p.m. ET, the film with the hopefully not ironic title sees Ian Ziering, Tara Reid, and Cassie Scerbo returning, with Ziering's Fin Shepard going back in time to keep the five previous movies from happening (insert own joke here). If time travel isn't enough for you, the film also features Nazis, dinosaurs, knights, and — why not — Noah's ark. Sharknado 6 is under the directorial care of Anthony C. Ferrante, and based on a screenplay by Scotty Mullen.
Our hero Fin (Ian Ziering) has battled sharks all over the globe, but in this last installment he will tackle the final shark-tier — time travel. In the ending moments of SHARKNADO 5: GLOBAL SWARMING, Fin was seen wandering alone on Earth after it was destroyed. Now he must travel back in time to stop the Sharknado that started it all. Will Fin and the gang be able to set everything right and save the world once and for all? A production of The Asylum, THE LAST SHARKNADO: IT'S ABOUT TIME is directed by Anthony C. Ferrante, based on an original screenplay by Scotty Mullen.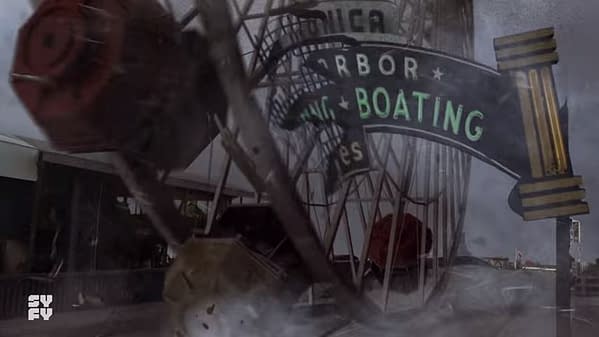 The film's premiere caps a week of programming Syfy's calling "Sharknado Week," running from August 12th to August 19th on the network. Back for its fifth year, the 2018 edition kicks off with Deep Blue Sea 2 and continues throughout the week with such shark-themed popcorn classics as Nightmare Shark and 6-Headed Shark Attack.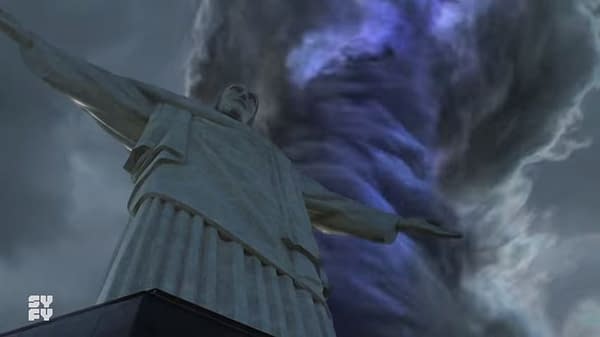 The Sharknado franchise began in 2013 with the original film. Over the course of the past few years, we've been either treated to/threatened by (depending on how you look at it) Sharknado 2: The Second One (2014); Sharknado 3: Oh Hell No! (2015); Sharknado: The 4th Awakens (2016); and Sharknado 5: Global Swarming (2017). The series also spawned a "mockumentary" (2015's Sharknado: Heart of Sharkness); and the same-universe-set Lavalantula, which included lava-breathing tarantulas and Steve Guttenberg (Police Academy) as washed-up action star Colton West.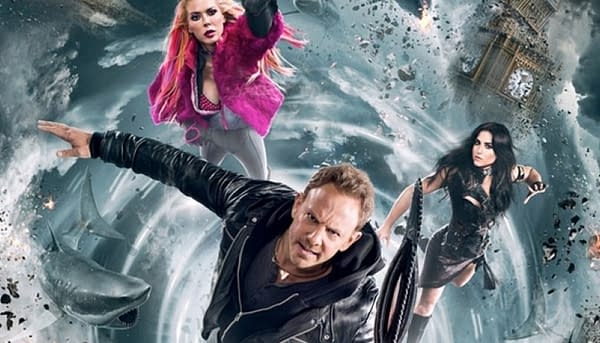 ---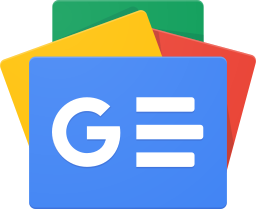 Stay up-to-date and support the site by following Bleeding Cool on Google News today!