LIVE From 'Star Wars: Episode IX' Panel At Star Wars Celebration Chicago [SWCC]
It's here, Star Wars fans! The panel we've all been waiting for- the Star Wars: Episode IX extravaganza live at Celebration.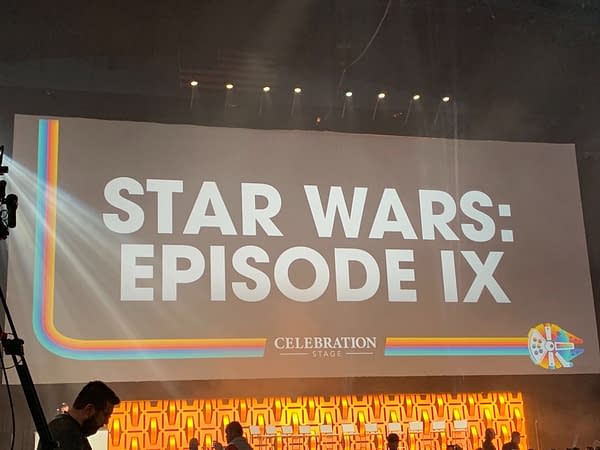 We'll be reporting from the room where it happens, the Wintrust Arena beginning at 11am (CMT) to bring you the news we're hoping gets announced today. You know, like the title of the film? A poster? A TRAILER?!
And yes, Star Wars.com will be live-streaming the panel, which you'll be able to watch here. (We'll update with the direct link when it goes live, probably an hour before the panel.)
We've seen what amounts to a GIANT TEASE of the poster, or at least some imagery from the film by way of the beautiful and giant poster mural currently set up in the main hall. The piece covers all the films in the trilogies so far, as well as a covered final panel that we're assuming will be revealed today.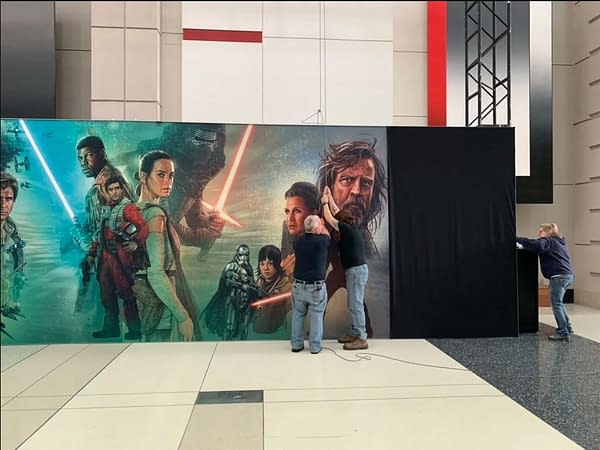 ***
Warwick Davis is here, he'll be our host again, having done the duties for the last 20 years.
Ask him questions via Twitter with hashtag #AskWD.
Thank you Sir who handed me this snack!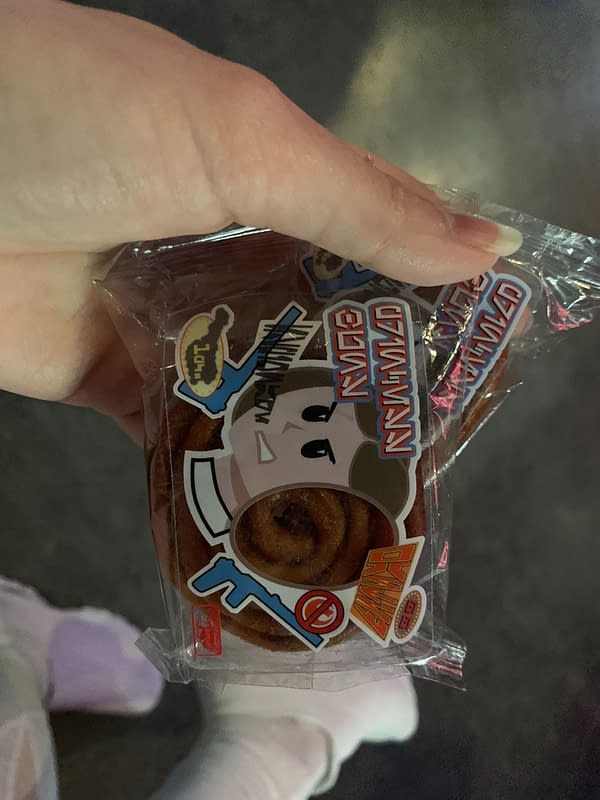 And we were treated to Samantha Alleyne, the first female Storm Trooper in Star Wars who gifted some young ladies who love the troopers.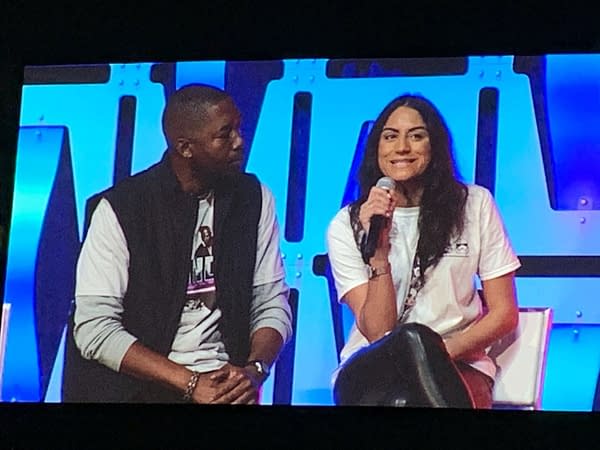 This room is electric, describing the volume and amount of lightsabers is near impossible. We're so thrilled to be sharing this experience with so many diehard fans.
HERE WE GO.
Some amazing BTS and outtakes from "Star Wars" from the cockpit.
Not a dry eye in the house.
Stephen Colbert is hosting the damn panel!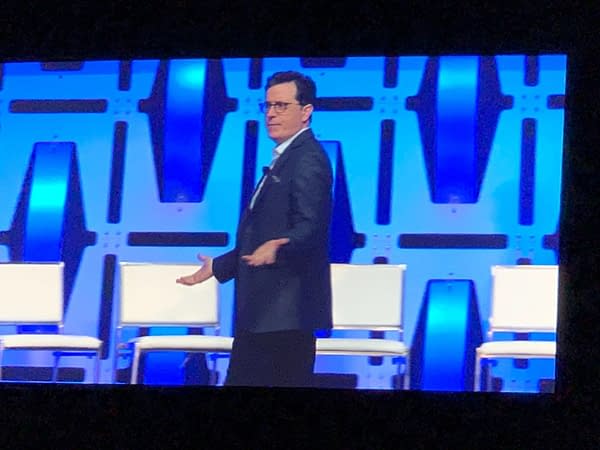 Apparently JJ asked him to come specially to host due to his visiting the set.
Kathleen says this is indeed the third chapter's end. She says she thinks fans will be so happy, and that JJ "cares more than anyone she knows".
JJ answered calls from the crowd of "I love you," with thanks. He spoke a bit about the editing process.
"We couldn't fill the void of Carrie. She was the best, she was glorious," JJ says. "Every day it hits me that she's not here because we're working with her everyday [with the unused The Force Awakens footage]. Princess Leia lives in this film."
Anthony Daniels and an R2 unit take the stage. He refers to 3PO as his best friend, and says he'd want a friend who cares about him as much.
Daniels has a book coming tomorrow, he wanted to call it "Telling the Odds" but his publisher wouldn't go for it. (11:30am tomorrow for the real title.)
Billy Dee Williams is here!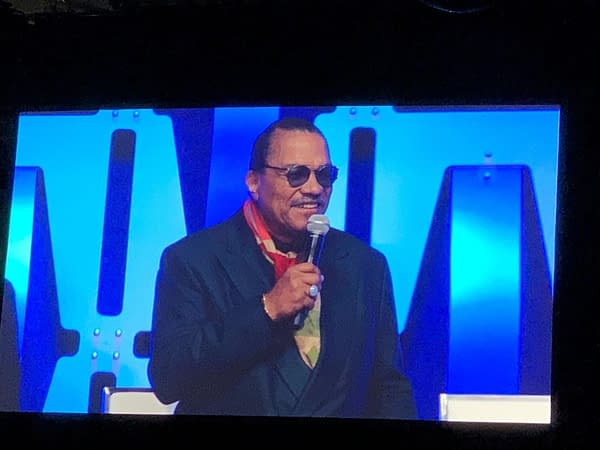 "Lando never left me," he says.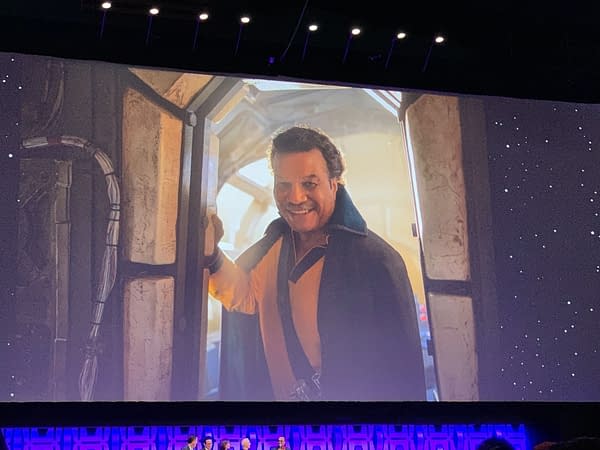 Daisy Ridley, Kelly Marie, Jo Boyega, Oscar Isaac, Joonas, BB8, and Naomi Ackie are here!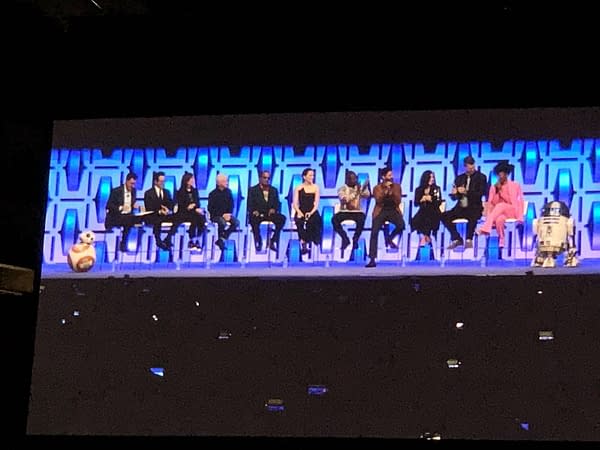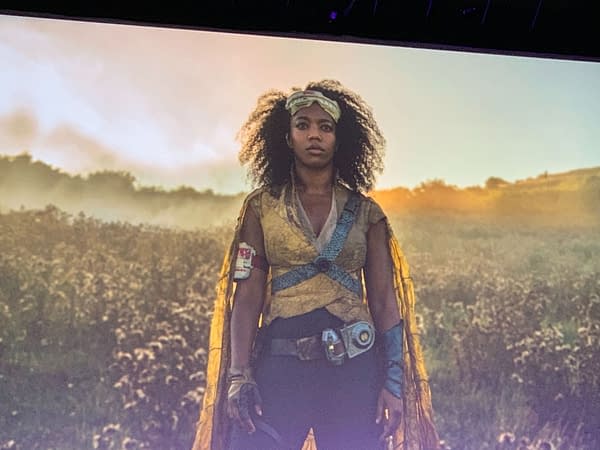 Ackie's character is Janna, and she may or may not be Lando's daughter.
John says Finn is now a full fledged Resistance member.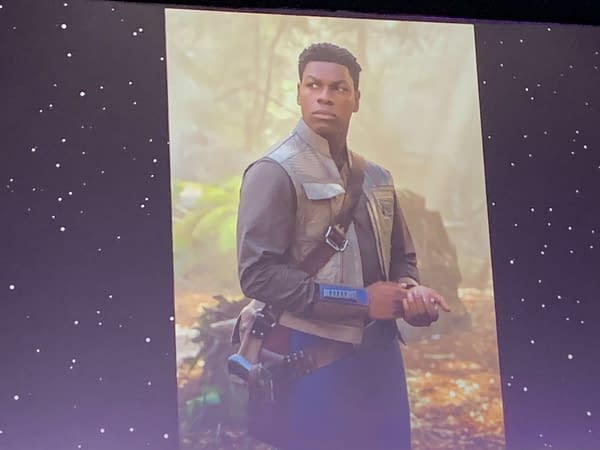 Oscar was asked if Poe was a better pilot than Han. "Poe is better Uber driver."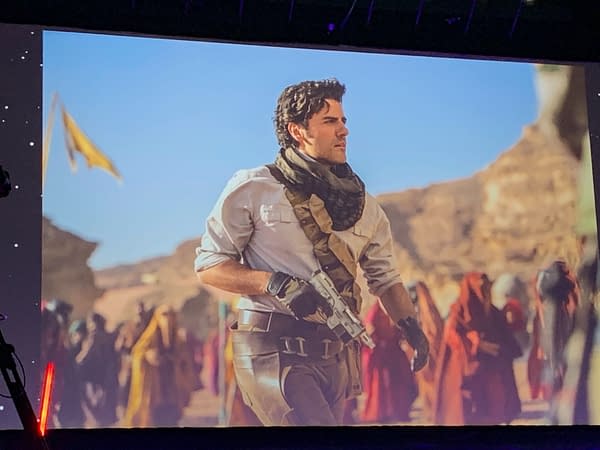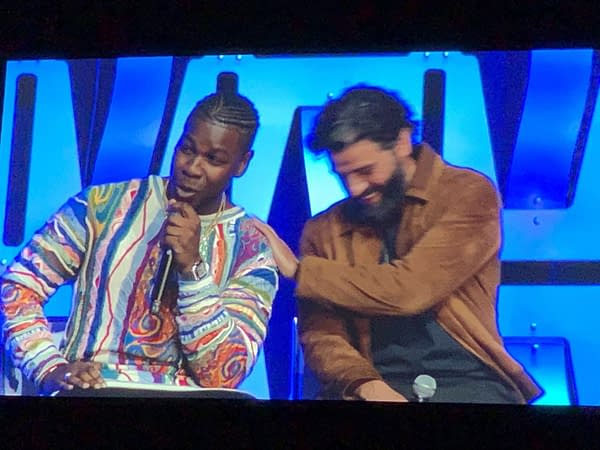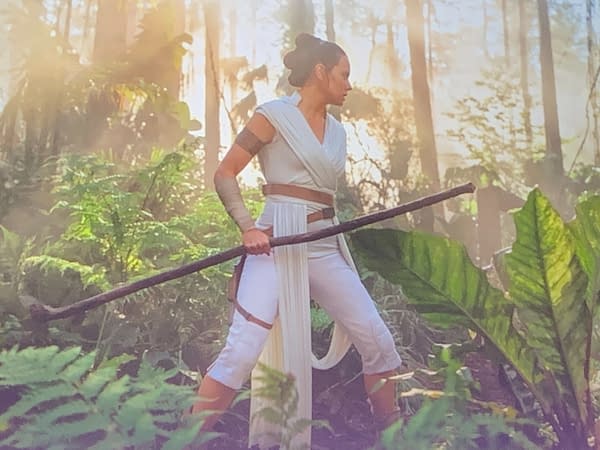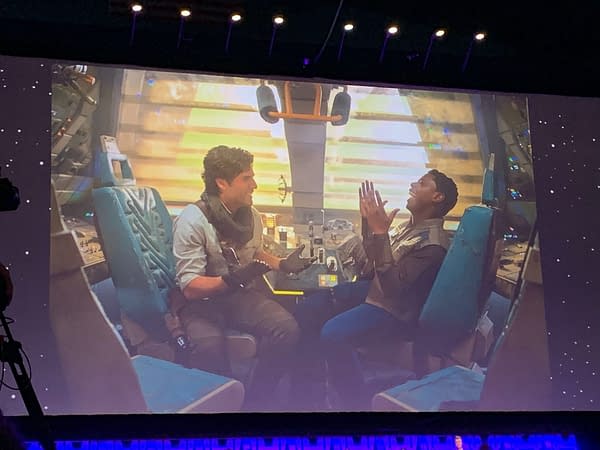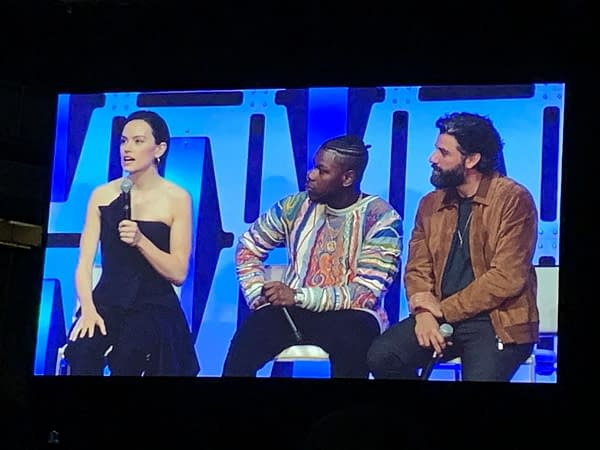 Daisy is adorable, and is the crowd sang her happy birthday!
Daisy says that luke's Lightsaber lives on!
she also says no more partially naked Kylo Ren, to which Oscar says "yeah, only FULL naked."
kelly Marie got the biggest cheer from the audience, and got a little emotional.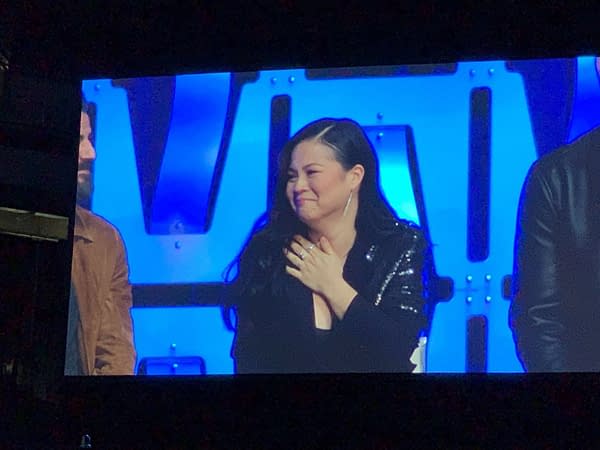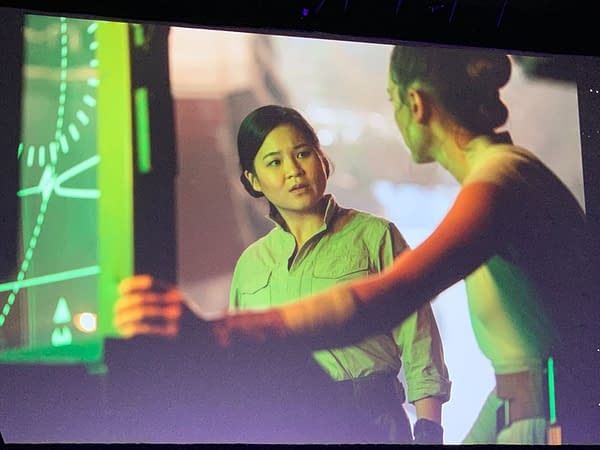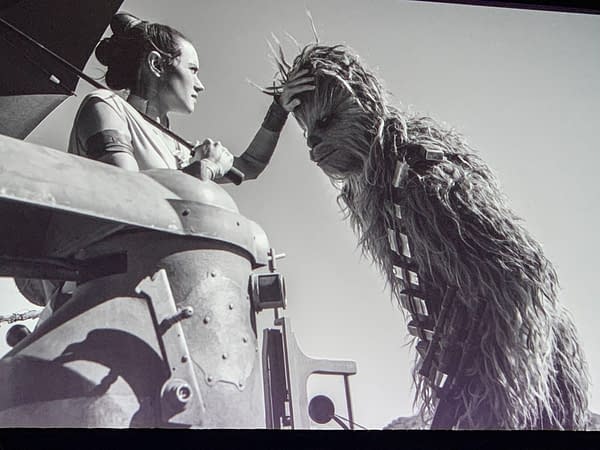 Joonas is wonderful, and tells his first experience of seeing Chewbacca for the first time.
More characters from set are shown, including Gred Gruberg!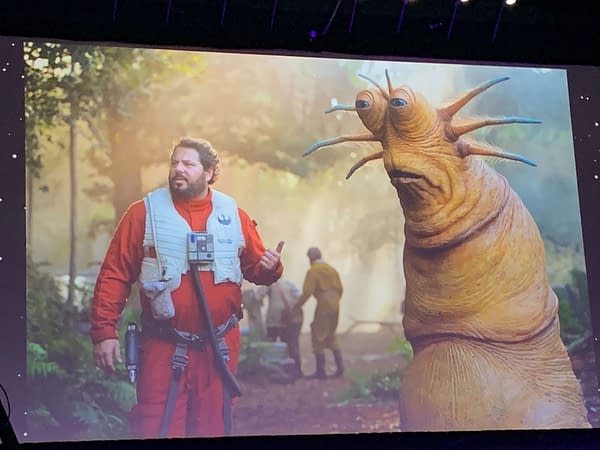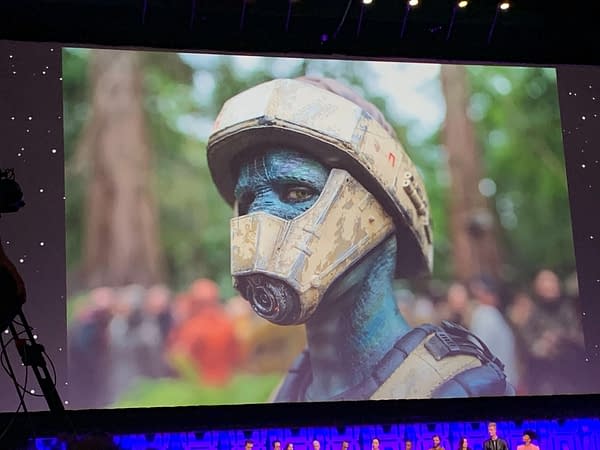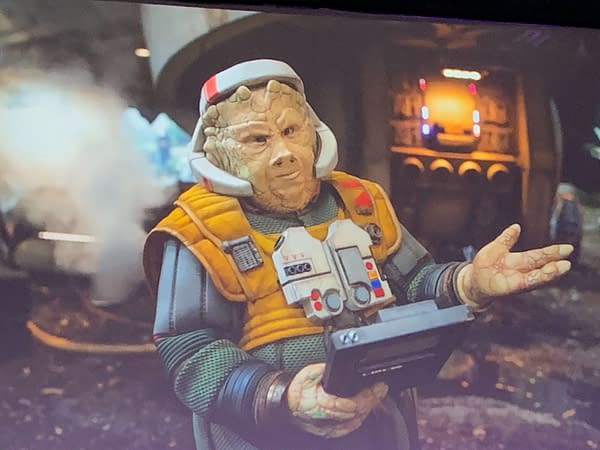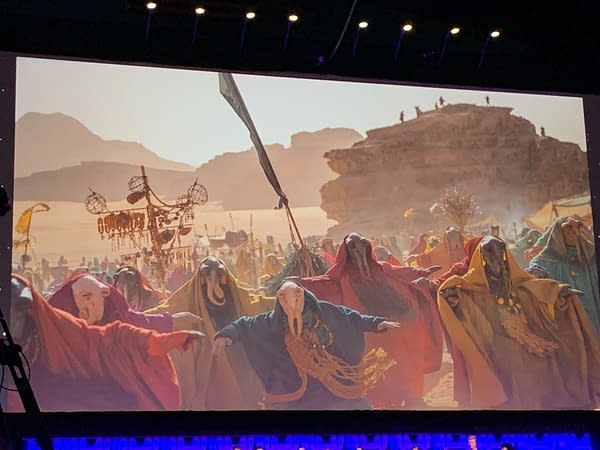 We have our title!!!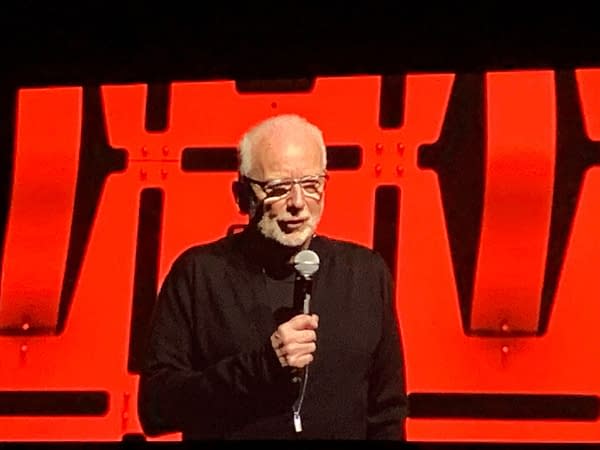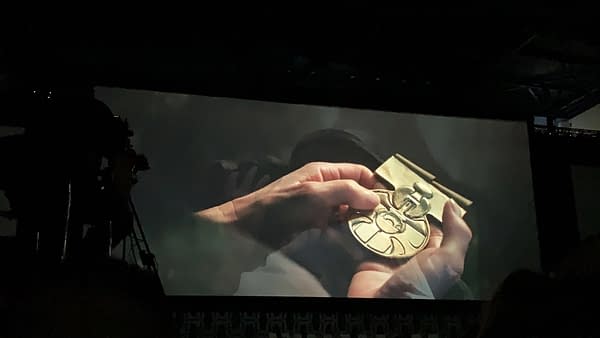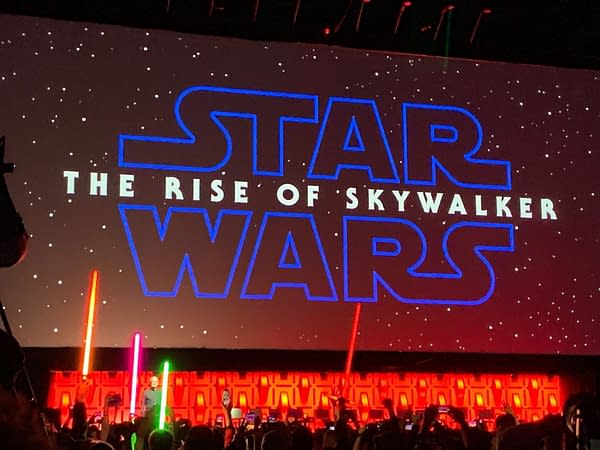 ***
JJ Abrams directs Star Wars: Episode IX from a script by Abrams and Chris Terio. It'll star Daisy Ridley, Adam Driver, John Boyega, Oscar Isaac, Kelly Marie Tran, Mark Hamill, Billy Dee Williams, Keri Russell, Richard E. Grant, Naomi Ackie, Lupita Nyong'o, Domhnall Gleeson, Joonas Suotamo, and the late Carrie Fisher.
It'll hit theaters on December 20th, 2019.