Matthew Vaughn Reveals Mark Millar Working on a Millarworld Crossover TV Show For Netflix
Matthew Vaughn created the Secret Service comic books with Mark Millar and Dave Gibbons, which span into the Kingsman movies, of which the third, the prequel The King's Man, is about to come out.
The cast and crew of The King's Man have been attending New York Comic Con, where they gave an interview, telling stories about films – and comic books.
Talking about the politics of his films, and working with Mark Millar's comic books, Vaughan said that these days, 'people need a moral compass very strongly, the politicians aren't statesmen any more, they're not role models like they used to be, stories should have a moral code, you should learn from it and be inspired by it – and not bored by it.'
But being pressed as to whether there could be a Millarworld live-action crossover, he said
That would be Mark Millar's dream, Mark loves self-promotion more than anyone I know, he'd love to put all his characters in a mashup, I think with Netflix, he's going to do that with all the characters he has there.
Mark Millar sold his Millarworld to Netflix for around 35 million dollars – but that didn't include titles that already had been made into films, such as Kick-Ass, Hit-Girl, Kingsman and Wanted. Which is also why, even though he still publishes those titles through Image, he is not allowed to write them, or fall foul of his contract, Which is why Vaughan is making these new movies without him.
But as for the Millarworld titles that Vaughn works with,
Who knows, Kings Man and Kick Ass are both based in reality, they could come together, it would be weird. Hit Girl might date Ralph [Fiennnes] – the Duke Of Oxford – one day.
A perfect moment to close your eyes in discomfort, Ralph… but he had his own comic book likes to drop, talking about reading the Beano, Dandy, Commando Warlord, Victory, Eagle, and realising now that a lot of the themes of those comics were historical as well, and how a lot was still riding on the Second World War. he also expressed his own love of graphic novels, especially literary adaptations such as Crime & Punishment – but he was a real fan of the Asterix books too…
The King's Man is out in February 2020.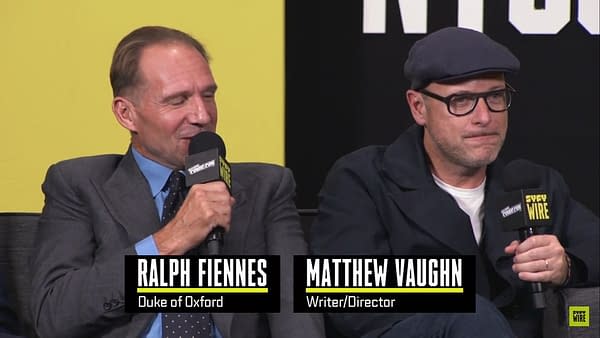 Catch up with all Bleeding Cool's New York Comic Con coverage with this handy category stub. Bookmark it now… and keep refreshing.