The first Kingman movie kind of came out of nowhere. It was a February release, usually a dumping time for movies that aren't explicitly designed for Valentine's Day, that didn't stand a chance of winning the weekend against the adaptation of Fifty Shades of Grey. However, everyone involved seemed to know that and kept the budget within a reasonable number, and no one seemed to mind that it took second place. What was interesting about Kingsman was that it stayed in the number two spot because of the good reviews and good word of mouth. The second movie, however, did not do nearly as well in terms of the box office, with critics, and with audiences. There was a chance that it was the end of the series, but it seems not. We are getting the prequel, titled The King's Man, but it's been a bit of a rough rode to get to the big screen. The movie has been delayed twice already, once from November 2019 and again from February 2020 to the current release date of September 18, 2020. We got a new poster and trailer today, which tells us a bit more about the story.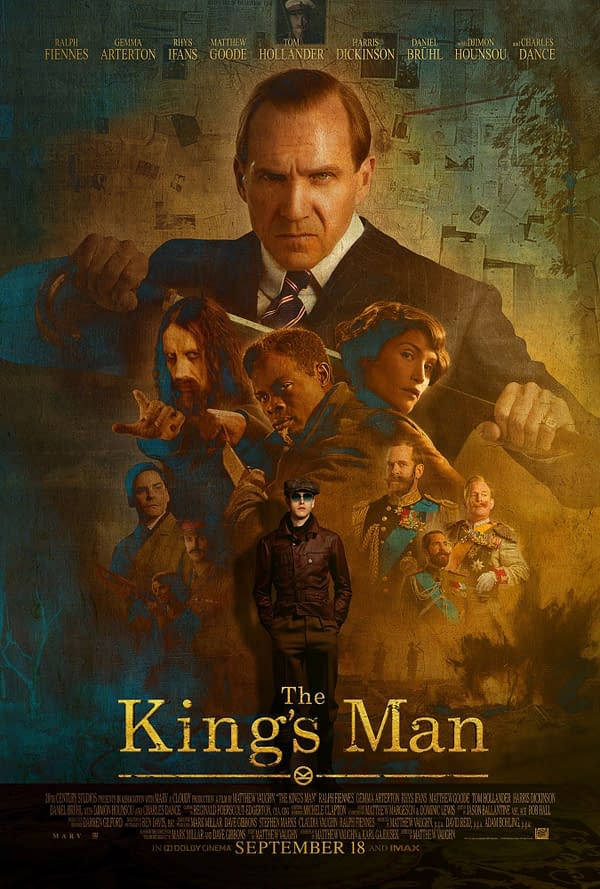 The King's Man is one of the movies that got caught up in the Fox-Disney buyout, which did play a role in it getting delayed. Now the question becomes whether or not COVID-19 is going to get this movie delayed again in September. Who knows if people will be going to film by the time September gets here.
As a collection of history's worst tyrants and criminal masterminds gather to plot a war to wipe out millions, one man must race against time to stop them. Discover the origins of the very first independent intelligence agency in "The King's Man."
The King's Man, directed by Matthew Vaughn, stars Ralph Fiennes, Matthew Goode, Harris Dickinson, Djimon Hounsou, Gemma Arterton, and Aaron Taylor-Johnson. It will be released on September 18, 2020.
Enjoyed this article? Share it!