Check Out the New Trailer and Poster For Pet Sematary
Horror fans are in a tizzy over this mornings reveals of the new trailer and poster for the remake of Stephen King's Pet Sematary. Eerie and atmospheric, this trailer has me all excited all over agin for it to come out. Check out both the trailer and poster below. Also: if you want to go in spoiler free: DO NOT WATCH THIS. THERE IS A CHANGE REVEALED HERE THAT IS A BIG DEAL.
Based on the seminal horror novel by Stephen King, Pet Sematary follows Dr. Louis Creed (Clarke), who, after relocating with his wife Rachel (Seimetz) and their two young children from Boston to rural Maine, discovers a mysterious burial ground hidden deep in the woods near the family's new home. When tragedy strikes, Louis turns to his unusual neighbor, Jud Crandall (Lithgow), setting off a perilous chain reaction that unleashes an unfathomable evil with horrific consequences.
King himself has always had a weird history with this novel, based on his past quotes about it:
"I found the result so startling and gruesome that I put the book in a drawer, thinking it would never be published. Not in my lifetime, anyway." King wrote in a 2000 introduction for the paperback. His wife, Tabitha, and editor convinced him otherwise, but the uncertainty has lingered, even though the book is sacred to many of King's readers.

"I'm particularly uneasy about the book's most resonant line… 'Sometimes, dead is better,'" King wrote. "I hope with all my heart that that is not true, but in the nightmarish context of Pet Sematary, it seems to be. And it may be okay. Perhaps 'sometimes dead is better' is grief's last lesson."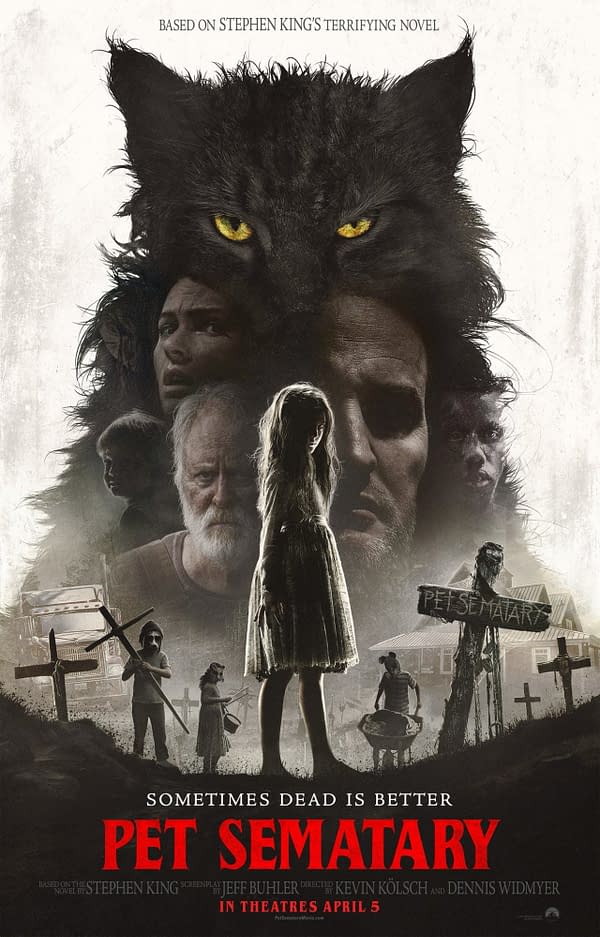 Pet Sematary is directed by Dennis Widmyer and Kevin Kölsch, and stars John Lithgow, Jeté Laurence, Jason Clarke, Amy Seimetz, and Hugo Lavoie and Lucas Lavoie hits theaters on April 5th, 2019.