Matt Lambros writes for Bleeding Cool:
"The Heart, She Holler" panel started with an amusing if not a bit confusing episode of season three. Moderated by Jon Glaser (Councilman Jamm on "Parks and Recreation"). The panelists entered to the "America's Funniest Home Videos" theme song and consisted of John Lee (Creator), Alyson Levy (Creator), Amy Sedaris (Hurshe Heartshe), Scott Adsit (Sheriff), and Judith Roberts ("Meemaw" Virginia Dare).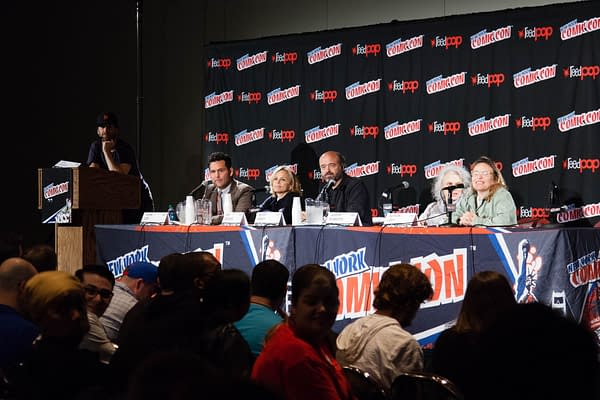 After asking if we wanted to hear the theme song again, Glaser immediately went to audience Q&A. The first question was if they were going to have another ad campaign similar to the second seasons, because it gave the audience member nightmares. Another audience member asked Amy Sedaris if there was any chance of doing something more with "Strangers with Candy," perhaps a reunion show? Sedaris replied that she still sees Stephen Colbert and Paul Dinello from time to time, but no, that will not happen.
When asked what her favorite thing was about the show, Sedaris replied that it was watching Scott Adsit recite the dialogue. He usually has to memorize pages and pages of non sequiturs. In a reply to the same question, Roberts found the dialogue to be similar to classical acting. She really had to think about the words before saying them and it helped to make it a very enjoyable place to work.
Season three of "The Heart, She Holler" premieres on December 1, 2014 on Adult Swim.
Enjoyed this article? Share it!