Pennywise Returns to SDCC at ScareDiego, Along With The Nun and Curse of La Llorona
ScareDiego was held for the second time at SDCC Wednesday night, with New Line bringing footage from two James Wan-produced films The Curse of Llorona and The Conjuring Universe entry The Nun. Most-anticipated however was the promise of something from IT: Chapter 2. Wonderfully hosted by Rotten Tomatoes Senior Editor Grae Drake, we were off to the races with a behind-the-scenes look at the return of Pennywise.
What we saw was a quick three minute look that included the first looks at the adult cast in full-on Losers Club mode. Jessica Chastain, Bill Hader, James McAvoy, Jay Ryan, James Ransone, Isaiah Mustafa and Andy Bean all look like they have been pretty perfectly cast as the adult versions of the kids, especially Chastain and Hader. Just from the little bit we got it looks like this may be Hader's film to shine in. We see them all meet in a restaurant, with Hader's Ritchie saying to them "What do you all want to talk about?" which got a big laugh in the room. We see Bill Skarsgard back in the Pennywise make-up, looking as menacing as always. September 2019 can't come soon enough.
Next we got to see some scenes from The Curse of La Llorona, from director Michael Chaves. This one stars Linda Cardellini, Raymond Cruz, and Patricia Velasquez. It is based off a Latin folktale about a ghost of a weeping woman who tries to take children's lives after losing her own and haunting anyone who gets near her. Set in the 70's, the scenes were very creepy, if not a tad over-reliant on telegraphing the scares with a loud score in one of them.
Cardellini plays a single mom of two, who notices that a case she is working on in her job as a social worker shares a lot of similarities with things happening to her own, and slowly comes to realize it is La Llorona. The best of the scenes shown featured the demon attempting to take the life of Cardellini's daughter while taking a bath. It is intense, agonizing to watch, and had the audience squirming in their seats. This one has the potential to surprise when it opens on April 19th of next year.
Last was The Nun, and talk about creepy…after the footage was shown the lights came back up to a theater full of faceless nuns creeping everyone out. Chills. As for the footage itself, it looked really strong. Demián Bichir is always a welcome addition to any film, and his Father Burke is sent to investigate the suicide of a nun in Romania. Along for the ride is a Taissa Farmiga as a novice who has not yet taken her vows. While there, they encounter a supernatural being, The Nun. The footage was introduced by director Corin Hardy and looks like it will fit right in with the rest of the Conjuring films: spinning crosses, demonic imagery, misdirection, and the promise of some doozy twists. I was on-board already, but this sold me.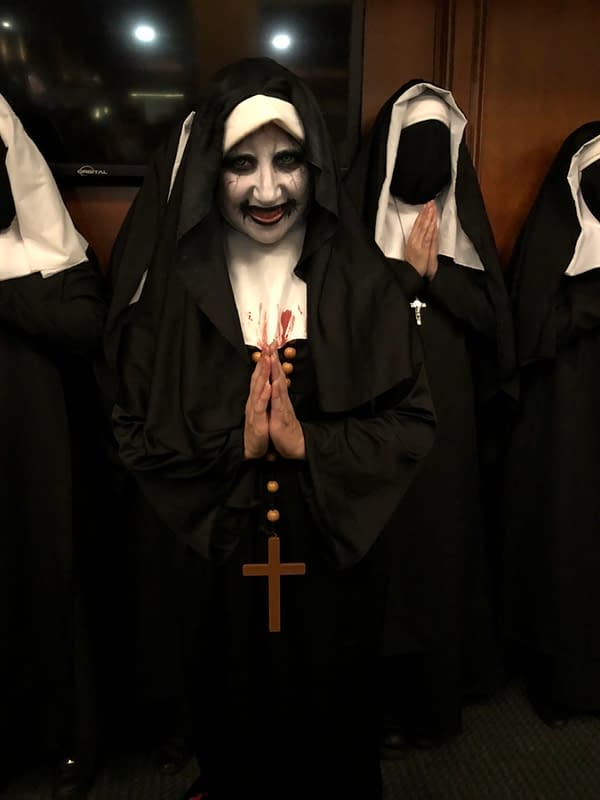 The Nun was waiting for us in the lobby, but I managed to get away. We might not be so lucky when it hits theaters on September 7th.