Megan Fox Stars As A Mercenary In New Film Rogue, Coming August 28th
Megan Fox stars in new action-thriller Rogue as a mercenary who not only has to deal with rebels in a foreign land, but also a pack of enraged lions. The film also stars Greg Kriek, Jessica Sutton, Calli Taylor, Brandon Auret, Adam Deacon, and Sisanda Henna. The film is co-written by M.J. Bassett and her daughter Isabelle Bassett, with the former taking the directorial duties as well. While Rogue seems to have a…silly premise, but before the lions get involved, this sounds like it could be a competent thriller. But then, the lions. Watch the trailer for Rogue below.
Rogue Synopsis & Poster
"Megan Fox (Transformers franchise) tackles a thrilling new role as a battle-hardened mercenary in this explosive action saga. As team leader O'Hara, she leads a lively squad of soldiers on a daring mission: rescue hostages from their captors in remote Africa. But as the mission goes awry and the team is stranded, O'Hara's squad must face a bloody, brutal encounter with a gang of rebels — and the horde of ravenous, enraged lions they encounter."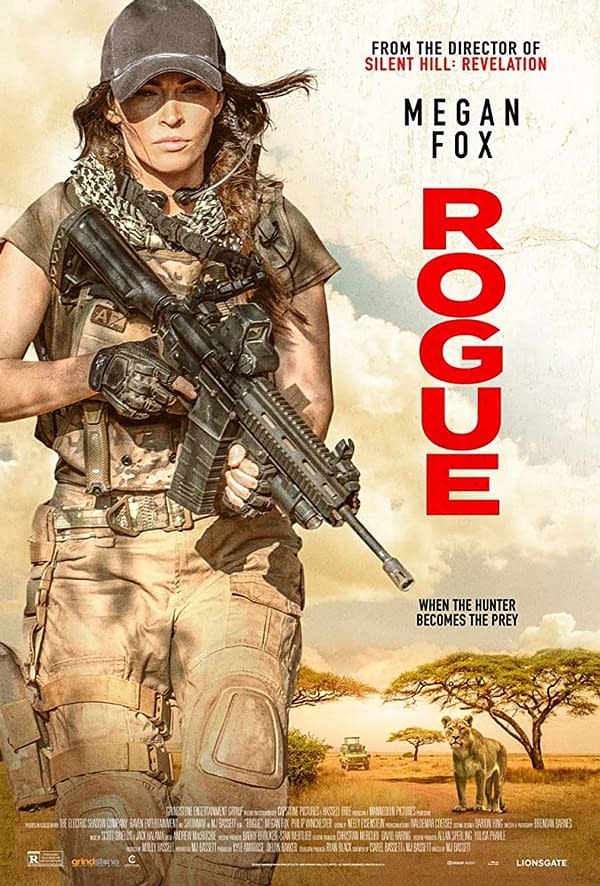 "Rogue is the story of a small mercenary unit of soldiers who have been engaged by the governor of an African country to rescue his daughter who has been kidnapped by an Al-Shabaab-type organization," says the film's director and co-writer M.J. Bassett in an interview with EW. "This unit go in, there's more than one girl so their plan is immediately compromised, and their extraction goes wrong. So, suddenly they find themselves on the run from the bad guys, looking for refuge in Africa, and come across an abandoned farm, or they think it's abandoned. While they're hunkering down they realize that the farm was used as a poachers' stronghold and a breeding place for lions for the hunting industry and the East Asian medicinal market. And though the lions seem to have escaped, there's clearly one still around. So, suddenly they realize they have no ammunition and they are very much the bottom of the food chain, and they have to survive the night before the bad guys arrive, the lion gets them, and the extraction can happen."
Look, I don't know. This has all the markings of a film that would have seen theatrical release in September and led the weekend with not a lot of money before another, bigger movie came out. In any case, you don't have to wait to see this in a theater. Rogue releases August 28th on demand and digitally, and then on Blu-ray and DVD September 1st.