"Scream 5" Rumor Suggests Original Cast is Being Pursued
There's been a lot of buzz surrounding the prospect of another Scream film by Spyglass Media Group, with little information about the plot — aside from their interest in making a new Scream. Though we've all had our opinions about what Scream 5 should focus on, a new rumor suggests that the production company is eyeing the cast of the film series to make a comeback for another Ghostface encounter.
After Spyglass acquired the rights to Scream and the story broke about more horror in our future, the biggest outcry from fans seemed to be following the original narrative of Sidney Prescott. After four films and plenty of interest in more, Scream was one of the only horror franchises that hadn't taken the easy reboot route and it hasn't gone unnoticed. The films have always thrived in that self-aware meta-horror, so with news of another Scream meant we were even more hopeful it would continue down a path that had been established by the late director Wes Craven and Kevin Williamson.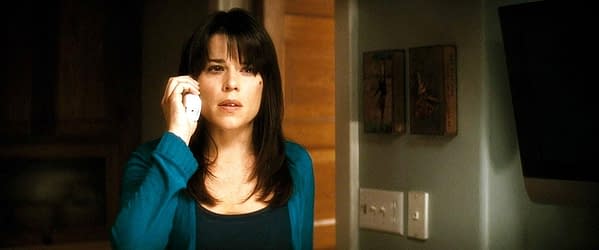 A new report states that while nothing is officially decided on (more labeled as rumor mill material) producers of the next Scream movie are actively interested in reviving the franchise with Neve Campbell, Courtney Cox, and David Arquette. If true, this could mean that the response from fans has been something Spyglass is very aware of, and could potentially give us more hope for their take on the iconic horror film series.
Despite the fact that this is strictly a rumor, if there's any substance it would mean we are one step closer to seeing the trio reunite for one more stab at the Scream franchise. What are your thoughts on Scream 5 bringing back our favorite survivors? Are you excited about a chance for more Sidney vs Ghostface?
Let us know your thoughts below!