Scream Factory's Critters Box Set is a Must Own
Scream Factory's Critters Blu-ray box set is available now, and they sent us over one to take a look at. We were impressed with the results!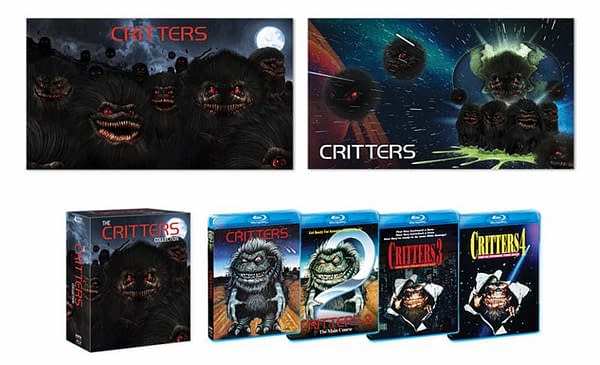 Films:🍿🍿🍿
These are not awesome films at all really, but they have their charms that is for sure. The first one is of course the best, and it gets the most love in the set. The first one is a ton of fun, and nobody can ever deny that the designs of the Critters themselves are fantastic. I have lost count of how many times I have seen that first film, it is a horror classic. The other three: not so much. Look, everyone knows that these are not good films whatsoever. What each one is however is entertaining. They steered way too into Gremlins territory at times, but not always in a bad way. The third of course is most known for starring a young Leonardo DiCaprio, and the forth is a ton of fun to watch with a group of people. Grab a six pack and a bunch of friends and have a great time.
Picture Quality:🍿🍿🍿🍿
These look so much better than they really have any business looking. One and two in particular have new 2K scans, and the effort is appreciated. Everything looks crisp and clear, and completely enhanced. Two has the least amount of grain, and looks the best of the four overall. Three and four are taken from hi-def transfers, and they also look pretty great. Three looks less sharp than four weirdly, but both feature a bit of a bright look to them. Way better quality than you would have ever expected.
Sound Quality:🍿🍿🍿
Nothing bad, nothing spectacular. A respectable sound system will highlight both the quality parts of the tracks and some of the shortcomings. While two features the best picture quality, the sound is most lacking. There were some weird pops about a 1/4 of the way through on my disc for three as well, and that was annoying. The best sounding on my set up was actually part four.
Special Features:🍿🍿🍿🍿🍿
This is where Scream Factory really knocks this release out of the park. Every film gets a ton of respect and plenty of featurettes and trailers and photo galleries. A good box set should take you longer to get through all of the features than the films, and I didn't have a problem with that. The first Critters gets the most love of course, but all three have features on each disc. Superb job on this one.
Overall, these cult classics are a huge amount of fun to watch, especially with a big group of people. This is a series that has very devout fans and it is really awesome that they got the box set they have always been clamoring for. With a new film coming soon, this is a great time to pick this up and see if you can love the furry little creatures yourself.
You can order yourself a copy right here.