Scream Producer Kevin Williamson on Kirby's Return to Scream VI
Kevin Williamson recently offered insight on the return of Hayden Panettiere in Scream VI and suggested her role will be shrouded in secrecy.
---
With an epic trailer for Scream VI out now (also known as Scream 6, depending on your stylistic preference), we've all become privy to the highly anticipated return of Kirby Reed, played by Hayden Panettiere. That said, we won't go down the entire rabbit hole of Kirby's backstory again (but check out more here and here). However, the fandom experienced a joyous reveal with the visual confirmation that the character is making a canon appearance to honor Scream 1-4 director Wes Craven's hopes for the film buff.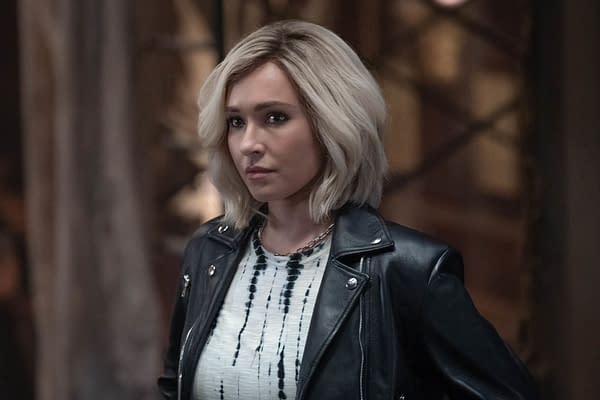 When recently asked about the return of Kirby, Scream, Scream 2, and Scream 4, scribe Kevin Williamson, who is now an executive producer of Scream VI, explained the initial obstacle… Locating the star for the prospective return. Williamson first tells Variety, "We're like, 'Where's Kirby?' We couldn't find her. She doesn't have an agent. She had sort of disappeared. I called up my producer in Nashville and said, 'Do you know Hayden Panettiere, by any chance? Because we can't find her!' He's like, 'Oh yeah, let me call her.' And then they called back, and it was like, 'Alright, found her!'" Regarding the ambiguous state of her character's involvement, the writer and producer then teased, "There's so much speculation about what her participation is in the movie, and I love it. We should just let it live until the movie."
For now, we'll just have to settle for the New York-focused first teaser, unexpectedly gruesome official trailer, two posters, and several stills. Ok, so it's certainly not the worst content to have while we're waiting, but our anticipation for a new, fresh chapter of Scream has us ready to jump ahead to March 10, when the film hits theaters.
Scream VI Cast, Synopsis, and Release Date
Scream officially hits theaters on March 10 with a promising synopsis that reads: Following the latest Ghostface killings, the four survivors leave Woodsboro behind and start a fresh chapter. In Scream VI, Melissa Barrera ("Sam Carpenter"), Jasmin Savoy Brown ("Mindy Meeks-Martin"), Mason Gooding ("Chad Meeks-Martin"), Jenna Ortega ("Tara Carpenter"), Hayden Panettiere ("Kirby Reed"), and Courteney Cox ("Gale Weathers") return to their roles in the franchise alongside Jack Champion, Henry Czerny, Liana Liberato, Dermot Mulroney, Devyn Nekoda, Tony Revolori, Josh Segarra, and Samara Weaving.