Shudder's Boys From County Hell Is Wild Irish Horror
In this episode, Jason chats with Chris Baugh, director of Boys from County Hell, new to Shudder streaming service, described as a rowdy Irish vampire horror-comedy. The director talks about how effective moviemaking should show a particular place– in this case contemporary Ireland– and in that specificity, audiences find the universal.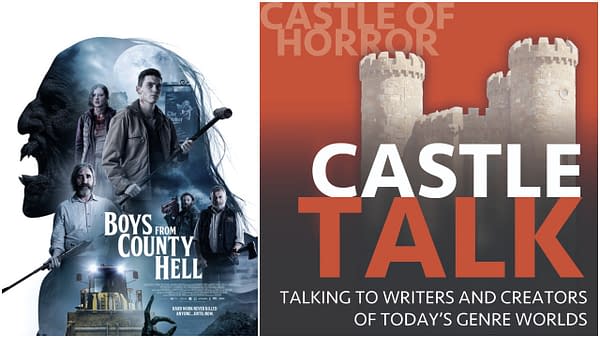 Say the producers about Boys from County Hell:
Strange events unfold in Six Mile Hill – a sleepy Irish town that claims to have been traveled by the famed author Bram Stoker – when construction on a new road disrupts the alleged grave of Abhartach, a legendary Irish vampire said to have inspired Dracula. Deadly and sinister forces terrorize the work crew led by Francie Moffat and his son Eugene, a free-spirited young man who prefers pints to pickaxes, and they're forced to fight to survive the night while exposing the true horror that resides in the town's local myth.

Starring Jack Rowan (Peaky Blinders), Nigel O'Neill (The Bookshop), Louisa Harland (Derry Girls), Fra Fee (Animals, the upcoming Hawkeye series) and John Lynch (The Terror, The Banishing) and Michael Hough (the upcoming Chapelwaite series), and written and directed by Chris Baugh (Bad Day for the Cut).
The film is a co-production between the Republic of Ireland and Northern Ireland and was supported by Endeavor Content, Screen Ireland, Northern Ireland Screen, and Egg Post Production.
Listen here:
Listen on YouTube:
Check out the Trailer:
Jason Henderson is the host of the Castle of Horror and Castle Talk Podcasts, the editor of the "Castle of Horror Anthology" series. He is the author of The Serpent's Nest: Young Captain Nemo from Macmillan Children's Books. His new horror series "Surf Mystic," under the pseudonym Peyton Douglas, debuted with the novel Night of the Book Man in 2020.