Sorry About The Demon Trailer Promises Horror Comedy On Shudder
Sorry About The Demon is a new horror comedy coming to Shudder on January 19th. Emily Hagins (Pathogen, My Sucky Teen Romance, Scare Package) directs, with Jon Michael Simpson, Olivia Ducayen, Paige Evans, Jeff McQuitty, and Presley Allard starring. The film had its world premiere at FrightFest 2022, and Shudder smartly pounced on grabbing it for the service. You can see the trailer for the movie down below.
Sorry About The Demon Synopsis
"What's worse than getting dumped? For Will, it's finding out that his new place is haunted. Now faced with a quarter-life crisis and a house full of spirits, Will must figure out how to make things right with his ex-girlfriend AND banish the sacrifice-seeking demon residing in his house." Here is the poster for the film as well.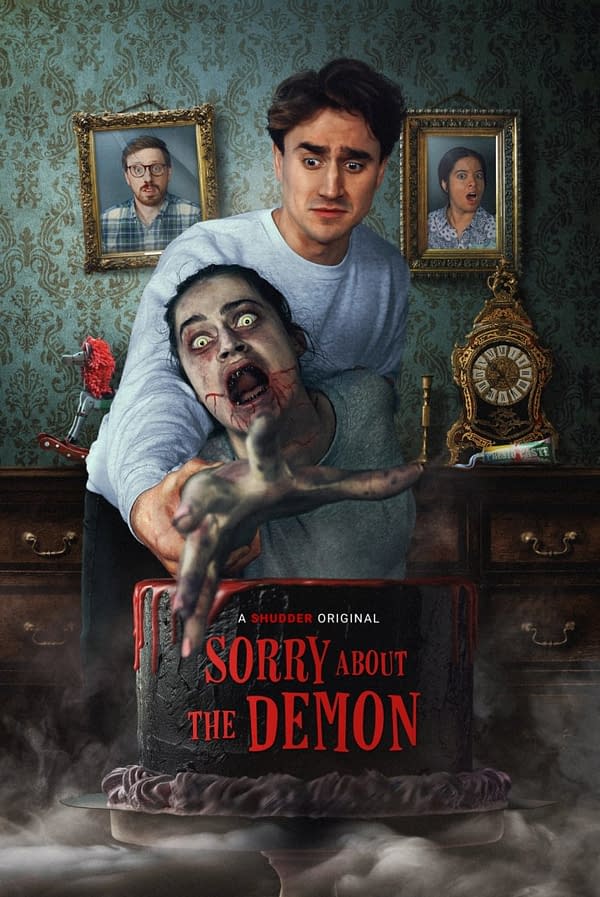 "Working with Emily on Scare Package was such an eye-opening experience," said Paper Street CEO Aaron B. Koontz in a statement posted to Deadline when they debuted the trailer and poster today. "Emily was one of the most prepared and thorough filmmakers I'd ever seen. And now, getting the chance to team yet again with Shudder and showcase Emily's talents with this wonderful mix of John Hughes by way of James Wan is such a delight that I can't wait for audiences to discover."
This has breakout potential all over it, and it feels like forever since we had a good straight horror comedy. Shudder is looking to build off of a really strong 2022 with its line-up of originals and festival buys, and 2023 should be an interesting year for the streamer. Hagins has been making films since she was 12 years old, and I really liked Scare Package, so this has got to be one of my early picks for horror I am anticipating for 2023. Sorry About The Demon drops on Shudder on January 19th.