Kansas Rocks The 'Supernatural' Panel Stage With Carry On Wayward Son
Mike Rupert writes:
The Supernatural panel is a fan favorite held on Sunday morning each year of San Diego Comic-Con. And yes, the fans start lining up Saturday night to be sure to get in. Some fans got a pleasant surprise this morning when Misha Collins came down the line giving out donuts.
Holly Otis from Warner Bros. came out to announce that Supernatural is the longest-running sci-fi show on television. Some fans might debate her with Doctor Who but nevertheless, Supernatural has aired for 12 seasons, 264 episodes, 10,000 demons, and will start its lucky 13th season this fall in October.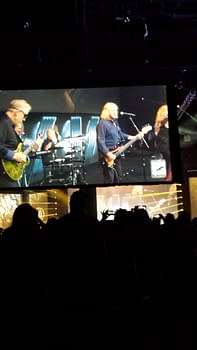 After 12 seasons, you would think the show couldn't surprise their audience. Wrong! The lights dimmed, the screen showed Jensen Ackles and Jared Padalecki in "Baby", as themselves, ready to take off on a road trip to Comic-Con! The screens on the side walls of the hall lit up with "Supernatural" stretched across it. Familiar music started playing: Carry On Wayward Son, and then the band Kansas was revealed, playing it live on stage.
The audience in Hall H went wild, applauding, standing up, dancing…
When Kansas finished, the panel's two moderators as well as occasional guest stars, Richard Speight Jr. (Gabriel) and Rob Benedict (God) walked on stage. They introduced the panel, Jensen Ackles, Jared Padalecki, and executive producers Robert Singer and Andrew Dabb.
The first question: did they really have to kill Castiel? Singer replies, "One thing that keeps the show fresh is you have to go where the story takes you." He added, that he, Andrew, and the other writers thought that perhaps Castiel's time had come. "Frankly, Misha had become a prima donna, wanted to be number one on the call sheet." As Singer says this, Misha Collins comes walking on stage. He says, "They never called me out but I heard my name." The crowd roared with laughter. Jensen remarked, "This has just got really weird…I guess we should just ask him what's it like to not be on the show anymore." Misha replied, "I'm not going away."
Asked about the season 12 finale, Jensen is asked how Dean and Sam will react to Jack, Lucifer and Kelly's son. Jensen replies, "Differently." Sam will take a "let's wait and see" attitude; let's see how this plays out, what could possibly go wrong? While Dean would say, "Because it's the spawn of the devil, I can't see why anyone would want to see how that works out. I have an idea, let's shoot it in the face."
Mary, played by Samantha Smith, is trapped in the rift. The question is, how would Sam and Dean differ in their approach to this? Singer says Dean is pretty sure she is dead. Sam thinks she is alive. Sam's mission at the start of season 13 is "Let's find mom." Dean feels they have bigger fish to fry. Spoiler alert: Mom is not dead.
With the apocalypse and the rift, the world will open up some people who have been long dead on the show to being less dead in the apocalypse world.
A fan asks Jensen and Jared what their favorite props were on the show. Voices from the audience yell out 'Baby." Jensen replies, "Baby is not a prop! Baby is a part of me." He says his favorite prop was the Angel blade because of the weight on it. "I'm constantly spinning it in my hand."
Misha says his favorite prop is Dean. The audience laughs. Jensen replies, "And that's why he's no longer with us."
Jared says his favorite is Ruby's Demon Blade. It was actually put together incorrectly when it first got on camera. The handle should be the other way. "I found that out early on, pulling it out." Holding it, he saw the blade facing him.
Jensen, Jared, and Misha have great chemistry together and enjoy being with the fans just as much, if not more, as the fans enjoyed being with them.
https://youtu.be/vtqS4Awhl_A