Streets of Fire and Bill and Ted's Bogus Journey Steelbooks Coming From Shout Factory
Shout Factory has two new Blu-ray Steelbooks on the way. Walter Hill's cult favorite Streets of Fire and the most bodacious sequel of all-time Bill and Ted's Bogus Journey are coming home on November 20. Streets of Fire is a two-disc set, featuring a new 2k scan, and a plethora of special features, including two feature-length documentaries, behind the scenes featurettes, music videos, and more.
Bogus Journey (criminally underrated in my book), is a little more bare-bones than I was hoping. The disc features two audio commentaries, and some cast interviews. I do like the Steelbook itself however, and as a collector it will look great on my shelf.
You can preorder these two titles, and other Shout and Scream Factory releases right here.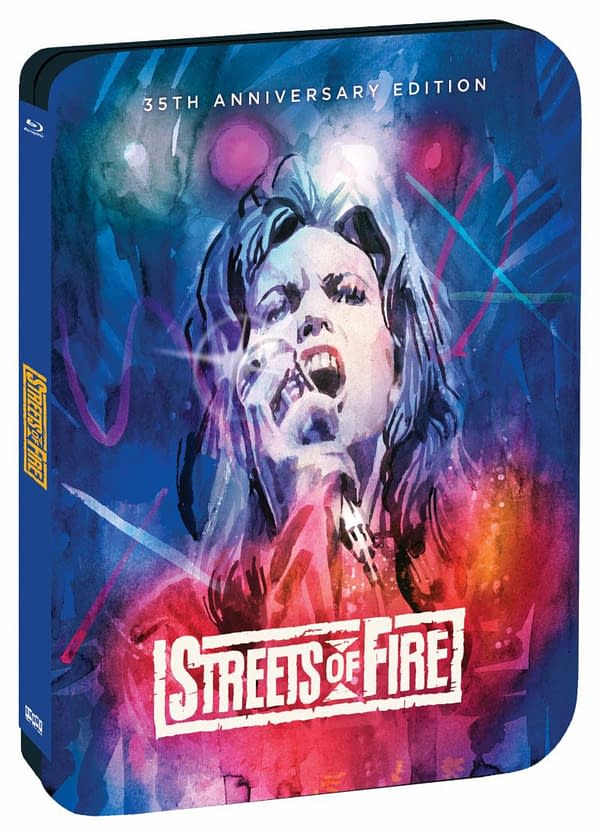 Streets of Fire (35th Anniversary Edition Steelbook)
Amid a brooding rock & roll landscape, the Bombers motorcycle gang, led by the vicious Raven Shaddock (Willem Dafoe, John Wick), kidnap diva Ellen Aim (Diane Lane, Man of Steel). Her hope for rescue lies with unlikely heroes: soldier of fortune Tom Cody (Michael Paré, Bad Moon) and his sidekick, the two-fisted beer-guzzling McCoy (Amy Madigan, The Dark Half). Joined by Ellen's manager, Billy Fish (Rick Moranis, Ghostbusters), the trio plunges headfirst into a world of rain-splattered streets, hot cars, and deadly assassins.
This cult favorite features a razor-sharp cast and original songs written by Jim Steinman, Stevie Nicks, Tom Petty and Ry Cooder and performed by The Blasters and The Fixx. Directed by cult filmmaker Walter Hill (The Warriors, Southern Comfort, 48 Hrs.), Streets of Fire is a rock & roll shotgun blast to the senses.
Special Features
DISC ONE:
· 2K Scan Of The Interpositive
· NEW DTS-HD Master Audio 4.1 Created From The 70mm Six-Track Magnetic Audio
DISC TWO:
· "Shotguns & Six Strings: Making Of A Rock N Roll Fable" – A Feature-Length Documentary Featuring Interviews With Director/Co-writer Walter Hill, Producer Lawrence Gordon, Actors Michael Paré, Deborah Van Valkenburgh, Richard Lawson, And Many More …
· "Rumble On The Lot: Walter Hill's Streets Of Fire Revisited" – A Feature-Length Documentary Featuring Interviews With Director/Co-writer Walter Hill, Actor Michael Paré, Amy Madigan And Art Director James Allen
· Vintage Featurettes: Rock And Roll Fable, Exaggerated Realism, Choreographing The Crowd, Creating The Costumes, From The Ground Up
· Music Videos
· Theatrical Trailer
· On Air Promos
· Still Gallery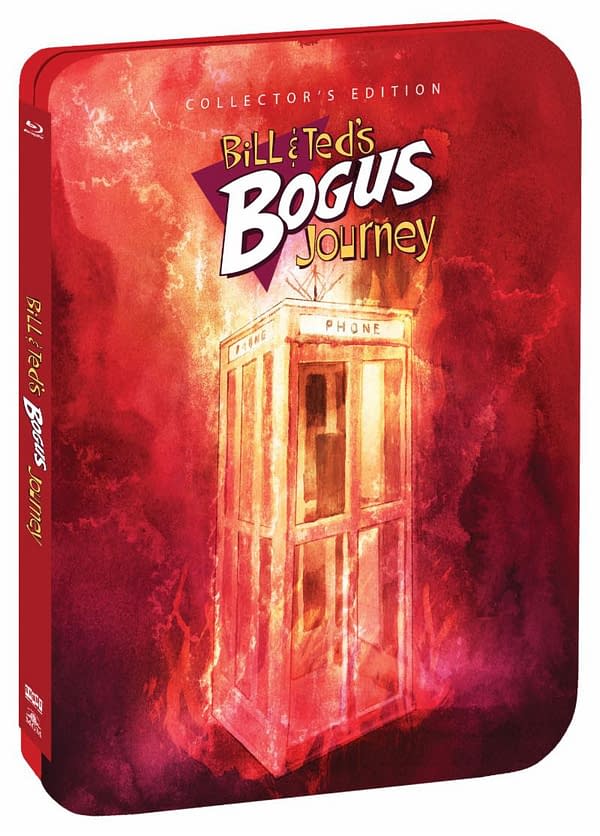 Bill & Ted's Bogus Journey (Limited Edition Steelbook)
Wyld Stallyns Ride Again!In Bill & Ted's Bogus Journey, the titular time travelers aren't making history — they are history! When an evil doer from the future sends eviler robot twins of Bill & Ted to assassinate and replace good, non-robot Bill & Ted, the guys wind up face to face with the Grim Reaper (William Sadler)! Can the now-dead duo escape, defeat their evil doppelgangers, and win their Battle of the Bands contest?
Special Features:
· Audio Commentary With Actor Alex Winter And Producer Scott Kroopf
· Audio Commentary With Writers Chris Matheson And Ed Solomon
· "Bill & Ted Go To Hell – Revisiting A Bogus Journey" Featuring Interviews With Actors Alex Winter, Keanu Reeves, And William Sadler, Producer Scott Kroopf, Production Designer David L. Snyder, Composer David Newman And More!
· Theatrical Trailer