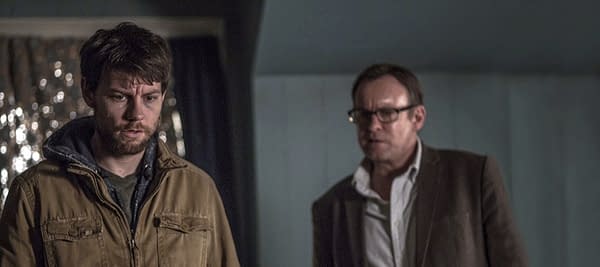 George A. Tramountanas writes for Bleeding Cool,
At Image Expo 2016 in Seattle, fans were treated to a showing of the Outcast pilot. This upcoming Cinemax show is based on the Robert Kirkman book by the same title and premieres on June 3. Cinemax feels confident in the series, as shown by their decision to pick it up for a second season before the first has even aired. Can they capture some of The Walking Dead magic (and ratings) in this latest offering from Skybound? Based on my viewing, the answer is a resounding…maybe? MINOR SPOILERS TO FOLLOW…although there shouldn't be any surprises for those that have read the comic.
To begin with, there was a bit of surprise when it came to the credits. Kirkman is listed as both the creator of the show and the writer of the episode. I know he is heavily involved in The Walking Dead's writing room, but writing a pilot is a different beast than writing a regular episode. To his credit though, Kirkman does a good job of laying down the foundation for the series. We get to meet most of the key players, we understand the tone, and we get an idea of the premise.
The opening scene of the show absolutely blew everyone in the crowd away. It begins with a BAM that had folks jumping out of their seats (literally) before it veered into creepy-gross territory with a moment lifted directly from the comic. Let's just say it was finger-licking good (as shown in Outcast's first issue).
This brings me to something that I considered both a plus and potential negative of the episode – it adhered very closely to the first two issues of the comic. So much so, that I wouldn't be surprised if Kirkman took his original scripts for the comic and just reformatted them. Because I read the comic, I knew nearly all of what was coming. This made it difficult to judge the episode on its own merits as there were few surprises for me, but I'll try my best in this review. Technically, the show is great. The directing is solid and the effects are outstanding. The cast really helps the show stand out as well, particularly Patrick Fugit, the tortured Kyle Barnes. Truth be told, Kyle is hard for me to connect with in the comic. You sympathize with the challenges he goes through, but he's just not that likable. Fortunately, Fugit's bright eyes and quirky grin is enough to make Kyle more accessible as a character. He still has his faults, but I feel that viewers will definitely root for him to succeed.
On the other hand, Philip Glenister merely does a capable job as Reverend Anderson. This character is one I saw as having great potential, as I believe there is much more that can be done with him than what's shown in the comic. Glenister does a fine job, but I'm not drawn to him yet. Then again, it's only one episode.
As mentioned, the story follows the first two issues of the comic. We meet a boy who is possessed, Reverend Anderson tries to cure him, and he fails. We meet Kyle, learn that his mom was a psycho (although likely possessed), and we get to know his adopted sister (played fantastically by Wrenn Schmidt). We also get the backstory about how Kyle isn't allowed to see his wife or daughter because he apparently beat them (another result of a demonic possession, this time involving Kyle's wife). Kyle and the Reverend go to the possessed boy and eventually cure him, thanks to Kyle's blood (strange, but it works). After this adventure, Kyle's mind is set on learning more about these demons and stopping them.
Hm. It actually sounds like a crazy, action-filled episode with that description…but it sure didn't feel that way. Outcast is more of a slow burn. Again, for those that read the comic, this shouldn't be any surprise. The comic isn't "jump out and get you" horror, it's the kind of horror that creeps you out by getting into your head. The problem with this, however, is that it takes time – time that may not be available in a TV world.
Let's face it, with The Walking Dead, everyone's favorite episodes are when the characters face hordes of zombies or have to fight against other survivors. The episodes where characters try to figure out their day-to-day problems (see the season featuring Hershel's farm), leave audiences bored.
Outcast is to horror as The Killing is to cop shows – but as The Killing revealed, viewers don't always stick around and allow you to pay off all that you're trying to build to.
Once more, I'm basing a lot on just what I've seen. But since the episode was directly based on the comics, Outcast may have an uphill battle unless it takes a left turn (as The Walking Dead did when it veered from the comics). Also, if one episode is two issues of the comic, and Cinemax has already approved two seasons worth of shows, it seems to me the show will overtake the comic pretty quickly. That might prove to be a good thing, though.
I wish the show well, and I do hope audiences stick around to allow Kirkman to reach the climax he's building to. As he's shown in the past, Kirkman does know what he's doing and he knows how to make his big story moments count.
Although, if things do get bad for Outcast, he could always add a character with a crossbow…
Enjoyed this article? Share it!