*** This articles contains spoilers for the recent episode of Gotham ***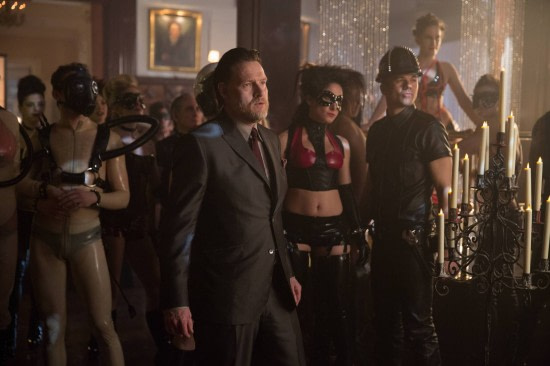 The penultimate episode for the first season of Fox's hit series Gotham was anything but boring. In The Anvil Or The Hammer we see a lot of plans come to fruition and some derail. We learn that even good men have secrets and that even Harvey Bullock has a line you don't cross… what that is we don't know. Here are the six important moments from this week's Gotham:
1) The important moment for Bruce Wayne this week wasn't being caught by Sid Bunderslaw in his office or anything else that happened there. The important moment here was Bruce came clean to Alfred Pennyworth. For the show to work there has to be a unquestioned trust between the two and for Bruce to tell him everything builds that trust. He can keep secrets from everyone else, but not Alfred. Now Bruce has a new quest, to find his father's secrets and Alfred can help.
2) After last episodes surprising kill be Edward Nygma, now we got to see if the writers were going to let the Riddler out of the bag or try to push it back in again. He didn't go back in. Putting the taking the body to a police station to get rid of it aside… which was a nice touch… the important moment for Nygma came near the end when he revealed he had "signed" the letter to Kristen Kringle from her dead/missing boyfriend. His complusion for riddles out weighs his instincts for self-preservation.
3) The plan we saw unfolding against Sal Maroni was a good one, but rather mundane for The Penguin. The character is a master manipulator, so when Butch Gilzeen comes and tells Oswald Cobblepot that Maroni is still alive, we see the truth of his plan. He didn't just want Maroni dead, he wanted a gang war between Maroni and Carmine Falcone and he got it. The season finale should be filled with a lot of shooting.
4) The Ogre may have been the big threat, but the important one to watch was Barbara Keen. She's going to be very different going forward. She not only went through the ordeal with Jason Lennon, but she choose to have her parents murdered. She could have sent him after anyone. Gordon, Tompkins… anyone at all and she picked her parents. So what does that do to her going forward?
5) Jim Gordon is in love with Leslie Tompkins, but he was willing break his own rules to save Barbara. So where does that leave him? And how much of what happened to her will he blame himself for? And now that he's taken out the Ogre, will he keep his promise and go after Commissioner Loeb? Or will the gang war hold that off for a while? Gordon is a good man who has been making a lot of compromises this season. When does that end?
6) It may be the shortest moment of the six, but by introducing Lucius Fox, Bruce now has all of his major allies in play. Fox is Bruce's man inside of Wayne Enterprises, someone he can trust and someone to help him get the tech he needs to be the Batman. We already had Gordon, Tompkins and Alfred plus the Grayson's are off making a sidekick… Fox was the only one missing and now he is introduced in a rather mysterious way leading us to believe there will be more of him and Thomas Wayne's secrets to come.
Next week it looks like all hell is breaking loose. Everyone has a big gun and lots of bullets are flying. And we finally see what happened to Fish Mooney. It should be quite an episode and it will be interesting to see where everyone is going into season 2.
[youtube]https://youtu.be/O7WDPcpOZLg[/youtube]