During the WB portion of CinemaCon today, the audience was treated to some new footage of director James Wan's upcoming Aquaman.
If you missed the BC liveblog of everything that happened today during the WB presentation, you can catch up here.
The footage, in the form of a sizzle reel, included the first appearance of Black Manta as well as more Jason Momoa as title character Aquaman.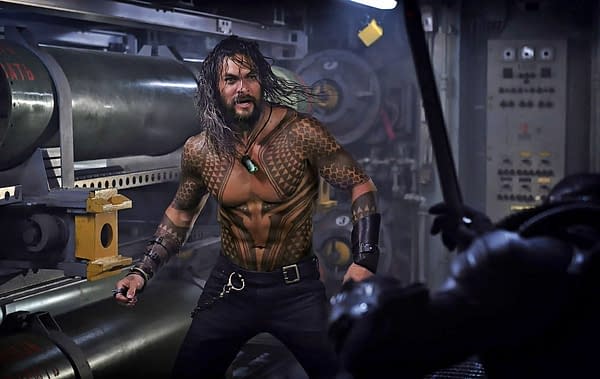 There was a scene on a submarine where Black Manta goes after Aquaman while on a submarine with a sword- which of course AC catches in his bare hands.
Will Arnett who voices Batman in LEGO Batman at one point asked Jason if he "ever wanted to play a character who wears a shirt?", which of course the audience loved.
Amber Heard commented that she didn't want to play Mera as 'a damsel in distress'. "I actually save you more," she commented to Momoa who shouted back, "SPOILER!!"
Birth.Movies.Death news editor Scott Wampler tweeted:
Holy shit, AQUAMAN looks *epic* in scale. Exponentially bigger than anything Wan's done to date. And it looks fucking awesome: huge underwater skylines, dudes riding giant armored seahorses, Black Manta looks straight outta the comics. I'm super impressed.
Fandango managing editor Erik Davis said that the "teaser focused on battle for the throne between Aquaman and his brother, played by Patrick Wilson". He also mention that there was a ases a huge gladiator-like fight between the two, and a not-yet-done shot of Black Manta "looked wicked and very similar to this":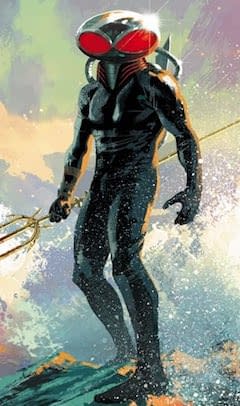 "The war is coming to the surface and I am bringing the wrath of the seven seas with me," Aquaman exclaims during one scene.  There were warriors riding on sharks and scenes with armored freaking seahorses.
Needless to say, we cannot wait to see a trailer for the film, which is due out on December 21st 2018.
Enjoyed this article? Share it!