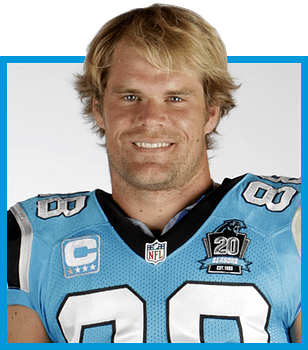 I'm a football fan. More specifically a Carolina Panthers fan, which is tough living on the other side of the continent from the team. But I keep my ears opens for news pertaining to them. Rarely does any of that news cross into something I can write about here on Bleeding Cool. Last night was the exception.
Every year the NFL hands out the Walter Payton Man of the Year award for the player who has done the most to help his community through charitable deeds. Each team nominates one player who has made a significant positive on his community. The Panthers nominated tight end Greg Olsen who has started multiple charitable organizations over the years to support issues like helping cancer survivors (Receptions for Research), another that focuses on cancer research, support and education programs (Receiving Hope) and finally one to help families with children born with congenital heart disease (HEARTest Yard). Olsen started the last one after his and his wife discovered their son had Hypoplastic Left Heart Syndrome.
To go with the award, Nationwide is offering up $25,000 to the charity of the nominated player who gets the most mentions on social media between December 12th and January 8th.
This is where William Shatner gets involved. According to The Captain, Olsen helped Shatner with a charity request for a young fan… so he decided to return the favor. At one point last night, Olsen was in second place in mention behind San Francisco 49er Torrey Smith. Olsen was at rougly 370K while Smith was at 435K. Then Shatner went to work using the require hashtag #OlsenWPMOYChallenge and Tweet after Tweet until the gap between the two players narrowed. He has been relentless, posting over and over and including the hashtag.
As of this morning Olsen sits at 665K while Smith is at 530K. That's an increase of almost 300K votes to Smith's 90K increase. With the rate it's going, Olsen will have double his mentions in 24 hours. How much of that is Shatner and how much is other folks, that would be difficult to parse out. But, you can definitely see that it helps when Captain Kirk is on your side.
The Challenge runs until Midnight Eastern tonight. You can see all the team nominees and keep track of the mentions here.
Enjoyed this article? Share it!