Great news for fans of overcrowding, diners, @#$%head cops, and heroin epidemics! WrestleMania is returning to great state of New Jersey in 2019! WWE announced the news this week that WrestleMania 35 will be held at the MetLife Stadium in East Rutherford next April, a sports complex formerly known as The Meadowlands before banks and insurance companies owned everything like some kind of dystopian nightmare.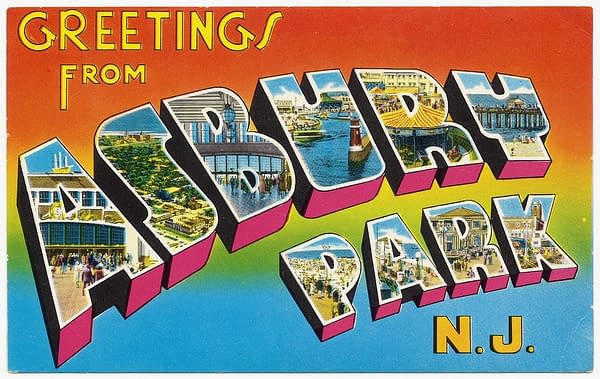 Thanks to this news, wrestling fans from around the world can travel to New Jersey next year and take in its picturesque sights, such as the miles and miles of pine trees in the Southern portion of the state or the stinky industrial wasteland of the North, stopping at a Wawa for refreshments while traveling along the Parkway or the Turnpike, eating delicious Pork Roll, Egg, and Cheese Sandwiches on Hard Rolls, and being saluted by the traditional friendly greeting of "Yo! @#$hole!"
Little else is known about next year's event, besides the fact that it will almost certainly feature Roman Reigns competing in the main event. Still, it will be a boon for the beleaguered state which suffers from an inferiority complex brought on by the fact that both of the football teams who call the MetLife Stadium their home are so embarrassed that they call themselves the New York Jets and the New York Giants and because it's the only state whose residents are legally too stupid to pump their own gas.
If you're a New Jerseyite reading this right now, first of all, congratulations on your literacy. But also, you're probably a little bit miffed at our teasing and at the same time wondering how we know so much about the ironically named Garden State, the magical land of which homegrown star Bruce Springsteen once sang, "I was drivin' on the streets o' Jersey, in my 57 Chevy, with a girl named Mary, she was also from Jersey, WAAAUUUUGGGHH-AAUUUGGGH-AAAAUUUGGGH-AAAUUUGGGGHHHH!" Something like that. They all sound the same.
In any case, take it easy — I was born and raised there. Yo! @#$holes! See you next year!
Enjoyed this article? Share it!