Drawn to Purpose: American Women Illustrators and Cartoonists [Book Review]
[rwp-review-recap id="0"]
Drawn to Purpose: American Women Illustrators and Cartoonists by Martha Kennedy is a hefty tome of ladies and their works — works often left out of historical art books. While women have toiled to create art since the beginning, for some time they were left out of European art, or had to paint under the name of their husbands or fathers. This situation has left art history books bereft of women, giving the impression that women did not — or could not — create.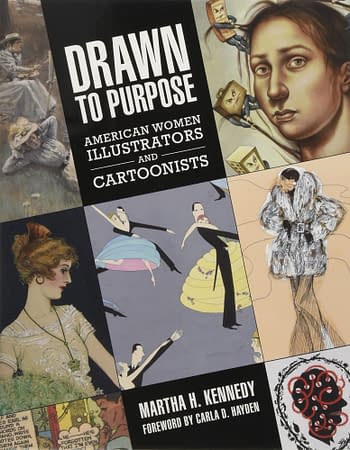 Even in situations of more post-modern times, women are often overlooked in favor of their male peers — for example, Dadaist Emmy Hennings, a notable creative in her own right, is often left out of writings on the group, or merely indicated as "Hugo Ball's wife". This book gives women (in particular, American Women) the recognition they've earned and fought so hard for.
As befits an art history tome, the book is solid, well constructed, and lavishly illustrated. Clear, well-lit photos of works accompany text describing the significance and history of a lady's work, along with many portraits of the artists. This misses the scale of some of the pieces, but it's better than the thumbnails I've got in other art history books.
Drawn to Purpose would do well in an art history library or on your coffee table. It's a lovely reference for those wanting to know more on the subject of women in American and European illustration and comics, giving the reader a nice selection of notables to learn about. The additions of photographs of the women also helps bring them to life; these are not merely lists of names, these were — and are — people, like us. The book's sturdy hardcover design will stand up to a great deal of reference use.
If you know or are a student of art or art history, I wholeheartedly recommend this book. It's well crafted, with good writing and a wide variety of artists and styles within.
[rwp-review-ratings id="0"]
[rwp-review-form id="0"]