Amy Bartol's Traitor Born is an Adventurous Sci-fi Romance [Book Review]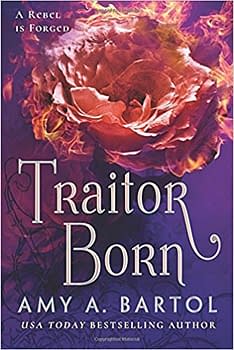 Traitor Born by Amy Bartol is a futuristic sci-fi novel, set in a world where your birth order informs everything about your life, as children are limited to two — a heir and a spare, as it were. Society is divided into strata based on your birth order, with the firstborns of influential families having everything and the second-born having to serve them. From within this tiered society, people are further divided into job-related classes. Families aren't considered emotional units: members are competitors in most cases, and life isn't worth that much if you aren't at the top.
From within this world, with its sci-fi weapons, drones, communicators and robots, we are given a story that's part romance, part adventure as Roselle St. Sismode's world is torn apart by her mother's plotting and politics among her world's elite.
I enjoyed reading this novel; it feels a bit pulpy, and it reminds me of a less environmentally aware, lighter version of Dune, with fancy houses and warriors plotting their political rises and the fall of their enemies. The setting isn't that outstanding nor essential to the characters or plot; mere setpieces for the action. The focus is primarily on action, assassinations, and romance.
The ending seemed a bit of a shocker; I wish there had been a bit more foreshadowing with it. Still, it is an interesting turn of things, and it's something I haven't read anywhere else. This isn't deep reading; it goes fully into the beach-read pile, a nice bit of escapism for a sunny day or over a cup of hot coffee. It isn't here to give you a morality tale; it is very much here for your entertainment and enjoyment.