The pop culture world was thrown a curve ball when Chloe Dykstra, actress and model, wrote a lengthy op-ed about a former relationship (never once naming former partner Chris Hardwick, but it was obvious that's who she meant) where her boyfriend had allegedly, through a series of accused abuses over several years, also blackballed her in the industry.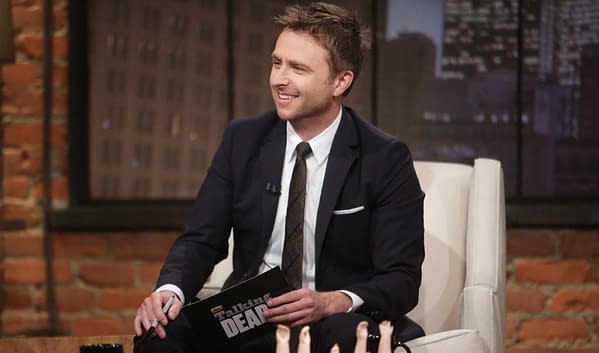 He's since responded to the accusations, you can read his comments as posted by Deadline:
"These are very serious allegations and not to be taken lightly which is why I've taken the day to consider how to respond. I was heartbroken to read Chloe's post. Our three year relationship was not perfect—we were ultimately not a good match and argued—even shouted at each other—but I loved her, and did my best to uplift and support her as a partner and companion in any way and at no time did I sexually assault her.

When we were living together, I found out that Chloe had cheated on me, and I ended the relationship. For several weeks after we broke up, she asked to get back together with me and even told me she wanted to have kids with me, 'build a life' with me and told me that I was 'the one,' but I did not want to be with someone who was unfaithful. I'm devastated to read that she is now accusing me of conduct that did not occur. l was blindsided by her post and always wanted the best for her. As a husband, a son, and future father, I do not condone any kind of mistreatment of women."
Hardwick was the founder of The Nerdist, and since the op-ed was published on Medium, Nerdist parent company Legendary made a statement completely distancing themselves from him. So did Nerdist.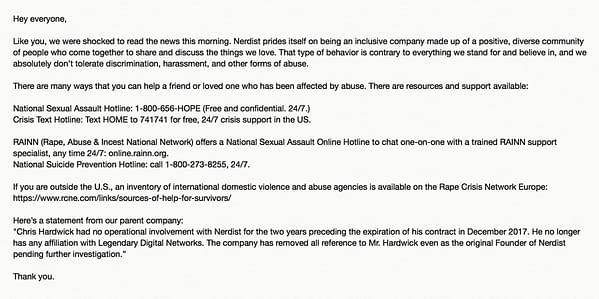 Dykstra's current boyfriend, actor Rob Kazinsky, has been tweeting in support of Chloe:
As @hardwick has chosen to deny Chloe's account, I'll take the opportunity to say I have seen the proof myself, I have seen the evidence first hand, I've seen the people who have come forward to tell @skydart how Chris ordered her blacklisted, there isn't just one, there are many

— Robert Kazinsky (@RobertKazinsky) June 16, 2018
For years the pain @skydart carried around was overwhelming, and even now @hardwick doesn't have the decency to offer first an apology to the woman he destroyed intentionally. That's all that mattered.

— Robert Kazinsky (@RobertKazinsky) June 16, 2018
I've sat on this for years as it isn't my story to tell, I even had to work with him and his accomplices, @skydart supported me through that like a god damn soldier. But now the whole world gets to see the incredible strength and resilience of a survivor like @skydart

— Robert Kazinsky (@RobertKazinsky) June 16, 2018
Enjoyed this article? Share it!