A.P. Bio: Lyric Lewis Talks Stef, Clown Classes, and Tiffany Haddish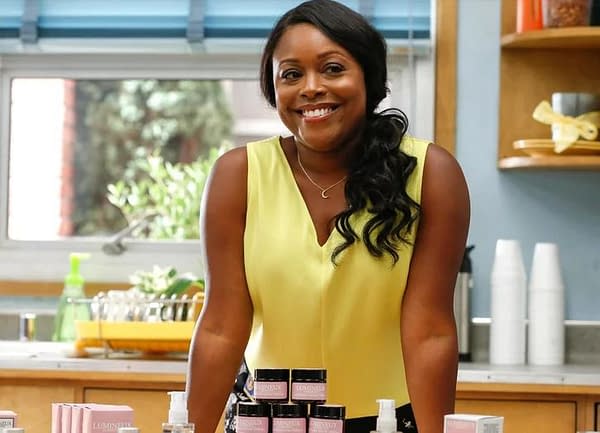 Don't get me wrong: as a fan of both FXX's It's Always Sunny on Philadelphia and Syfy's Happy!, I'm loving the interaction between Glenn Howerton's Jack Griffin and Patton Oswalt's Principal Durbin on NBC's new sitcom A.P. Bio. But after only three episodes, I'm becoming a huge fan of the supporting cast; especially Jack's "Three Wise Women of the Teacher's Lounge": Mary (Mary Sohn), Michelle (Jean Villepique) and the trio's ringleader (and episode scene-stealer) Stef (Lyric Lewis).
With the series settling in to its new time slot on Thursday nights, Entertainment Weekly caught up with Lewis to discuss her comedy past, what she likes about Stef, and how much she'd love to work with Tiffany Haddish. Here are some of the highlights:
● What you need to know about Lewis up front: they used to call her "motormouth" when she was a kid; she enjoys throwing out everyday facts with an off tone for a laugh and a reaction; she counts In Living Color and Saturday Night Live as two major television influences; and she considers Jennifer Coolidge and Kim Wayans comedy icons.
● Though a classically trained theater major at Syracuse University, she never knew "clownin' around" (a course in clown acting) would help introduce her to improv:
"I always felt like that's what I wanted to do, was be a bit goofy while acting at the same time. That was the first time that I really got even the slightest taste. After that I was like, 'Okay, I really just need to research the people that I love and do the type of comedy that I want to do.'"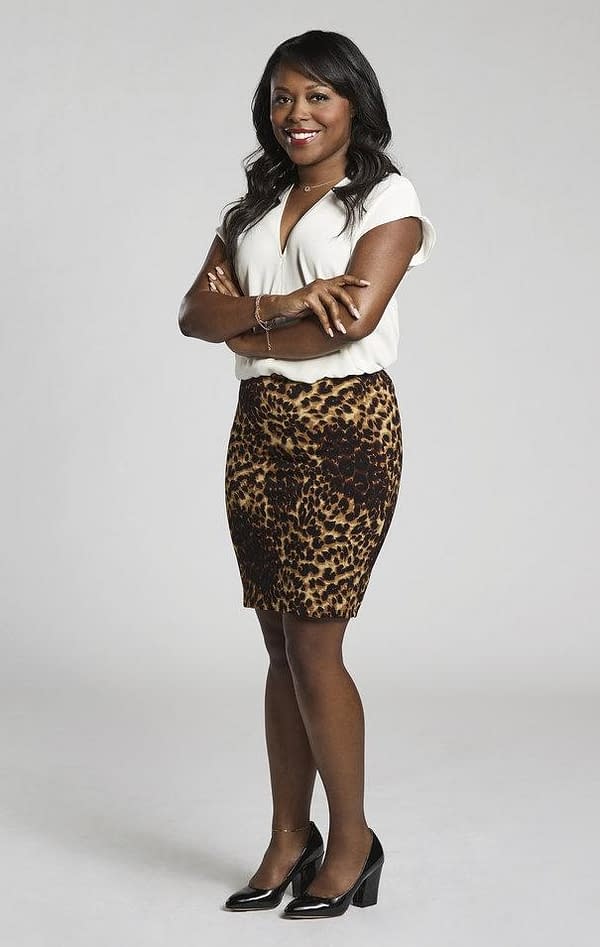 ● Lewis was a member of The Groundlings improv troupe in Hollywood before securing a spot on the new MADtv. Though the series was short-lived, Lewis would continue testing for other projects. She remembers what it felt like when she was told she was being hired for A.P. Bio:
"It was literally as the other people were coming out to bring me in the room. My team had to talk me through how to leave gracefully and not rub it in anybody's face that I got it. It was incredible, and I cried outside in the parking lot. I felt like the sky was bluer, the trees were greener. It was crazy, because this is what we all want. In a weird way, it's still surreal when they're like, 'All right, it's done, you have a job now.' It's crazy."
● Lewis sees a lot of herself in A.P. Bio's Stef, which makes it easier for her to connect with the character:
"Stef is very funny. I feel like she has a great sense of humor. She's actively dating very weird men, which would've been very reminiscent of a younger, not engaged Lyric. She's adventurous in that sense and she loves to teach. She's very much strong-minded. She's not afraid to do little side hustles to make extra money. I feel like I have a lot of those qualities."
● As for her future? Lewis has someone in mind she'd like to work with: "I love Tiffany Haddish. I tell people that I'm available to play her sister whenever. Tiffany, girl, I'm available for drinks — or anything!"
NBC's A.P. Bio airs on Thursdays at its new time of 8:30 p.m. ET.
https://youtu.be/3sg48OOLrFw
When disgraced Harvard philosophy scholar Jack Griffin (Glenn Howerton) loses out on his dream job, he is forced to return to Toledo, Ohio, and work as a high school Advanced Placement biology teacher. As he comes crashing in to Whitlock High School, Jack makes it absolutely clear he will not be teaching any biology. Realizing he has a room full of honor roll students at his disposal, Jack decides instead to use the kids for his own benefit. Eager to prove that he is still king of the castle, Principal Durbin (Patton Oswalt) struggles to control the force of nature that is Jack Griffin.