Bryan Fuller Officially Joins 'The Vampire Chronicles' Creative Team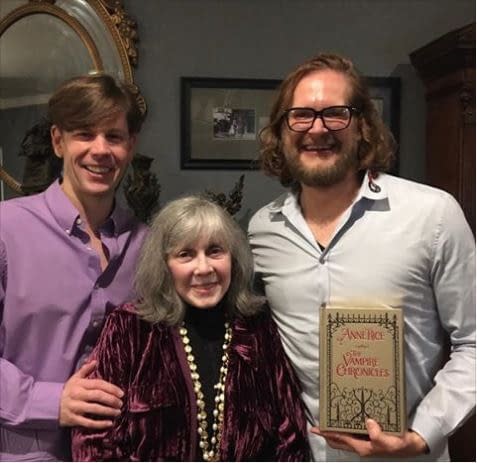 Following up on Bleeding Cool's earlier reporting, author Anne Rice's son, novelist/columnist Christopher Rice, has confirmed that American Gods writer/producer Bryan Fuller is officially part of the creative team behind the series adaptation of The Vampire Chronicles. The author originally announced in 2016 that she had reclaimed the rights to her novels, writing on her Facebook page at the time, "A television series of the highest quality is now my dream for Lestat, Louis, Armand, Marius, and the entire tribe." With her son set to write the series and also executive produce with Rice, Paramount Television and Anonymous Content optioned the rights to eleven books from the best-selling series.
In a post on The Vampire Chronicles official Facebook page, Christopher made the announcement and shared a personal anecdote that shows that the Rice/Fuller connection started well before 2018:
"Christopher here, with an exciting announcement about our show. Sometime in the 1980's, a young teenager from Washington State, who dreamed of working in Hollywood one day, decided it was his destiny to write a film adaptation of a novel called INTERVIEW WITH THE VAMPIRE. So that teenager did what any resourceful, gifted and determined young person would do in such an instance; he got a copy of the San Francisco phone book and checked to see if the novel's author had a listed phone number.

It turns out she did. To his astonishment, the author, my mother Anne Rice, answered the phone herself when he called, and when this young man declared his intentions to adapt her book for the big screen, she gave him the number of the producer in Hollywood who owned the rights. Naturally, the producer's response was something along the lines of, "You're too young, kid. Go hone your talent. Maybe someday."

Today I'm thrilled to inform you that the young man of which I speak is Bryan Fuller, who grew up to be one of television's most innovative creative forces, responsible for such an amazing array of shows as HANNIBAL, DEAD LIKE ME and PUSHING DAISIES. Even better, the opportunity he asked for all those years ago has finally arrived.

It's our great pleasure to officially announce that Bryan has become a member of the creative family working to bring the story of the vampire Lestat to television. For a year now, my mother and I have had the joy of working with creative partners at Paramount Television and Anonymous Content who share our vision for a prestigious, long-form, high quality and high production value television series focusing on the journey of the immortal Lestat as he travels the lengths of the vampire world detailed in The Vampire Chronicles. Almost instantly after we sold the rights last April, we knew we were working with some of the finest producers television had to offer. And those producers knew that Bryan would be a perfect addition to our creative team.

For months now, we've been developing written material that focuses Lestat's story for television while also delivering on the promises Mom made to her fans last year when she first announced her intentions for the show. We're confident this material will garner more exciting announcements in the months ahead. But for now, please help us welcome this brilliant and wildly talented force to Team Vampire Chronicles.

If you'd like to hear Bryan tell the story of his fateful, teenage phone call to his favorite author, I've included a clip from his interview with The Dinner Party Show in the comments below. Bryan and I will be together tonight, along with our friend and fellow writer, Eric Shaw Quinn, at the Hollywood premiere of THE ALIENIST, another eagerly anticipated adaptation of a popular novel, and a show that we're sure will demonstrate to all why Paramount and Anonymous are the perfect home for Lestat and all of his fledglings, fellow vampires and rivals."
Fuller also took to social media to confirm the news, tweeting a playful nod to Kirsten Dunst's performance from Interview with the Vampire with his confirmation: