'Preacher' Episode 12 Preview: 'Oh Please. You're Like…Third In Charge'
So here's where things stand for Jesse (Dominic Cooper), Tulip (Ruth Negga) and Cassidy (Joseph Gilgun) in The Search For God at this point in their New Orleans pit-stop: Jesse is slowly being persuaded by Herr Starr (Pip Torrens) to give-up looking for God and work with him to be a new messiah; Tulip is still dealing with the trauma from being nearly killed by The Saint of Killers (Graham McTavish), making her susceptible to Jenny-stone's (Julie Ann Emery) manipulations as she tries to drive a wedge between Tulip and Jesse; and Cassidy is still angry with Jesse for not helping him with Denis (Ronald Guttman) while trying to keep his feelings for Tulip in-check and realizing Denis is embracing his vampire side a little too much.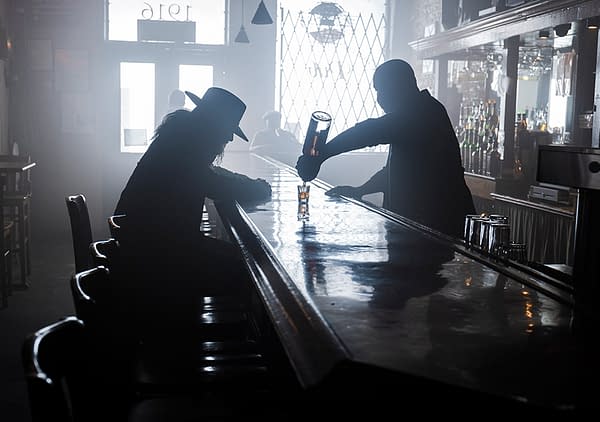 So Jesse doesn't trust Tulip's and Cassidy's commitment to find God; after lying about sending The Saint back to Hell, Tulip isn't trusting Jesse and doesn't respect Cassidy enough to see him as trustworthy; and Cassidy feels betrayed by his "best mate" Jesse and can't trust himself enough to really be there for Tulip. As their division grows, Herr Starr stands ready to make his move: either Jesse becomes the new messiah, or he gets removed from the playing field as just another false prophet.
Did I also mention that The L'Angelle Family is starting to make its horrific presence known?
So with all of that going-on and with Jesse otherwise disposed, what better time for Tulip and Cassidy to discuss the matter of who exactly is "in charge" of the group among the three of them. As you'll see in this sneak preview clip from AMC for Preacher Episode 12: On Your Knees, there's clearly a pecking order…whether Cassidy likes it or not:

Taking Confession: Join Our 'Preacher' Episode 11 LIVE-BLOG!
'Preacher' Season 2, Episode 10 Recap: "We Call Him…Humperdoo."