The Weekly Static S01E13: HBO, ROH, NFL, LOTR, MST3K, And More! Get ready to turn up the lights in here baby…extra bright, I want y'all to see this. Turn up the lights in here, baby…you know what I need. Want you to see everything…want you to see all of the lights…of The Weekly Static!
But before we get started and with a bucket of apologies to Kanye West and Rihanna, it's time to cry "Havoc!" and let slip the dogs of war… because here it is! So one more time for the people in the cheap seats, here's a quick reminder about what this is all about: The Weekly Static is my righteously desperate-yet-endearing attempt at finding the lighter side and an interesting perspective on the past week in the land of the networks, cable, streaming, smoke signals, cloud formations, and shadow puppets.
Our goal? Pretty simple:
● Offer a blunt, honest perspective on a handful of random TV news posts from the past week that also highlights your relentless team of news-thirsty Bleeding Cool writers and the quality work they do.
● Spotlight a news item we might've missed that you should find interesting.
● Feed my insatiable ego with humble offerings of praise, adulation, social media shares, pizza, Superman Funkos, and a plethora of Eisner Award nominations.
Amazon Studios, Warner Bros. Planning Lord Of The Rings TV Series
Report: White Supremacists Have Terrible Taste In Pizza
Tonight Show To Air Repeats After Passing Of Jimmy Fallon's Mother
Stephen Amell Returns To The Ring — Ring Of Honor, That Is
Amazon Orders Garth Ennis And Darick Robertson's 'The Boys' To Series
The Good Cop: Netflix Taps Josh Groban, Tony Danza For Dramedy Series
Mosaic: HBO Releases App For Soderbergh's Interactive Series
MST3K Will Return With Another "Turkey Day" This Thanksgiving
Disney Working On New Live-Action Star Wars And Marvel TV Series, Plus Monsters Inc. And High School Musical
Ellen Page To Star In The Umbrella Academy For Netflix

Paul Haggis, Malea Rose Developing Miniseries 'Dark Paradise' About Clarence Darrow's Last Murder Case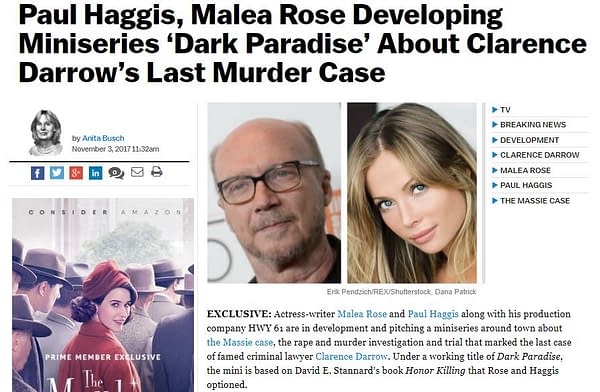 "EXCLUSIVE: Actress-writer Malea Rose and Paul Haggis along with his production company HWY 61 are in development and pitching a miniseries around town about the Massie case, the rape and murder investigation and trial that marked the last case of famed criminal lawyer Clarence Darrow. Under a working title of Dark Paradise, the mini is based on David E. Stannard's book Honor Killing that Rose and Haggis optioned."