Will Smith to Host Darren Aronofsky Earth Series for Nat Geo
Actor Will Smith's next adventure will keep him firmly footed on terra firma, as the star of Netflix's upcoming sci-fi film Bright is set to host National Geographic's upcoming event series One Strange Rock. Executive produced by Darren Aronofsky (mother!, The Wrestler), the 10-episode series tells the story of Earth, what exactly makes it so special and how it uniquely brims with life among a largely unknown but harsh universe. Aronofsky said of the project:
"I am thrilled to have Will Smith on board to guide our series. His charisma, intelligence and humanity will add greatly to the project, helping welcome viewers into this unique narrative about the mind-blowing wonders that make life on Earth possible."
Smith took to his Facebook page with a short teaser video to make the formal announcement, which you can view for yourselves below:
"Anchoring the series is an elite group of astronauts who see Earth's bigger picture as they provide their own perspectives and relate personal memoirs of our planet seen from space. Among those are Chris Hadfield, the first Canadian astronaut to command the International Space Station and the only Canadian to have ever boarded the Russian Space Station Mir while in orbit, and Mae Jemison, who became the first African-American woman to go to space in the space shuttle Endeavour."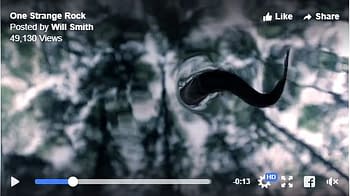 Aronofsky will assume executive producer responsibilities on the project alongside Jane Root, Ari Handel, Peter Lovering, Scott Franklin, Tim Pastore, and Matt Renner; with Arif Nurmohamed serving as co-executive producer. Nutopia, Protozoa Pictures, and Overbrook Entertainment have been tapped to produce.
"By pairing the incomparable, out-of-this-world, global appeal of Will Smith with our rock-star astronauts, who literally went out of this world, we tell the incredible story of the complexities of our planet. With the distinctive storytelling from Aronofsky and Root, 'One Strange Rock' will be an incredible visual treat, taking audiences from the microscopic to the cosmic, leaving viewers to see and appreciate our planet as never before."

– Tim Pastore, President of Original Programming and Production, National Geographic