Daniel Bryan's Shocking Title Win Almost Makes Up for WWE Pulling Becky Lynch from Survivor Series
WWE opened Smackdown Live tonight with a real bummer, but they went out on a high note. Kicking things off at the beginning of the show, WWE confirmed reports that Becky Lynch would not be medically cleared to compete on Sunday thanks to a concussion and a broken… er… face.
Due to a broken face, #SDLive #WomensChampion @BeckyLynchWWE will be unable to compete this Sunday at #SurvivorSeries. pic.twitter.com/47Gwh2Xava

— WWE (@WWE) November 14, 2018
They also made sure to let everyone know it was Nia Jax who punched the champ too hard just as Lynch's popularity was blasting off into the stratosphere.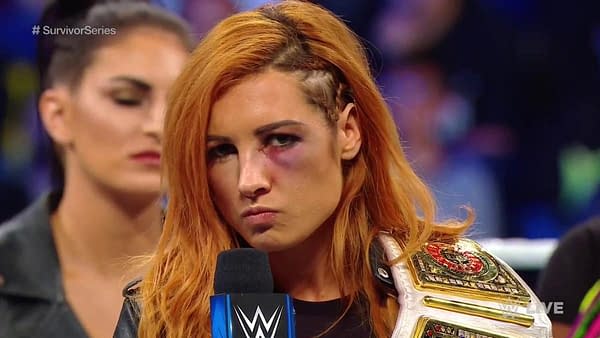 There's talk of whether or not the mistake is an indication of Jax being sloppy or unsafe, and it's extremely disappointing that we won't get to see Lynch vs. Ronda Rousey at Survivor Series. On the other hand, it's kind of a relief that we won't get to see Lynch vs. Rousey at Survivor Series because it means WWE won't be tempted to job Becky out to the (new) chosen one. Further, the image of Lynch, wearing the proverbial crimson mask (and gloves), posing triumphantly over a sneering Rousey will be forever etched in our minds, video replay packages, and Twitter memes. Becky will probably come out of this whole ordeal more over than ever, and even better, WWE seems to grasp this fact.
THE CHAMP has SPOKEN.@MsCharlotteWWE will finish the job #SDLive #WomensChampion @BeckyLynchWWE started this Sunday at #SurvivorSeries against @RondaRousey! pic.twitter.com/wY5xPoOqic

— WWE (@WWE) November 14, 2018
Later in the night, Lynch came out to the ring and chose Charlotte Flair to take her place vs. Rousey, which is interesting on several levels. First, it's long been rumored that WWE would build to a big Flair vs. Rousey match at WrestleMania, but has WWE changed course? If Flair loses to Rousey at Survivor Series (which she will), does that Lynch in line for the potential WrestleMania main event? It's also interesting because Becky shared a hug with Flair, seemingly burying the hatchet, after cutting a clear babyface promo about how badly she wanted to compete and how she would overcome her injury. Is WWE dropping her heel turn? Hopefully not, as they do seem to recognize that being an anti-hero is what's taken Becky to the next level…
Becky 11:12#SDLive #SurvivorSeries @BeckyLynchWWE pic.twitter.com/6v4LACCJgd

— WWE (@WWE) November 14, 2018
Before any of that though, AJ Styles came to the ring, followed by Paul Heyman, who taunted Styles about his Survivor Series match with Brock Lesnar, a match that, to be honest, we weren't really interested in. For one thing, we already saw the same match take place last year at Survivor Series, and for another, this one was going to end exactly like that one, with Styles losing. But Heyman brought up Daniel Bryan, trying to stir up jealousy between the two…
"It's going to be great when my client @BrockLesnar steps in the ring with the SECOND greatest in-ring performer, @AJStylesOrg!" – @HeymanHustle #SDLive #SurvivorSeries pic.twitter.com/kh0cXaau7I

— WWE Universe (@WWEUniverse) November 14, 2018
And Bryan then came out with an attitude problem directed toward Styles.
"You mention my name one more time without reason and I'm going to PUNCH YOU IN THE FACE!" – @WWEDanielBryan to @AJStylesOrg #SDLive #SurvivorSeries pic.twitter.com/rBmTypinUA

— WWE (@WWE) November 14, 2018
One thing led to another, and a WWE Championship match was scheduled for the main event.
You want to fight? You got it.@AJStylesOrg will put his #WWETitle ON THE LINE against @WWEDanielBryan TONIGHT on #SDLive! @ShaneMcMahon pic.twitter.com/3fs0rCVxbm

— WWE (@WWE) November 14, 2018
That match started with about a half hour left in the show, and it delivered on the highly competent match you'd expect from these two, and seemed to be building to the same conclusion as the last time they faced off: a Styles victory. Until everything changed when Bryan ducked a Phenomenal Forearm, causing Styles to take out the ref, and allowing Bryan to land a low blow, and shortly thereafter, we had a new WWE Champion.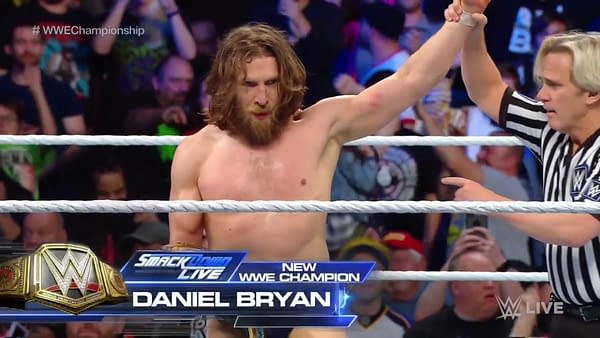 And then, for good measure, and to drive home the fact that, yes, Daniel Bryan is a heel now, Bryan grabbed Styles by the arms and kicked his face into the mat a few times.
WHAT ARE YOU DOING, @WWEDanielBryan?!? #SDLive #WWEChampionship @AJStylesOrg pic.twitter.com/XCndmTfwKs

— WWE (@WWE) November 14, 2018
And now we've got a brand new main event for Survivor Series, one that's… not as good as Lynch vs. Rousey, but close.
With that being said, NEW #WWEChampion @WWEDanielBryan will face #UniversalChampion @BrockLesnar THIS SUNDAY at #SurvivorSeries! pic.twitter.com/6FVoWq1kyz

— WWE (@WWE) November 14, 2018
And yeah, a bunch of other stuff happened, but does anyone really care about any of it? Well, maybe this…
This Sunday at #SurvivorSeries is all about unity, and The @WWEUsos just got the tag teams of #SDLive more MOTIVATED than ever! pic.twitter.com/4K9iVgE6Rq

— WWE (@WWE) November 14, 2018
Until you remember these teams are facing off against the Raw tag team division, so back to not caring again. But, all in all, where it matters, things turned out alright tonight.
What did you think of the show? Let us know in the comments.