Felicia Day is Mad, The New Mad Scientist on MST3K That Is – My SDCC Interview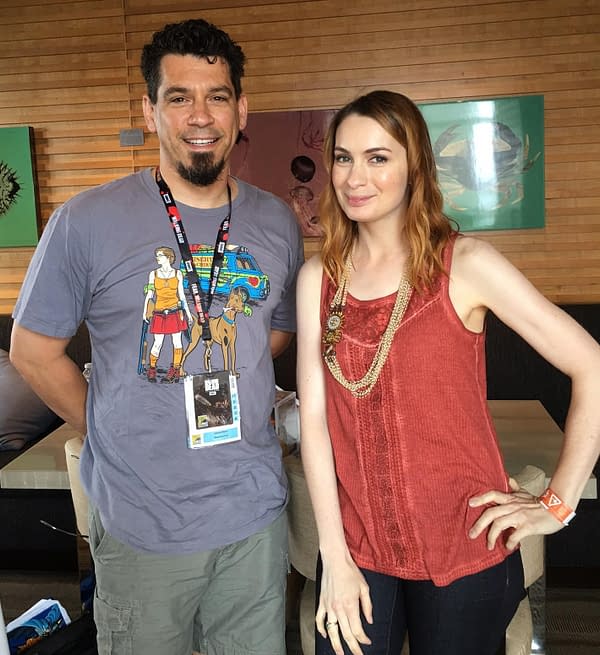 At this year's San Diego Comic Con I had the opportunity to sit down and talk to the wonderfully talented and creative Felicia Day to discuss her upcoming role in the returning Mystery Science Theater 3000 as the new Mad Scientist, as well as some other nerdy things.
The first thing I wanted to know from Day was whether she was a fan of the show growing up. Day said, "I was a huge fan growing up." She talked about being home schooled when growing up with her brother but that they weren't really that close with each other. The lone thing that brought them together was MST3K. Every Saturday it was a ritual to sit down together and watch it. She said, "It's just a dream come true to be able to work on something that was so formative in my childhood."
We next discussed how her being on the show came about. She said that she saw Joel Hodgson at the Salt Lake City Comic Con last year and approached him to get a selfie just to rub it in her brother's face. Joel started talking to her about a possible reboot and a couple months later she got an email from him asking if she wanted to be in it.
I next asked if she was also going to be involved in the writing process, and she told me she has written on four episodes, and she wanted to do more. She said it was a dream come true to be able to write and act on something she is a huge fan of.
The conversation then switched to one of my favorite things, Dr. Horrible's Sing-Along Blog. I showed Day a picture of the only time I ever cosplayed, me dressed as Dr. Horrible with her at SDCC 2011.
I asked Day if she felt that the mainstream success that Dr. Horrible had helped to change the way that entertainment is presented. She felt that Dr. Horrible was way before its time and digital content is just now being released of the same caliber and level as Dr. Horrible. She said it was kind of ironic that it was so before its time and the web sort of went a different direction with more low budget, unscripted, personality driven content, when in fact Dr. Horrible really proved that digital content can be outside the system and hugely successful financially and popular with fans. Day said, "I'm hoping more projects like that come forward with financial backing and creative freedom."
We discussed how SDCC has changed since the first time she came. She said it was her ninth time at SDCC and the first year she went was just as a fan. The second year she was here passing out fliers for her web series, The Guild, when people didn't know what a web series was. She sees good things at SDCC with people still being able to reach a bigger audience with the things they are doing, but feels the corporate presence is too much and that it may be stifling independent voices being able to get in touch with their fans.
Next, I brought up Day's work on comic books, her having done The Guild stories as comics in the past and if we would see any other comics written by her in the future. She said she was developing a couple comic books but had no set plans yet. She wasn't sure if what she was developing would be TV shows or comic books, so she is developing them tangentially as both. I asked her if Marvel or DC Comics had contacted her about writing about one of their superheroes. She said she had conversations with DC about Supergirl, but it never really came together. She thought working in someone else's sandbox would be a refreshing change.
I asked Day if she was reading any comic books right now and she said she was really enjoying Paper Girls by Brian K. Vaughn and Cliff Chiang, Black Magic by Greg Rucka and Nicola Scott, and Saga by Vaughn and Fiona Staples. She said she tends to not read superhero books, but loved to read a superhero comic that was different, and that Powers by Brian Michael Bendis and Michael Avon Oeming is one of her favorites for that very reason.
Day said she is working on many writing projects right now, but can't talk about any of them yet, but she did some acting on a recent episode of The Librarians that had Sean Astin in it and Jonathan Frakes directing, so it was "a crazy nerd reunion."
The last thing we discussed was her role as Charlie on Supernatural. I told her that the character's death had really saddened me. She said it was sad for her, because she felt like she spent four years of her life as part of this family. She felt that young girls were impacted and inspired by that character to be themselves and find an interest in programming, gaming, and hacking. I told her how I always wanted to see an episode showing Charlie's time in Oz. She said she had tried to pitch that as a little web movie, but the studio did not show interest.
Day was kind enough to take a picture with me and also sign my Charlie Funko Pop: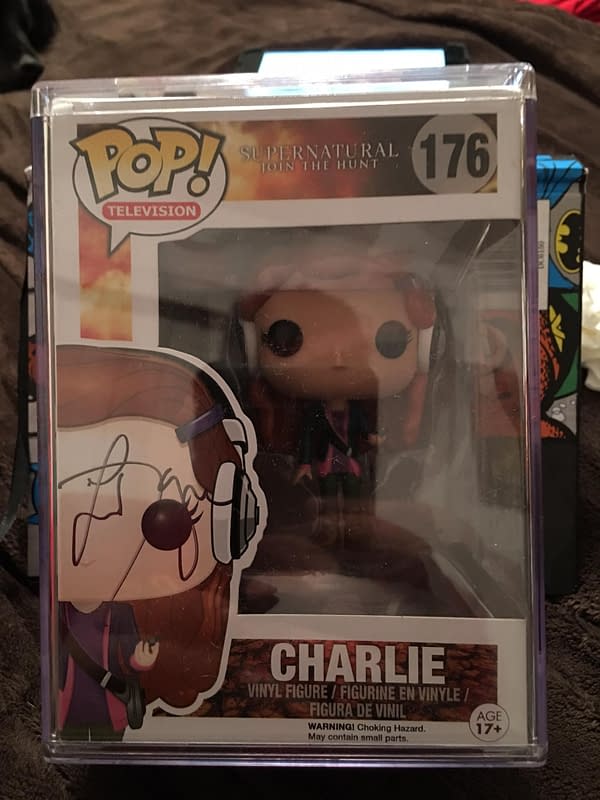 The brand new Mystery Science Theater 3000 will air on Netflix in the "not too distant future."
For further musings from the Joshua Stone follow him on the Twitter @1NerdyOne