Painter Demar Douglas Waves A False Flag [With Exclusive Art]
What happens when you intellectually mash up the endless conflicts of little army men with the theatrics of professional wrestling, all with the intellectual conceits of
Wag The Dog
, all set in a world of superheroes and costumed villains? A new take on paramilitary storytelling, enmeshed in the politics and themes of the day called
False Flag
, seeks to answer this question, featuring the painted illustrations of largely self-taught painter and artist Demar Douglas. Bleeding Cool sat down with Douglas to ask him about his work, his take on these stories, and what's coming up.
BC: Thank you for taking the time to talk to us. You have a very strong, very clear command of lighting and color, especially. Could you please tell us about your background, how you came into working in the visual arts?
DD: I have dedicated my entire life to the arts. My intro into the art world was my obsession with comics and animation at a young age. My mother at the time ran a very successful craft business, where I was assigned to paint detailed porcelain figurines to sell at craft shows. I recall a conversation when I was once discouraged from perusing art by an elementary school teacher who said that, "artist don't make money till they die."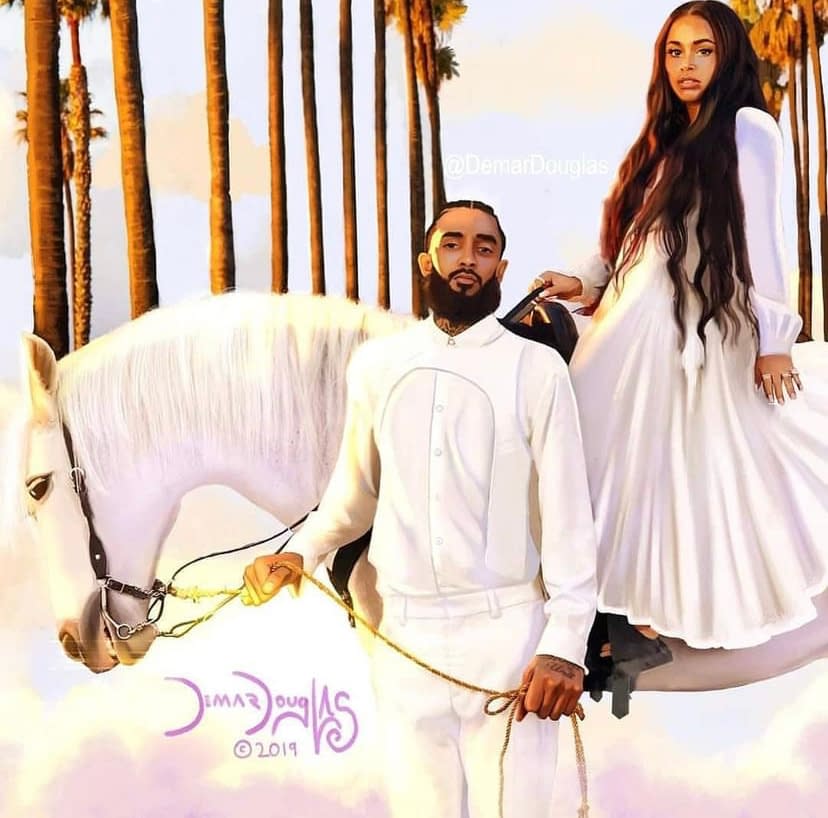 My response was, "Can you please explain who draws all the animations and comic books, or who designs the cars and houses?" I will never forget her blank expression. She never said anything to me about art ever again. I felt victorious, vindicated, and validated.
Soon after, I aligned myself with the most talented kids in my class, and we formed NDA, the "New Drawing Crew." We created original artwork for our classmates to buy at lunchtime. While we built our mini Marvel-like universe, we created a line of original Black comics, something that we didn't see at the time.
Over the years as I continued to grow in skill and business savvy. My father, who was a very hard 9-5 worker and who had a side business installing sprinkler systems, pulled me aside, and he told me two things that forever changed my perception and trajectory in life. First, he told me that I should always set my goals high and shoot for the moon even if I miss ill be among the stars, but If I aim for the roof, I will never get off the ground. Next, he told me was about how it's great to have your passions and to chase after them, but it's always best to have a consistent job and create my dreams on the side because artists come a dime a dozen. I walked away from this heart to heart feeling inspired and like a caged bird. What a paradox, so on the one hand, I'm an eagle who can fly high, and the other hand should be shackled to an average job for stability.
I'm a pretty strong-willed human, so this convo pushed me in a way that I can only describe as becoming the best battle rapper in the world. I decided that I'm going to shine in all aspects of my artistry. I learned to become masterful in realism, too cartoonish and everything in between. I wasn't going to be a one-trick pony, nor only create in one style for my whole life. I became extremely versatile. To me, art is art; it's just how you apply it. Drawing Mickey Mouse or a realistic portrait of President Obama, it's exactly the same to me. This diversity has allowed me to freelance full-time in several fields, learning as I go.
BC: The work you've created for False Flag isn't your only foray into design and art; what other projects are you working on that might have made an impression?
DD: I recently finished illustrating an incredible children's book called I Love My Skin. It's about self-acceptance and having pride despite what others may think about you. I think it is important for young kids to learn to love themselves. I also illustrated an album cover for a famous NY rapper named Illa Ghee. I was in shock to see videos of it on the side of buildings in Times Square.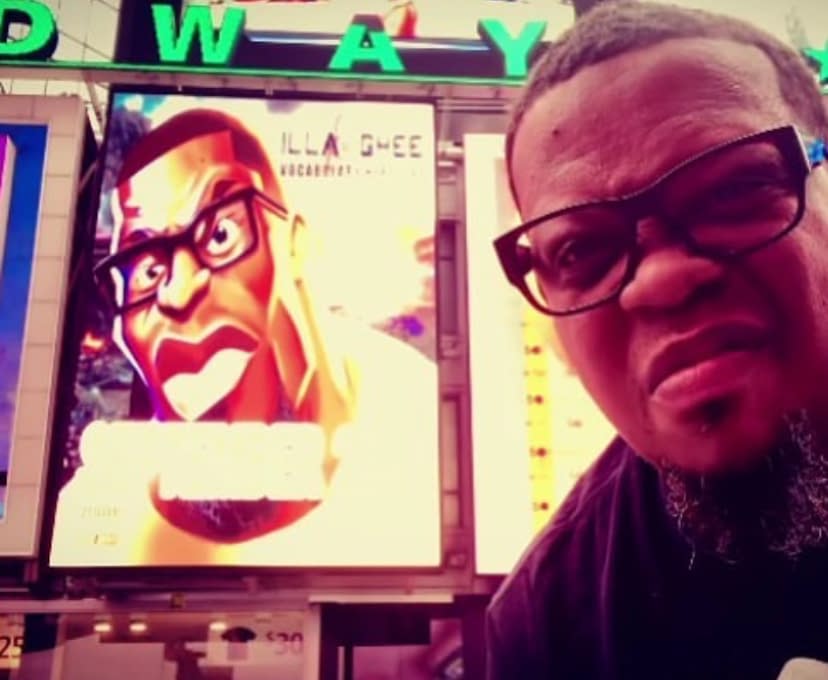 BC: How did you get involved with the False Flag project?
DD:
The False Flag
project was introduced to me by the amazing
Hannibal Tabu
shortly after meeting him on a podcast called
Dad Is Not A Noun
. I was illustrating a digital portrait of Prince to celebrate the release of his
MPLS Sound
book from Humanoids, and he really liked it. On the show, I said I'd like to collaborate, he was interested, and here we are.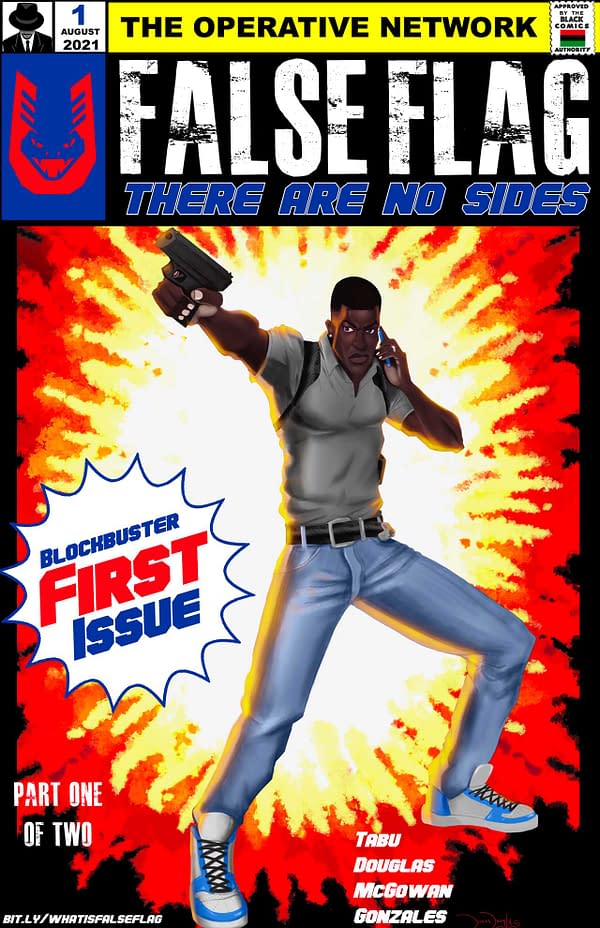 BC: We're showing some exclusive artwork, images for the first three stories, which are all very focused character pieces. What can you tell us about the first one, with this character, the Shop Steward?
DD:
The
Shop Steward
is half swag, half amazing. He obviously is with the Union of the Snake; as you can see his belt, and gun holster is made of snakeskin. He is reminiscent of Nino Brown from New Jack City but has the charismatic charm of Negan from
The Walking Dead.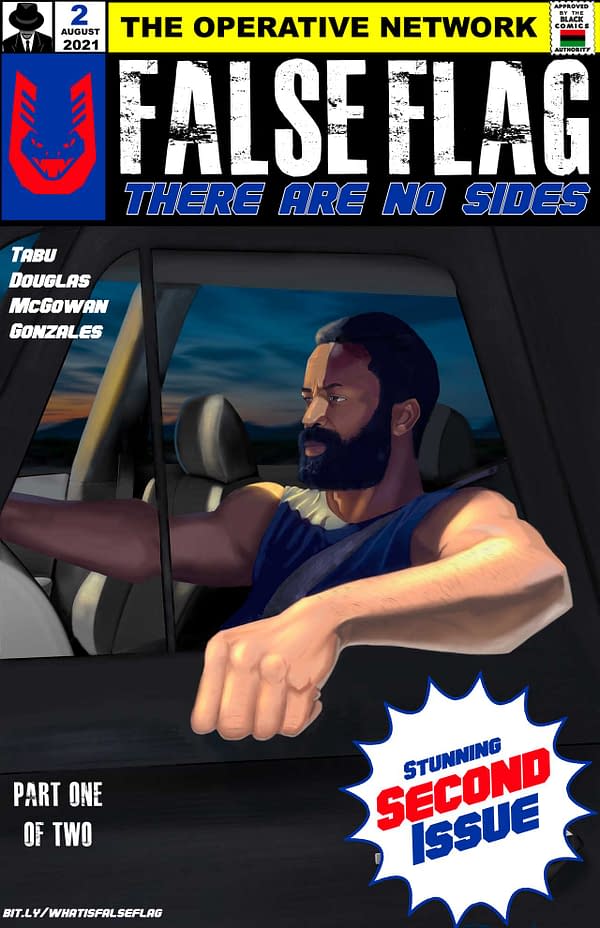 BC: The second piece seems to closely resemble the actor Damion Poitier as the character Black Fury, a name with roots in old public domain heroes. What can you tell us about this composition?
DD: Yes, Damion was cast as Black Fury. The creative brief was very particular with the layout and design, so to reach out for a quick photoshoot was an awesome asset to have added to my arsenal. I feel like it gives a level of authenticity unrivaled by any other means.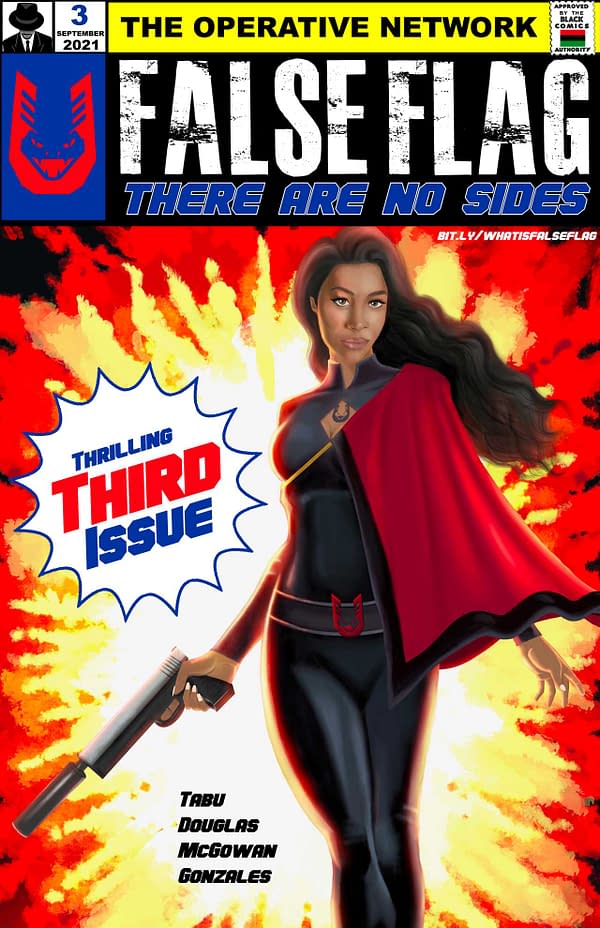 BC: Speaking of recognizable people, this third piece looks like actor and host Dani Fernandez, cast in a possibly villainous direction. How did this piece come to be?
DD: I was tasked with the unique opportunity to create Dani in a sexy but classy way, and depending on your perception of the story, a potential antagonistic portrayal. The fun challenge was to take reference from her IG and cast her into a fictional world
where "there are no sides" proved to be quite the conundrum.
BC: There are two pieces we were not authorized to show — can you tease them a little, what people will see?
DD: Issue four is a paradoxical battle to the death in a parallel reality where beauty and destruction meet at a four-way stop. Issue five is an amalgamation of the good, the bad, and military superiority!
BC: False Flag is listed as "season one." What can you tell us about the future of this story?
DD: The only thing I'm allowed to really say on the future is that when you strategically align all the dominoes' trajectory to an intersecting point, you can only expect things to fall apart. Just know that the tipping point has repercussions.
BC: Where can people find more information about you and your work?
BC: Thank you again for taking the time to sit down with Bleeding Cool!
DD: NO, THANK YOU. This is a dream come true, to even be on your radar.
False Flag
is a series of prose stories with illustrations published for FREE each #falseflagfriday until November on The Operative Network. Find out more at
bit.ly/whatisfalseflag
.