WWE Survivor Series took place last night, its hype seriously downgraded by the absence of WWE's hottest star, Becky Lynch. And most of the show was as lackluster in excitement as expected, but as Lynch's replacement, Charlotte Flair, faced off against Ronda Rousey in the opening minutes of their match, it became clear that we were watching something special.
Rousey is still a little green, and it showed in some clumsy moments in the match, but overall the pair conveyed the story of a desperate battle for dominance, with Flair struggling to overcome Rousey's legit MMA skills that earned her the nickname "The Most Dangerous Woman on the Planet," and Rousey struggling to overcome Flair's size and experience advantage, factors which contributed to the "big fight feel" of the match.
This is even more intense than we imagined!#SurvivorSeries @RondaRousey @MsCharlotteWWE pic.twitter.com/pRdZg1W41q

— WWE (@WWE) November 19, 2018
That Rousey took an unexpected elbow to the cheek while she and Flair grappled for position on the ground, causing her to bleed profusely from her mouth for the remainder of the match, certainly added to the intensity. And just as it seemed Rousey would gain the upper hand and defeat Flair, Flair lured her outside the ring and attacked with a Singapore cane, earning a disqualification, before proceeding to deliver a nasty beating that saw Rousey smacked with the stick at least once in the head, saw Charlotte beat up several WWE officials before (with some difficulty) wedging Rousey's head in a steel chair and stomping on it, and left a battered Rousey with bruises and welts all over a body, a bleeding ear, and the aforementioned bloody mouth.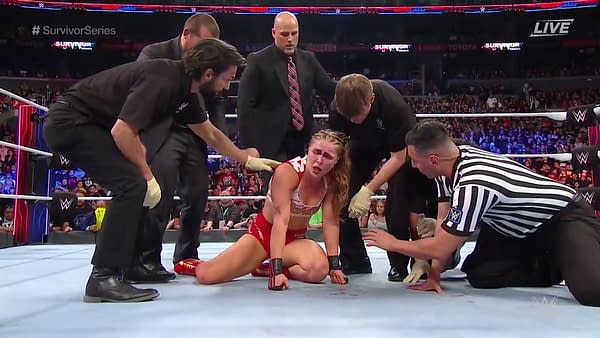 While normally we have to side with the fans when they choose to boo the faces and cheer the heels, we can't agree with their decision to chant "Thank You Charlotte" and cheer her brutal beatdown of Rousey. Tonight more than any past performance, Rousey proved she has what it takes to make it in the world of pro wrestling, and she deserved sympathetic applause for walking out of the arena on her own after that beatdown, not jeers. Maybe it's those terrible promos about Millennials? The mean glare Rousey gave the booing crowd, however, including staring down one vocal fan before telling him "you're not a man" may foreshadow a Rousey heel turn. It was an excellent performance from Flair as well, though Flair has had quite a few of those during her career, making it less surprising. What remains to be seen is how this affects Becky Lynch, with Flair seemingly stealing her heel turn thunder. We'll find out more on Smackdown on Tuesday, we suppose. And on Raw, will fans cheer for Rousey's next opponent, Nia Jax, even though she's responsible for injuring Lynch in the first place?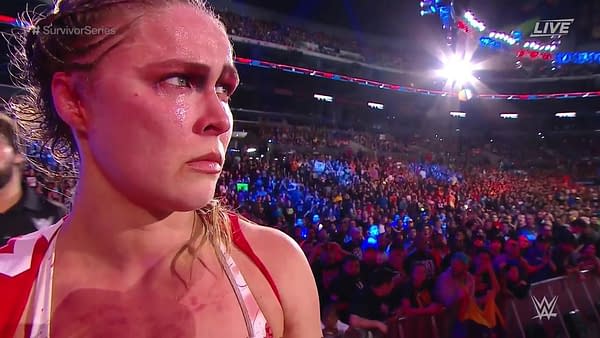 The main event of the evening featured Daniel Bryan, recently turned heel to win the WWE Championship from AJ Styles, squaring off against Universal Champion Brock Lesnar. The match opened with typical Lesnar fare, with The Beast tossing Bryan with his trademark German suplexes and more than once causing us to wonder whether Bryan might end up with another concussion.
Again. And again. And again. And again.@BrockLesnar continues to dominate @WWEDanielBryan. #SurvivorSeries pic.twitter.com/ZYDdGFBVTL

— WWE (@WWE) November 19, 2018
Thankfully, Lesnar soon switched to mostly overhead belly to belly suplexes, leaving less chance of Bryan landing on his head. But after a while of this, when Lesnar went for a second F5 and accidentally dropped Bryan on the ref, Bryan sprang to life, kicking Lesnar hard in the nuts, his new signature move.
The ref is down…@WWEDanielBryan has found new life in this match! #SurvivorSeries pic.twitter.com/ftUppqKEWl

— WWE Universe (@WWEUniverse) November 19, 2018
The next several minutes saw Bryan stalking Lesnar to deliver his hardest hitting flying knees and kicks, alongside some ringside brutality, which ignited crowd interest and almost made us believe that he could pull off the victory. At one point, it almost seemed like Lesnar could tap out to the Yes Lock.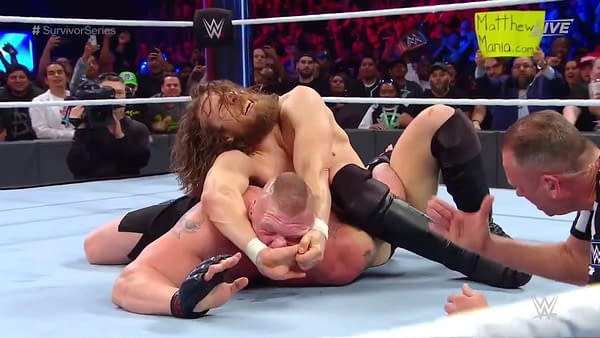 The match ended like most Lesnar matches, with an F5 and a pin, but Bryan was left smirking in the ring, perhaps a sign of his new deranged character, or perhaps out of satisfaction in having accomplished the impressive feat of inspiring Lesnar to have a decent match. Lesnar will presumably be off TV until his next title defense (probably at the Royal Rumble, leaving Bruan Strowman to pass the time via a feud with Baron Corbin), but once again, we look forward to Smackdown to see what's next for Bryan in this new phase of his career.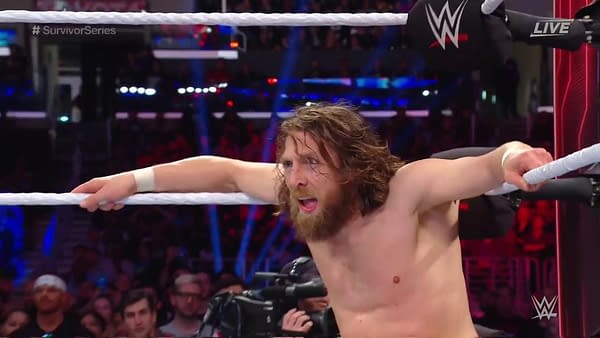 The true highlight of the night, however, happened off camera, as disgraced former WWE Cruiserweight Champion Enzo Amore apparently bought himself a ringside ticket, threw on a black pompadour wig, and brought a custom title belt to the show.
Amore has a new rap album out (it's as bad as you think), and it looks like this, as well as the incident over the weekend where Amore was ejected from a plane for refusing to stop vaping, was part of his admittedly solid plan to promote it. Security dragged Amore out of the arena during the Tag Team match between The Bar and AOP, eliciting massive boos from the crowd, and Amore's appearance was the talk of the internet and the only really memorable highlight from the show's undercard. Amore's removal also breaks longstanding wrestling kayfabe where storyline suspended or fired wrestlers are able to sit at ringside to watch their rivals so long as they paid for their ticket like anyone else. WTH, Vince? Have the announcers been lying to us this whole time?
You can see video of Amore's performance here and the crowd reaction to his ejection here. It happened right at the start of the tag match, and you can hear the crowd cheer him just as WWE is introducing the Mandarin announce team. The camera crew does their best to avoid the usual ring camera angle until Amore is ejected, but you can catch a glimpse or two, and you can definitely hear the crowd booing security.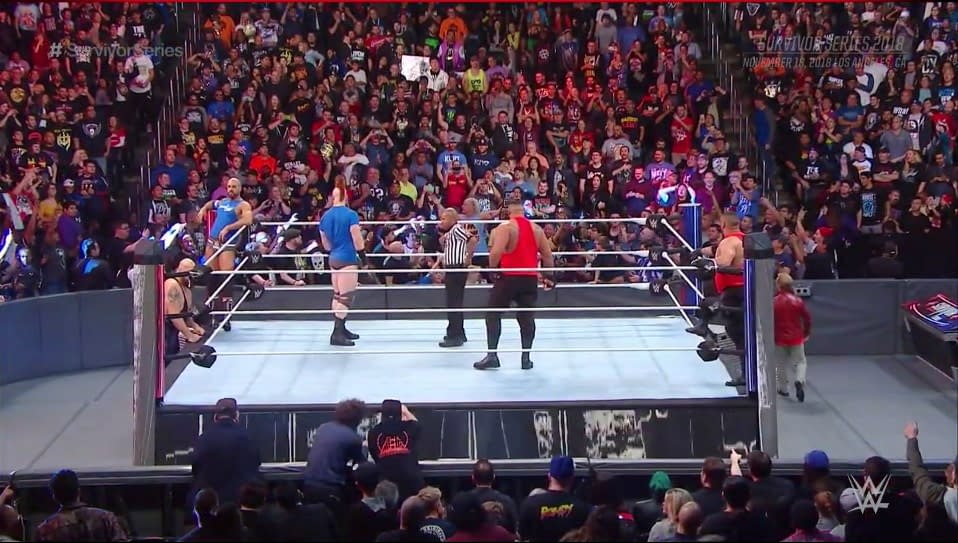 Amore posted his thoughts on the events on Twitter:
Just checked…. Still Certfied.

— #nZo (FKA Enzo Amore) (@real1) November 19, 2018
Apparently you can't vape inside the staples center. #HowYouDoin!?

— #nZo (FKA Enzo Amore) (@real1) November 19, 2018
If you missed Survivor Series, you can catch it on the WWE Network, but we recommend fast forwarding to the last two matches.
Enjoyed this article? Share it!