Star Wars Celebration Anaheim Has Officially Been Canceled
In a move that really surprised no one, Star Wars Celebration Anaheim has become the latest convention get canceled in 2020. A lot of people have been waiting for this to happen, and more or less assumed that Celebration Anaheim was going to be the latest convention to get canceled during the COVID-19 pandemic. While places like Disneyland have scheduled reopenings, conventions aren't the same animal. It would be next to impossible to social distance on a convention floor. Unlike Disneyland, who could limit their daily ticket sales to help with social distancing, a convention that sold tickets long before the pandemic became a thing could not possibly pull something like that off. ReedPop and Star Wars Celebration posted to their official social media accounts about the cancelation of the event and what fans with tickets can do to transfer their tickets to Celebration Anaheim in 2022.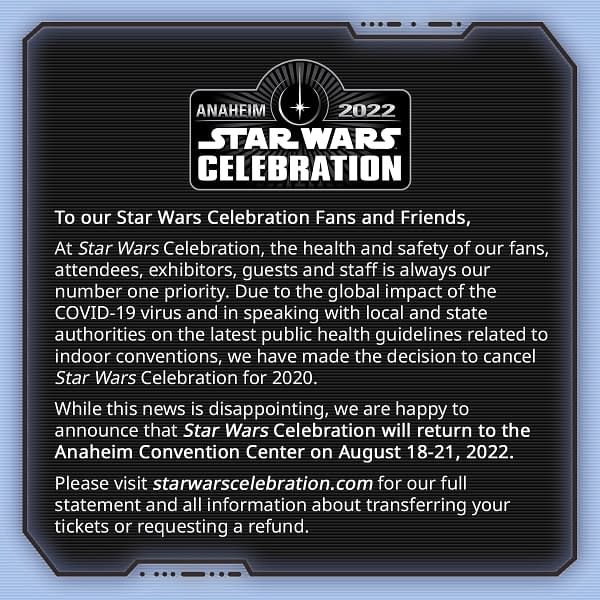 The official Twitter account was asked about hotel reservations that were made through Star Wars Celebration will be automatically canceled with no cost to you.
Back when it looked like San Diego Comic-Con was going to get canceled, this writer thought that the best idea for everyone involved is to wash our hands of 2020, and that is probably still the best idea. We are all eager for life to return to "normal" after months of the pandemic, but some things, like conventions, are just different animals compared to going out for dinner. No convention wants to become a hot spot for the virus coming back or becoming a reason for a city needing to shut down again. If we reopen or try to return to normal too soon, the virus could return in a big way, and much sooner than experts are already predicting it will return. So if you're a comic con fan looking forward to New York Comic Con in October, it might be time to come to terms with the fact that that convention isn't happening either the same as Star Wars Celebration. It's time to wash our hands of 2020 and look to 2021 before we can really start returning to normal.