It's been a whirlwind couple of weeks for the WWE Universe. First, WWE Universal Champion Roman Reigns was forced to relinquish his championship due to a battle with leukemia. WWE quickly announced a match between Braun Strowman and Brock Lesnar for the championship at Crown Jewel, despite Lesnar all but leaving WWE to prepare for a return to UFC and a likely upcoming fight against UFC dual Champion Daniel Cormier.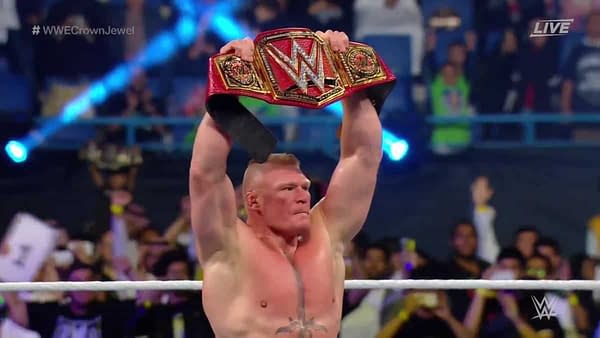 Though WWE bringing back Lesnar may have been a surprise, it was unfortunately less surprising that Lesnar defeated Strowman at Crown Jewel in a match that consisted of nothing but F5s, one of them over the top rope to the floor, to regain the championship. But the real shocker could be yet to come.
After defeating Derrick Lewis at UFC 30, Cormier, a WWE fan himself, expressed his desire to become a triple champ!
"When you come, bring that brand new WWE title too," said Lewis, who could face Lesnar as early as UFC 235 in March. "I feel like being a WWE Champion too. Let's go, let's go Brock. Bring that belt with you if you come to my house."
Daniel Cormier told Brock Lesnar to put the WWE title on the line. #UFC230 pic.twitter.com/E4M8jfC6fL

— HypeHub Sports (@HypeHubSports) November 4, 2018
It might seem outlandish to think that WWE would allow its championship to be contested in a UFC match, but the publicity for such a move could be huge for both companies. Further, Cormier, who has intimated that the match in March could be his last, could end up in WWE after his UFC career is done. Appearing recently on Busted Open Radio (as transcribed by Wrestling Inc), Cormier said:
I am going to Orlando to the Performance Center to do my gig to see how it works out. I am very passionate about pro wrestling. I have watched it my whole life. You can YouTube my reaction to when Seth Rollins won the World Championship at WrestleMania 31. I am very passionate. It is what I like to do. Since I was a kid I liked watching wrestling and is a dream to be able to do something with them in the future.
Cormier has also previously offered to fight Lesnar in WWE for the UFC Championship. If Cormier were to defeat Lesnar at UFC 235 and retire as UFC Champ, he could take a newly won WWE Universal Championship to WWE Raw and bring a ton of mainstream interest with him. Would you like to see it happen?
Enjoyed this article? Share it!