It's widely believed that the concussion and broken face that forced WWE to pull Becky Lynch from Survivor Series, replacing her with Charlotte Flair, was the result of an errant punch from Nia Jax during Smackdown's Lynch-led invasion of Raw last week. However, in a shocking series of tweets, Lynch has revealed that, while Jax's punch did cause the broken face, the concussion was actually a result of Chris Jericho's music.
The exchange began when Jericho complimented WWE for its success with women's wrestling through the Women's Evolution (TM), a book initiative wherein WWE congratulates itself for finally treating female performers with the same respect and dignity as the men, an initiative that was only necessary because WWE's past initiative was to treat the women like crap. In any case, Jericho tweeted and Lynch responded:
Nope, that was me.

— The Man (@BeckyLynchWWE) November 19, 2018
But it was only when Jericho attempted to deny The Man the credit she deserves, crediting Nia Jax for part of the angle's success, that Lynch revealed it was actually the most recent album by Jericho's heavy metal band, Fozzy, that caused the concussion.
The suckerpunch drew blood for sure. Little known fact though: I actually got the concussion from trying to listen to your last "album."

— The Man (@BeckyLynchWWE) November 19, 2018
The album in question, Fozzy's Judas, is available on all your favorite streaming services, though clearly you should listen at your own risk. Lynch will be at tomorrow's episode of Smackdown Live, where she'll need to address the fallout from her replacement at Survivor Series, Charlotte Flair, stealing Becky's thunder with a "heel turn" of her own by savagely beating Ronda Rousey with a kendo stick and steel chair.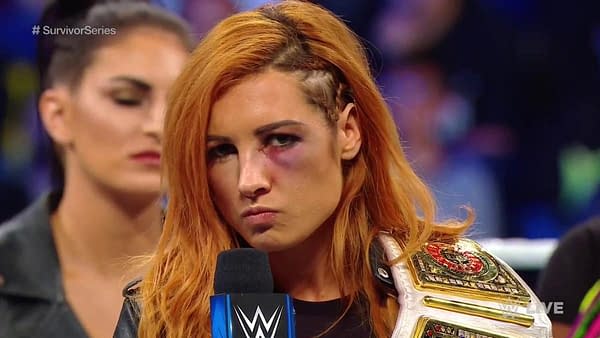 Enjoyed this article? Share it!