Global entertainment superstar John Cena may have refused to perform at WWE's Crown Jewel event in Saudi Arabia, but fans *can* see him in this new video reading his bestselling children's book, Elbow Grease. Have you ever wanted to hear Cena deliver lines of dialog like "owie kazowie?" This is your chance. And yes, he does voices and he does accents. Watch the video below.
THE #1 NEW YORK TIMES BESTSELLER!

From superstar entertainer John Cena comes a new picture-book series all about perseverance and believing in yourself, featuring a little monster truck named Elbow Grease!

Meet Elbow Grease, a little monster truck with a big problem! He's smaller than his four brothers, but wants to prove that he has the guts and the grit to do big things. He decides that entering the Demolition Derby is the perfect way to show everyone that what he lacks in horsepower he makes up for in gumption. From multi-talented mega celebrity John Cena comes this exciting story about the importance of believing in yourself and never giving up. Full of high-octane illustrations and a new character kids will cheer for, this fun and fast-paced book proves that a little Elbow Grease . . . can go a long way!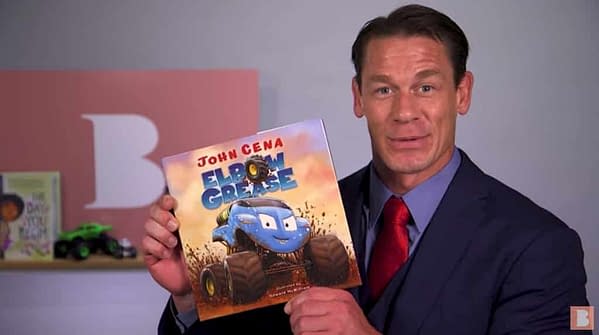 Enjoyed this article? Share it!