AEW Rampage Preview: Daniel Garcia and Action Andretti Clash Tonight
While running through the full card for tonight's episode of AEW Rampage, The Chadster considers why Tony Khan is so obsessed with him.
---
It's Friday night, and The Chadster is incredibly excited to watch some wrestling on television. But when Smackdown goes off the air, then The Chadster is stuck with AEW Rampage, which is going to totally kill The Chadster's good mood! You are probably asking yourself: why does Tony Khan have it in for The Chadster so badly? Well, The Chadster has a theory.
After thinking long and hard about it, The Chadster had come to the only logical conclusion: Tony Khan is jealous of The Chadster. Yes, Tony Khan may have billions of dollars, while The Chadster is a lowly wrestling journalist, and yes, Tony Khan does not, to The Chadster's knowledge, suffer from crippling AEW-induced sexual impotence like The Chadster. But The Chadster is able to enjoy wrestling in its purest form the wrestling produced by WWE, while Tony Khan doesn't understand the first thing about the wrestling business. Tony Khan's heart is filled with hate, hate for The Chadster, and hate for WWE, and that's why Tony Khan can't stand to see The Chadster happily enjoying his WWE Smackdown and has to ruin it with another action-packed episode of AEW Rampage. Auughh man! So unfair!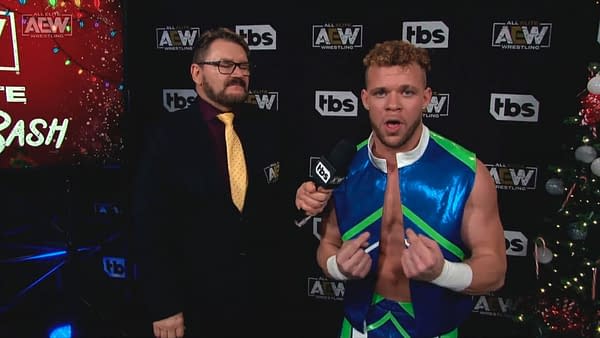 Ethan Page vs. Jungle Man Jack Perry is set to be an intense contest between two of AEW's top stars; Action Andretti vs. Daniel Garcia is sure to be a high-flying and hard-hitting encounter; Brian Cage vs. Willie Mack promises to be a clash of power versus agility; Eddie Kingston's comments could have major implications for the future of his partnership with Ortiz; and Jade Cargill and Leila Grey will both be in action on AEW Rampage tonight.
All in all, it looks like the card for tonight's episode of AEW Rampage will be a really fun one for AEW fans, which is why The Chadster is so cheesed off he probably won't even enjoy Smackdown tonight because he'll be dreading what's to come. Rampage airs at 10/9C on TBS.