Bill Murray Gets Help Making His "Groundhog Day" Hell More Bearable, Thanks to Phil & Jeep [VIDEO]
It was only late last week when we reported that Jeep was looking to tap into the current wave of 90's nostalgia with an updated take on Bill Murray's modern comedy classic Groundhog's Day.
Well, the fine folks at the automaker aren't waiting for tonight's Super Bowl to offer viewers a look at the results – releasing a very interesting "alt universe option" to the fate awaiting Murray's television meteorologist Phil Connors in director Harold Ramis' original 1993 film.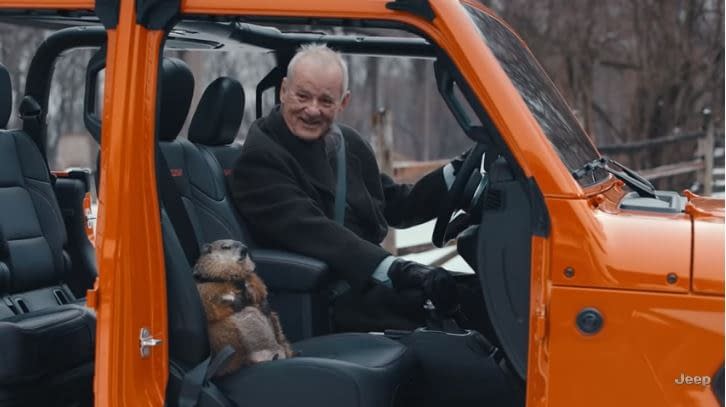 You can check out the commercial below – and while you're enjoying it, make sure not to think too hard about the ripple effects this could have on the space-time continuum. Possibly, the very destruction of all of existence.
But you'll get great mileage before we all shuffle off this mortal coil – dammit if Murry and Phil aren't adorable-as-s**t together, so I guess there's that.
And yes, that's Brian Doyle-Murray and Stephen Tobolowsky returning to their roles of Mayor Buster Green and "Needlenose Ned" Ryerson, respectively.
It's "Groundhog Day" all over again as Jeep brand debuts a Big Game spot starring Bill Murray (in his first-ever national television commercial). But this time reliving the same day over and over again is always a new adventure when you're driving the 2020 Jeep Gladiator. Jeep. There's only one.
Groundhog Day was co-written by Ramis and Danny Rubin, and would go on to become a box office success for Columbia with a box office earning of $70.9 million domestically. Ramis also co-starred with Andie MacDowell, Chris Elliot, and Robin Duke.