Booker T Calls Bayley a B+ Player; Sasha Banks Fires Back
A feud is heating up between two generations of WWE stars. Sasha Banks lashed out at Booker T on social media after Booker T made less than flattering comments about Sasha's tag team partner and best friend, Bayley. Booker T was discussing Sasha and Bayley's successful run in WWE on the Hall of Fame podcast, which some have said is carrying the entire company right now, when he made what seems like a backhanded compliment about Bayley.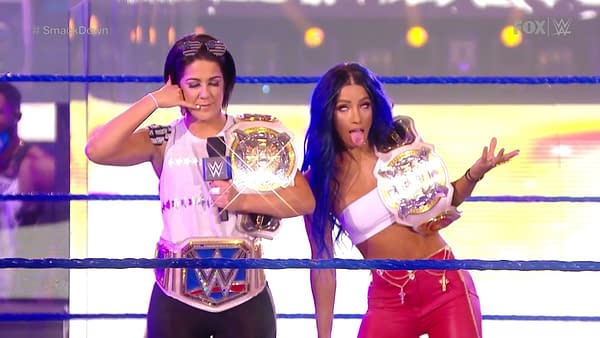 "It's been good for both of them," Booker said of Sasha and Bayley's current run, in comments transcribed by 411 Mania. "Sasha, she took that little hiatus for a while, time off, and then came back. You wondered exactly what she was gonna, you know if she was gonna find herself. If she was gonna land on her feet or not. She seems to have done that pretty well. Sasha's a major player. She is one of the talent on the roster that you can always be able to go to and then know that she's going to deliver, especially in a big match."
Booker T had nothing but praise for Sasha Banks, but when speaking about Bayley, Booker seemed to say she's a B+ player. "Bayley, it's the same thing," he said. "Even though I'm always on Bayley's case. Bayley is the quintessential worker. She can go out there, and she may not be great at anything, but she's good at everything. So when I watch Bayley go out and perform now, taking on this new persona, which is something that I couldn't wait to happen, I think it's good for her, as well as we're in this era again, this pandemic era. Everything right now is kind of like on hold, in like a holding pattern, and for those two to be in a position, in the holding pattern is perfect."
Sasha Banks wasn't going to take that kind of talk about her partner. "We're better than Harlem Heat!" Banks replied on Twitter. "Now can you dig that SUCKA @BookerT5x #sasha3shows #Bayley3Brands" Hopefully, Booker gets the message before The Boss has to put him further in his place.