Bugs vs. Mickey: Why Looney Tunes is Winning the Streaming Wars
HBO Max has made a splash in its first few weeks of existence, but what should not be surprising is that the most popular show on the platform wasn't Game of Thrones or Friends, but their Looney Tunes cartoons. And even despite criticism that their choice to have the modern incarnations of Elmer Fudd and Yosemite Sam no longer carry guns, the back catalog of Looney Tunes is inescapably some of the best content on the service.
Who this should really make quake in their boots is not the NRA or other cultural warriors, but their competitors over at the House of Mouse. Disney + is a great service and has amazing content on it. And yet eight months after launch, and only a tiny fraction of their back catalog of classic cartoons are available. Adding insult to injury, these treasures seem almost hidden unless you're specifically seeking them out.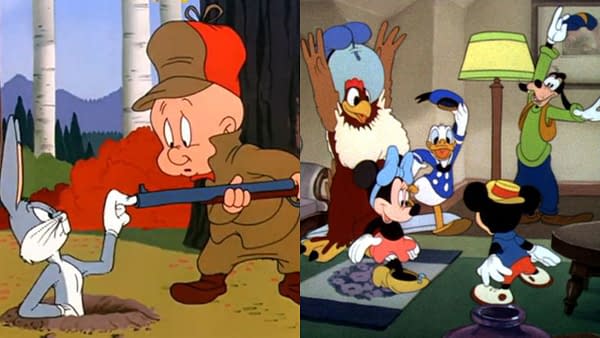 All of this begs a serious question: what exactly is Disney hiding? Why is the House that Mickey Built seemingly focused more on The Simpsons than Mickey, Donald, Goofy, and others? This is a giant mistake, but let's look at exactly the differences between the two services and show how Looney Tunes is winning, and then posit some clear directions for how The Mouse can make up lost ground.
Find the Wabbit / Find the Mouse
The first difference in the platforms is how easy they make it to find their content. Looney Tunes gets its prime place in the sun on HBO Max, with its own vertical category, right next to Studio Ghibli and DC Comics properties. And when you do look at them, each cartoon is arranged into a "Season" by year of release. And they're also numbered to be able to find them.
Not only that, it's also easy to see which cartoons are not there. This includes the so-called "Censored Eleven" (now much more of a misnomer since most are available in some form, including recent DVD releases which included disclaimers before the cartoons from celebs like Whoopi Goldberg that they contained racist depictions, but to censor them or pretend they don't exist is to deny the racism of the time, which is even worse than the depictions themselves).
However, while the most problematic shorts aren't featured on the platform, the vast majority of Looney Tunes' vast library is. And, despite some misunderstanding of exactly what is going on, Elmer Fudd and Yosemite Sam still have their guns. The fact that there are holes noted in the season seems to imply a future attempt at restoring missing content– perhaps with appropriate context and warnings similar to previous DVD releases.
Now, flip over to Disney+. Try finding all of the Silly Symphonies or Mickey and Friends cartoons. Good luck. I see The Simpsons promoted very heavily. I see curated thematic runs of Simpsons episodes. No offense at all to the greatest animated show of all time, but I would also expect Disney to show the same care with their back catalogue.
You check their verticals, and they have easy links to Movies, Series, and Originals. You have easy links to Disney, Pixar, Marvel, Star Wars, and if you click over to Disney you get Originals, Animated Films, Additional Animated Films, Disney Channel Originals, and finally ninth down the list is "Mickey Mouse Through the Years." It has a dozen cartoons featured. You click on each one, it offers eight more you might like. At the very bottom there is another section, "Vintage Disney" with links to a few dozen more. And while it's an incredibly good selection, it's not organized, and certainly isn't easy to find what you're looking for.
So, off to ye olde search bar. I'm trying to find the cartoon where Goofy teaches us to play baseball (which does exist on the platform), but if I search for "Goofy" I get An Extremely Goofy Movie and A Goofy Movie and Goof Troop, along with a bunch of other Mickey-forward-content, but not that. I do get the "How to Play Football" short, but football is not baseball.
What is The Mouse Hiding in The Vault?
I can understand some of these problems at launch. But after huge numbers of people subscribed to your service and many months of being up and running, the fact that the vast majority of the Disney back catalogue of cartoon shorts isn't available leads to only one conclusion: they're trying to hide something. A simpler answer could be that the content just isn't ready to be put on streaming, but that is likely untrue, as Disney has as recently as a decade ago released fully restored archival collector's edition formats all of their cartoon shorts in the Walt Disney Treasures series.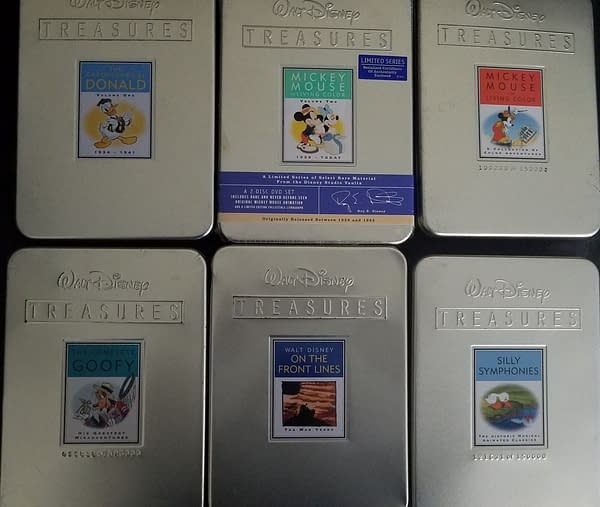 Another, broader possibility is how many of these shorts have problematic elements that need some sort of content warning attached to them. Already, a recently added Donald Duck cartoon, "Tire Trouble," includes a warning for "insensitive racial themes"– in this case, a tire patch kit called "Mohican" — but the vast majority of the biggest offenders are nowhere to be seen. Again, this isn't a call to bring Song of the South to the platform. This is a completely separate issue. But, when, again, in very recent history, Disney has released incredibly problematic shorts like "Californy er' Bust" or "Pluto's Dream House" on DVD. They're also available on YouTube. So, why exactly is The Mouse afraid of their own history?
The only reasonable conclusion is they simply don't want to. Being fully transparent and pointing out gaps in their offerings is one thing, and certainly understandable. But fully hiding almost everything? It just seems silly.
How Mickey and Friends Can Catch Looney Tunes
The first answer is simple. Upload as much of your back catalog as you feel comfortable with. Make a big deal out of it, too. Second, put all of it in an easy-to-find and navigate submenu. Just do like HBO Max did and treat it like a TV show with hundreds of 8-minute episodes. Third, start curating some of the content. As a kid, I loved collections like "Scary Tales" or Disney Channel Specials that saluted Moms or Dads.
Fourth, a modest proposal: "Woke Disney." Bring in Disney experts and academics who love these cartoons but can also point out what is outdated, racist, sexist, etc about them. Make sure that these folks are primarily people of color. Have them introduce the shorts the same way George Plimpton used to host "Mousterpiece Theater" and then follow them up with short panel discussions. Make that content skippable for folks who don't want to watch it. A lot of the folks you want already have YouTube shows, Twitter, and Instagram channels or tumblrs that you can draw from. You can produce this cheaply and package them with your shorts. Then no one can say you're hiding from your racist past, or that you're skimping on classic content on your streaming service.
Until then, as much of a Disney fan as I am, you can find me over on HBO Max watching Looney Tunes.