"Crisis on Infinite Earths, Part 1": Strong Opener Has Death, Heartbreak Hitting Arrowverse Hard [SPOILER REVIEW]
After a year of teasing, clues, and buildup, the "Crisis" is here. Our first episode takes place in Supergirl's continuity, technically the 9th episode in her 5th season. Most of it also takes place on Earth-38, Supergirl's (Melissa Benoist) home. After gathering most of our heroes, Lyla (Audrey Marie Anderson) aka Harbinger announces this is how they have to stop the "Crisis"– by making a stand in National City on Earth-38.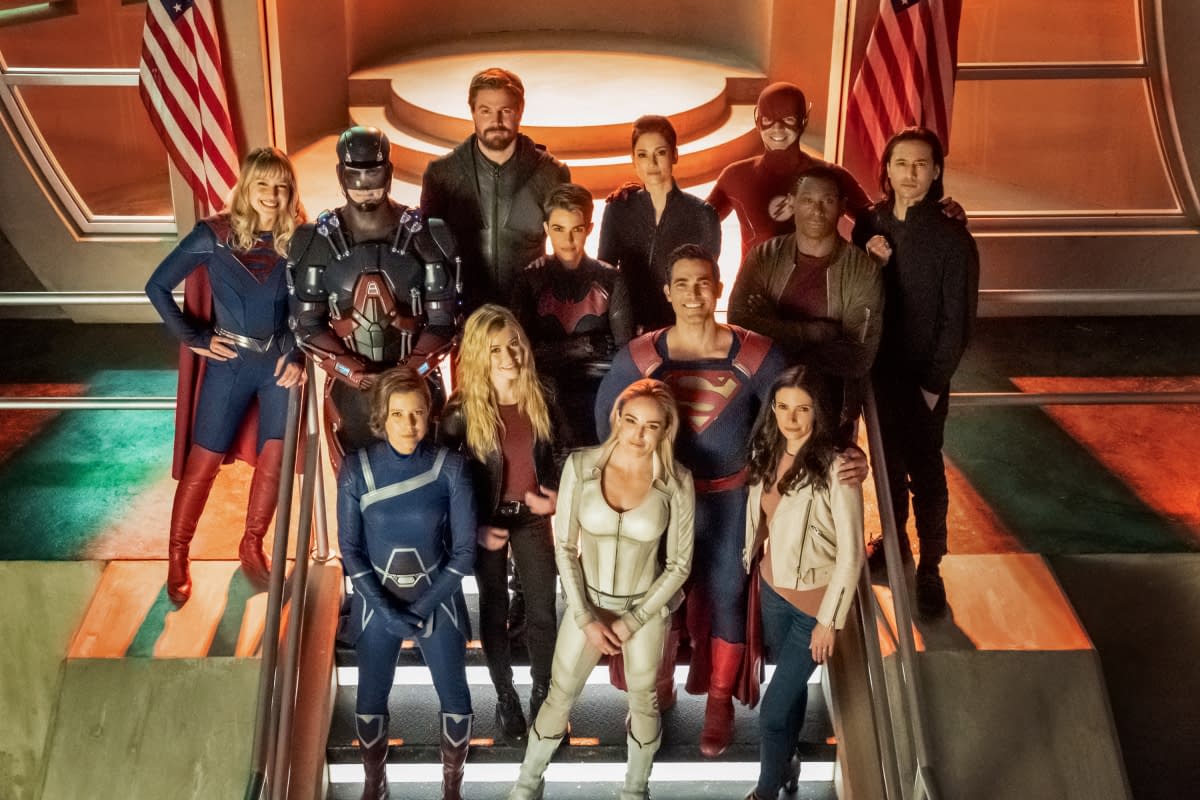 But our episode begins with mass destruction across the universe. We flash from Earth-89 to Earth-8 to Earth-X to Earth-66 as we see red skies and everything obliterated. We also get cameos from Robert Wuhl and Burt Ward (Earths 89 and 66 a sly reference to the Batman films of previous years), as well as a return appearance of Russell Tovey from the "Crisis on Earth-X" crossover, and then suddenly Wil Wheaton is a doomsday prophet on the streets on National City on Earth-38, home to Kara Danvers and our heroes. This rapid fire cameo blast was a lot of fun, especially in the "blink and you'll miss it" sense. It also helped set up some real stakes: Earth-X is gone. (I mean, good riddance to the Space Nazis, but sad we'll never get to revisit the heroes there.) These other earths are gone. And Supergirl's universe is in danger.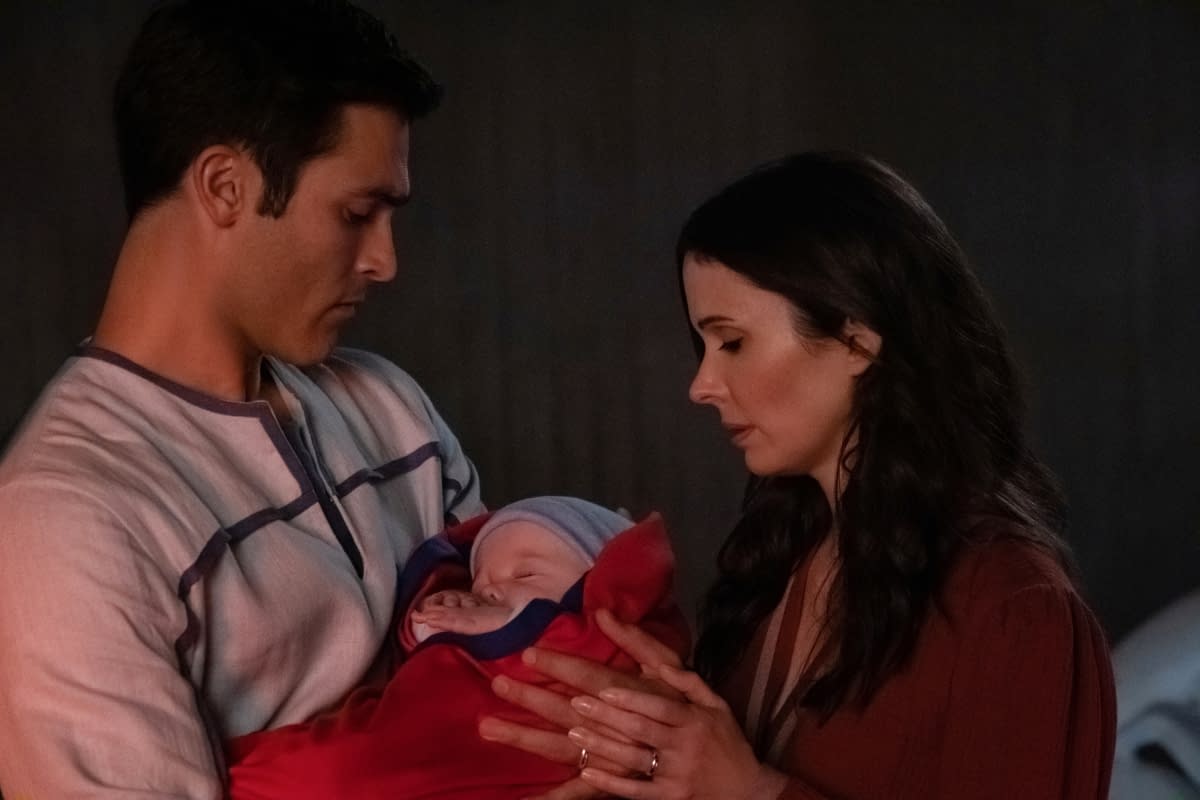 We then find ourselves on Argo, the planetoid holding a small Kryptonian enclavem including Kal-El/Superman (Tyler Hoechlin) and his wife Lois Lane and their infant son, Jonathan. As the red anti-matter wave rips across Argo, Lois and Clark put their son in a pod and shoot him into space, in many ways re-enacting the opening scenes of the Donner Superman film. It's such a beautiful touch, and, again, raises the stakes. Argo is destroyed. Kara loses her mother Alura (Erica Durance) for the second time.
And we only barely save Superman and Lois, thanks to the intervention of Harbinger. She zaps them, as well as Oliver Queen (Stephen Amell) and his daughter Mia (Katherine McNamara), The Flash (Grant Gustin), Ray Palmer (Brandon Routh) and Sara Lance (Caity Lotz), and Kate Kane/Batwoman (Ruby Rose) to the DEO headquarters on Earth-38 to make a stand.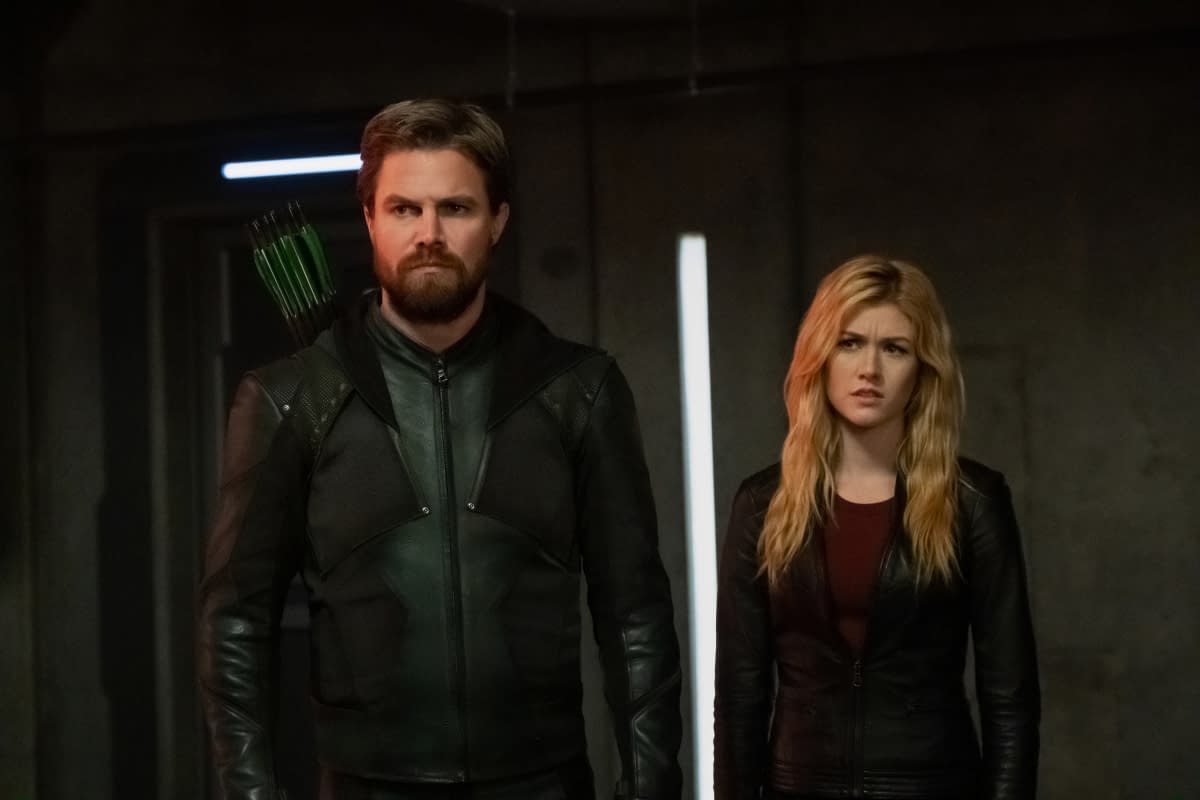 One of the aspects of this episode that is the most interesting and most important is that despite this being Supergirl's show, from the moment Oliver Queen appears, he takes over. He is at the center of this episode, for reasons we will soon see why.
There's an especially beautiful and touching moment where Oliver presents Mia with her own Green Arrow costume and tries to pass the torch to her. It's a great moment, and pays off in several instances in our final battle where father and daughter fight side by side, with Mia even assisting Oliver in several moments.
We also see world-weary Oliver, the weight of the universe on his shoulders, over and over and over. A tense confrontation with The Monitor about how he sacrificed himself so that Barry and Kara could live is a key moment for both him and our story. We also see another version of Oliver on a mission to Earth-16 and Star City in the year 2046, where baby Jonathan Kent's pod was blown off course through a temporal/interdimensional wormhole. When Lois, Brainy, and Sara end up confronting old man Oliver, he breaks down at the guilt he feels over Sara being lost on the Queen's Gambit all those years ago. (Also, in how many universes was Oliver cheating on Laurel with her sister? Most of them?) It's a great way to again pay homage to the long journey of Arrow and its foundation of this shared tv universe.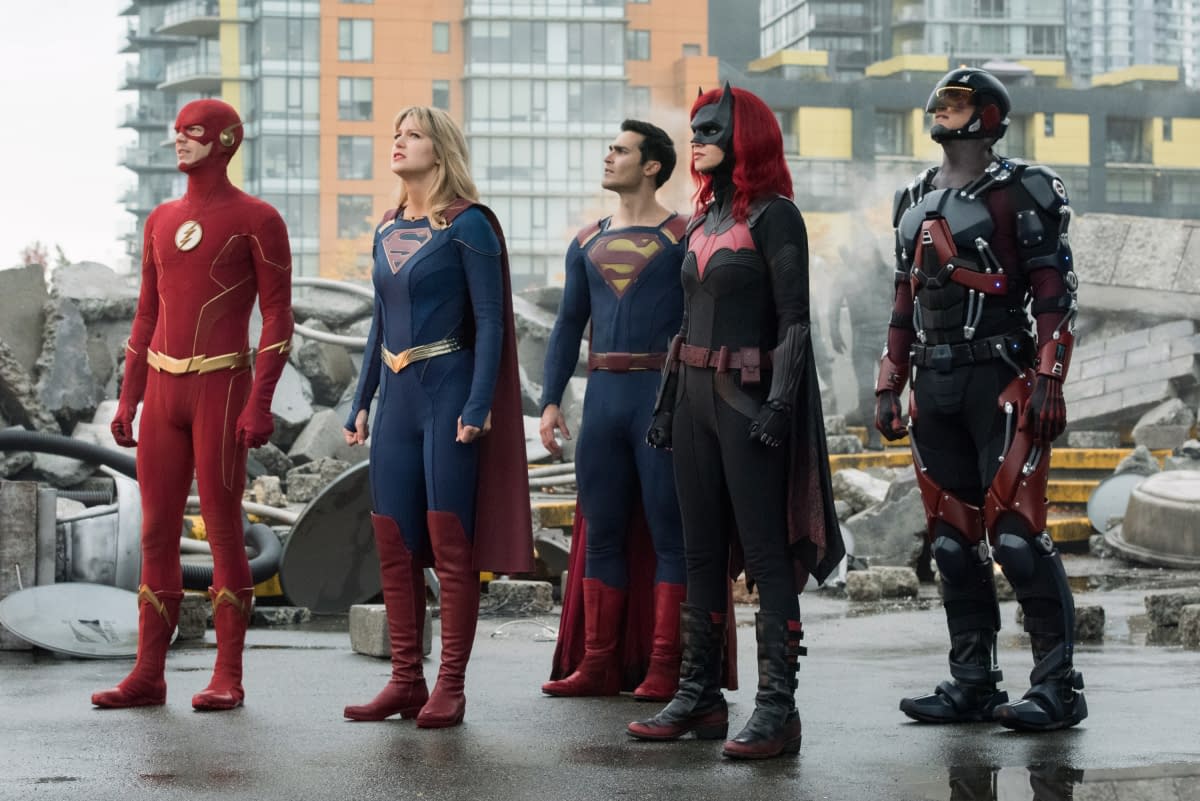 Meanwhile, back in National City, our heroes have to defend a giant quantum tower from an incoming army. The tower has the ability to hold off the antimatter wave, at least temporarily. But unsureof their ability to defend it indefinitely, J'onn enlists all of the aliens of the planet to load up their ships with refugees from Earth-38 to make their way to Earth-1.
To help them in their plans, Alex (Chyler Leigh) has to enlist Lena Luthor (Katie McGrath). It's a pretty intense few scenes, especially as Lena makes it very clear this doesn't make them friends.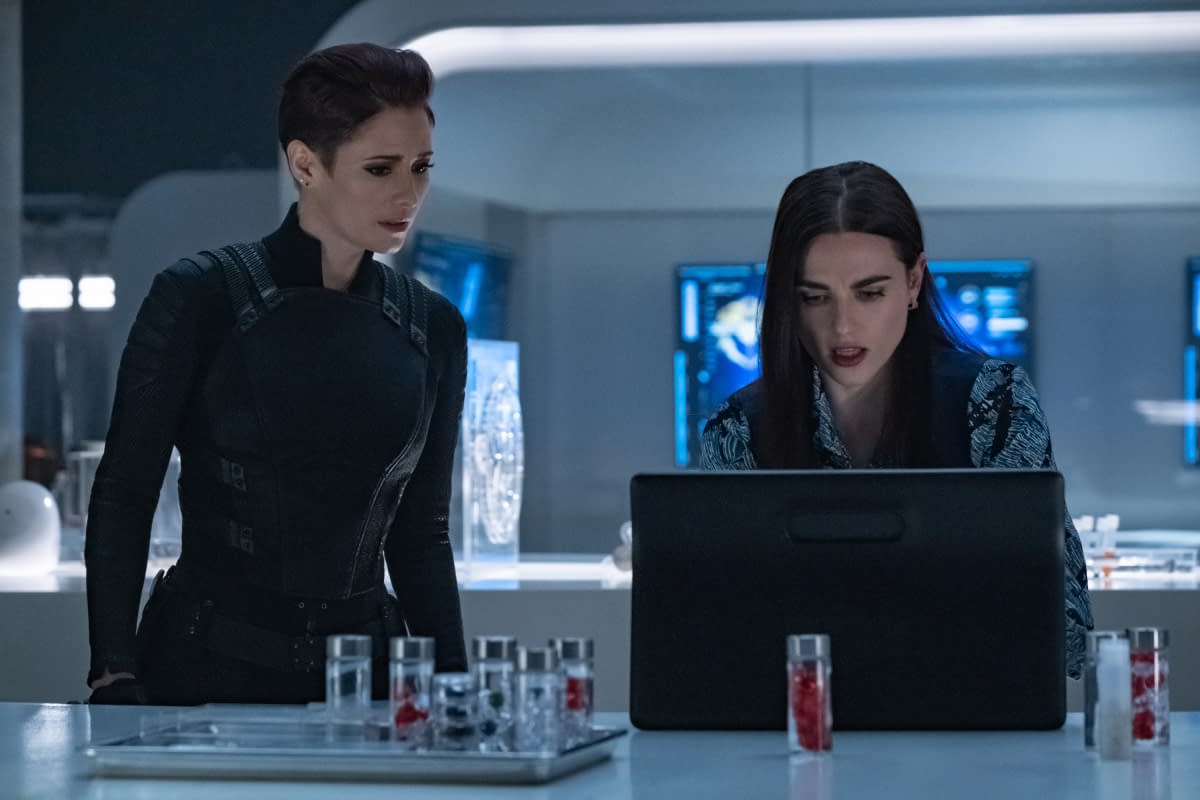 But we can't talk about this episode without discussing its final battle. Our heroes, vastly outnumbered but doing their best, fight back as many of the incoming horde of shadow demons as possible. There's some great team-up moments, including when Ray Palmer supercharges one of Batwoman's batarangs. We also get a nice cameo from Dreamer and Kelly Olsen. So when The Monitor comes and announces that the battle is lost and starts zapping our heroes back to Earth-1, Oliver takes a final stand and stays behind.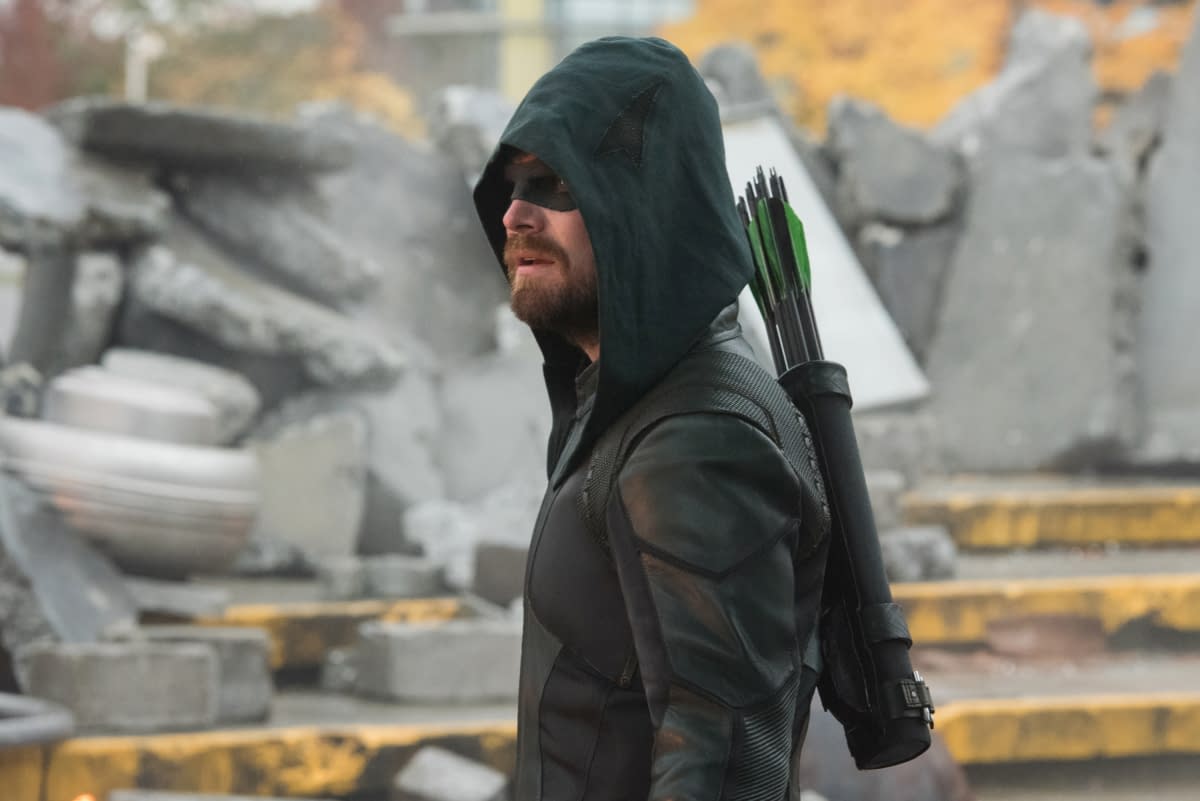 "He fought to his last breath, knowing every moment was another life saved… your universe is no more. Of 7.53 billion, only 3 billion souls made it to Earth-1 on the armada of ships. I calculate 1 billion souls survived due to his noble sacrifice."
Wow.
And with his dying words, Oliver tells his friends the carry on and for Mia to carry him in her heart always. And cue the waterworks from everyone.
This was especially gut-wrenching, as we knew Oliver was going to sacrifice himself for everyone else – but we didn't expect it so soon.
There's just not much more to say here. This was an amazing episode that far exceeded all expectations and contained numerous surprises. And we're back for part 2 just 24 hours later, same Bat time, same Bat channel, as "Crisis on Infinite Earths, Part 2" hits Batwoman Monday, December 9 at 8/7 CT.