Doctor Who: David Tennant Does Want to Go… Create His Own Podcast
David Tennant is one of the busiest actors on the planet. He's been the 10th Doctor on BBC's Doctor Who – still one of the most popular new Doctors. He's been part of the J.K. Rowling's cinematic Potterverse, with Harry Potter and the Goblet of Fire. He's been the lead in Russell T. Davies' Casanova. He's been in Chris Chibnall's Broadchurch and US remake Gracepoint – playing the same cop character in both. He's been Killgrave in Netflix's Jessica Jones, voiced Scrooge McDuck in an updated Ducktales animated series. He's currently starring in HBO's painfully unfunny remake of Julia Davis' comedy Camping, and about to co-star with Michael Sheen in Amazon Studios' upcoming adaptation of Neil Gaiman and Terry Pratchett's Good Omens.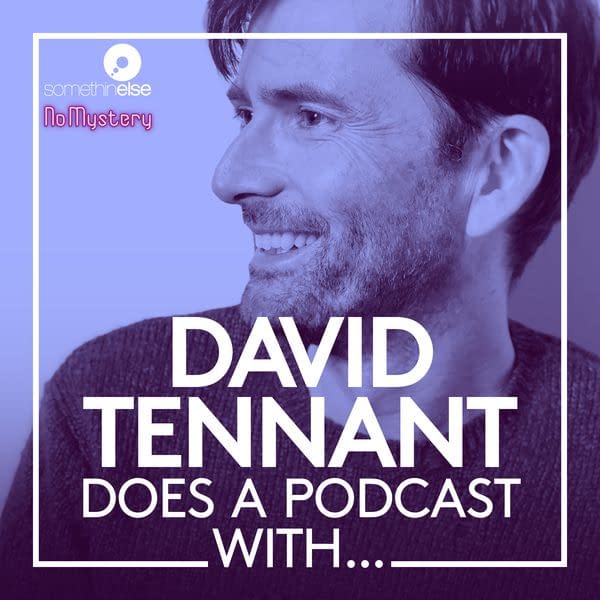 And somehow in between all this, he's launched a podcast – simply called "David Tennant Does A Podcast With…"
"Hello podcast-land, it's David Tennant here. Perhaps surprisingly, I find myself doing a podcast."
One of his first guests? None other than Jodie Whittaker! That's right, the 10th Doctor will be interviewing the 13th Doctor – with the pair having know each other since their Broadchurch days..
Who else will Tennant be talking to during this series? According to the trailer, the guests include Broadchurch co-star (and now Oscar nominee for The Favorite) Olivia Colman (who is probably the busiest actor on the planet – she's in everything!), Whoopi Goldberg; Good Omens co-star Jon Hamm; Jessica Jones star Krysten Ritter; Sir Ian McKellen; TBS late-night host Samantha Bee; other Good Omens co-star Michael Sheen; former British Prime Minister Gordon Brown; and I'm sure many other people we've all heard of.
Based on the teaser trailer, it sounds like he's already recorded many of the episodes in advance. The advantage of being a famous, popular and busy actor doing a podcast is that one can simply ask one's mates and colleagues to be guests on it – and why not?
The podcast has a Twitter account, and you can already subscribe to the show via iTunes. Somehow, I don't think it's in danger of getting lost among the millions of other podcasts out there – relegated to obscurity.
Hey, I've already subscribed. Why not give it a listen for yourself?