Gen V, Justice U, Sandman, Titans, 1923 & More: BCTV Daily Dispatch
"Joey, baby – don't get crazy/Detours, fences, I get defensive/I know you've heard it all before/So I don't say it anymore/I just stand by and let you/Fight your secret war/And though I used to wonder why/I used to cry till I was dry/Still sometimes I get a strange pain inside/Oh, Joey, if you're hurting so am I"… and so is the BCTV Daily Dispatch! With today's "Long-Distance Dedication" bringing us Concrete Blonde with "Joey," welcome back to Bleeding Cool TV's "big tent" look at what we've been doing for the past 24 hours that you might've missed or might want to check out again. We're talking about everything from news and reviews to interviews and opinion pieces- all for your television-obsessed enjoyment. Our line-up for this morning includes Amazon dropping a bloody first-look preview of The Boys spinoff Gen V (with some familiar faces), HBO releasing the official trailer for The Last of Us, HBO Max's Titans showrunner Greg Walker talking Conner Luthor & Jinx, Paramount+'s 1923 stars Harrison Ford, Helen Mirren & Peter Stormare discussing the "Yellowstone" prequel, Neil Gaiman checking in with CCXP with a Season 2 "thank you" teaser video and a deleted scene from Netflix's The Sandman (but only for the con crowd), David Ramsey offering some veiled good news regarding John Diggle & Justice U, and the Ahsoka "dream team" of Ashley Eckstein & Rosario Dawson have con reunion.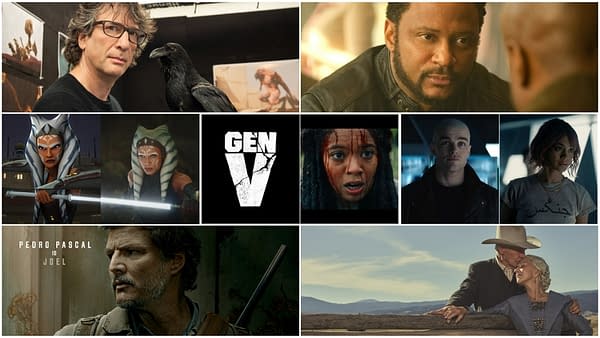 BCTV Daily Dispatch: Gen V, Justice U, Sandman, Titans, 1923 & More!
Plus, check out our additional coverage: Crunchyroll, Paramount Network's Yellowstone, Netflix's The Witcher: Blood Origin, Arrow/The Flash, Peacock's Irreverent, TNT's AEW Rampage, BBC's Doctor Who & lots more!
Now here's a look at your BCTV Daily Dispatch for Sunday, December 4, 2022:
Crunchyroll Announces More New 2023 Anime Series at Anime Frontier
Ahsoka "Dream Team" of Ashley Eckstein & Rosario Dawson Reunite
Justice U: Ramsey Offers Update; Teases Green Lantern "Long Story"
Gen V: Things Gets Bloody in The Boys Spinoff First-Look Teaser
1923: Harrison Ford, Helen Mirren Discuss Yellowstone Prequel Series
Titans Season 4: Showrunner Greg Walker Discusses Conner, Jinx & More
The Last of Us Trailer: Joel & Ellie's Journey Begins This January
Yellowstone Season 5 E05 Preview: John Changes Plans; Beth's Not Happy
The Sandman: Neil Gaiman Teases Season 2; Dream/Death Deleted Scene
The Witcher: Blood Origin Trailer: Every Story Has A Beginning
Arrow Star Stephen Amell: The Flash Final Season Return Would Be "Fun"
Irreverent: PJ Byrne Talks Peacock Series, Character Empathy & More
AEW Rampage Review: The Worst Episode of AEW Rampage This Week
Doctor Who: TARDIS Goodbyes Created Moments of Such Sweet Sorrow
The Boys, The Flash, Craig of the Creek & More: BCTV Daily Dispatch

Bleeding Cool TV on Instagram: For all of the stuff too random and bizarre to make the site, make sure to follow us on Instagram: Bleeding Cool TV (@bleedingcooltv).
BCTV Daily Dispatch: For a look at what's going on across the television and streaming landscape, sign up for Bleeding Cool's daily email round-up of the news you need to know here.