"Hawkeye" Set for Fall 2021, Jeremy Renner Dishes Details
The Marvel Cinematc Universe news came thick and fast at their panel during San Diego Comic Con. Head of Marvel Studios Kevin Feige brought Jeremy Renner on stage at Hall H to talk about the upcoming Hawkeye series.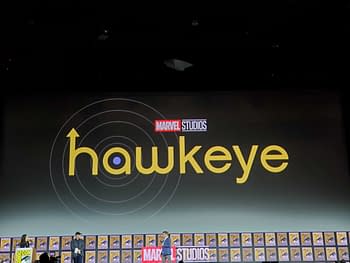 The Hawkeye logo looked like the same logo used for Matt Fraction and David Aja's acclaimed run on the comic.
Renner said the show would address Clint Barton's time as Ronin during the 5-year gap in Avengers: Endgame. The rest of the series would deal with Barton monitoring Kate Bishop to become his successor. This is of course based on what happened in the comics.
"What I get to do is shepherd a new character to be ultimately a better version of me." Renner said. "I get to teach someone else how to be a superhero without superpowers–which is an amazing thing because that means everyone can be a dang superhero, right?"
If you think "the passing of the torch" is the recurring theme of Phase 4, you could be right. There's a lot of that about in the movies and shows announced in the slate.
Alas, they didn't reveal who had been cast as Kate Bishop during the panel. We'll just have to wait and see.
Hawkeye will be streaming exclusively on Disney+ in Spring 2021.