"iZombie" Season 5 Episode 10 "Night and the Zombie City": To Nuke or Not to To Nuke, That Is the Question [SPOILER REVIEW]
This week's episode of The CW's iZombie "Night and the Zombie City" was very much reminiscent of the first season where we got a to follow the plot of a good old-fashioned murder and watch Liv (Rose McIver), Ravi (Rahul Kohli) and Clive (Malcolm Goodwin) work it from start to finish. While investigating the death of a private detective killed with an ice pick to the head which maintained central focus of the entire episode, Liv manages to find out her father is "Beanpole Bob," Washington decides against nuking 'New Seattle'; Fillmore-Graves gets infiltrated, supplies stolen, and Dolly Durkins (Jennifer Irwin) gets a powerful supporter.
Washington has a meeting to decide the fate of New Seattle… with General Mills (Andrew Kavadas) pushing hard to wipe them off them map, especially after witnessing his daughter Sloan on TV feasting on human flesh and then get killed. The ruling is that the petition should be put in writing, and the panel will reconvene within 48hrs to make their final decision. So now Seattle waits. Honestly, I'm not really sure why it has taken so long for them to decide for or against. Clearly the zombies of Washington have yet to make themselves known and are waiting for further guidance and next steps. Who will be zombified first? My money's on Mills…
https://www.youtube.com/watch?v=MtSuZcXkWL4
"You're responsible for turning me into a zombie!"
Ravi confesses to Liv rather bluntly – which I had to respect; I was worried it would take three more episodes for him to get the courage to confront her about "Beanpole Bob" being her father. Liv takes it as well as expected and immediately runs to Martin (Bill Wise) to confront him a fact that he does not deny, however with puppy dog eyes looks her in the face and tells her that is not the man he is today – ok, and I am Santa. Liv demands the formula to the Utopium batch which created the zombie virus, dear old dad says he was a junky back then, and no longer remembers it. What else is left for Liv to do but storm off, I guess a choke hold was not an option, we are jut taking perps at their words these days aren't we.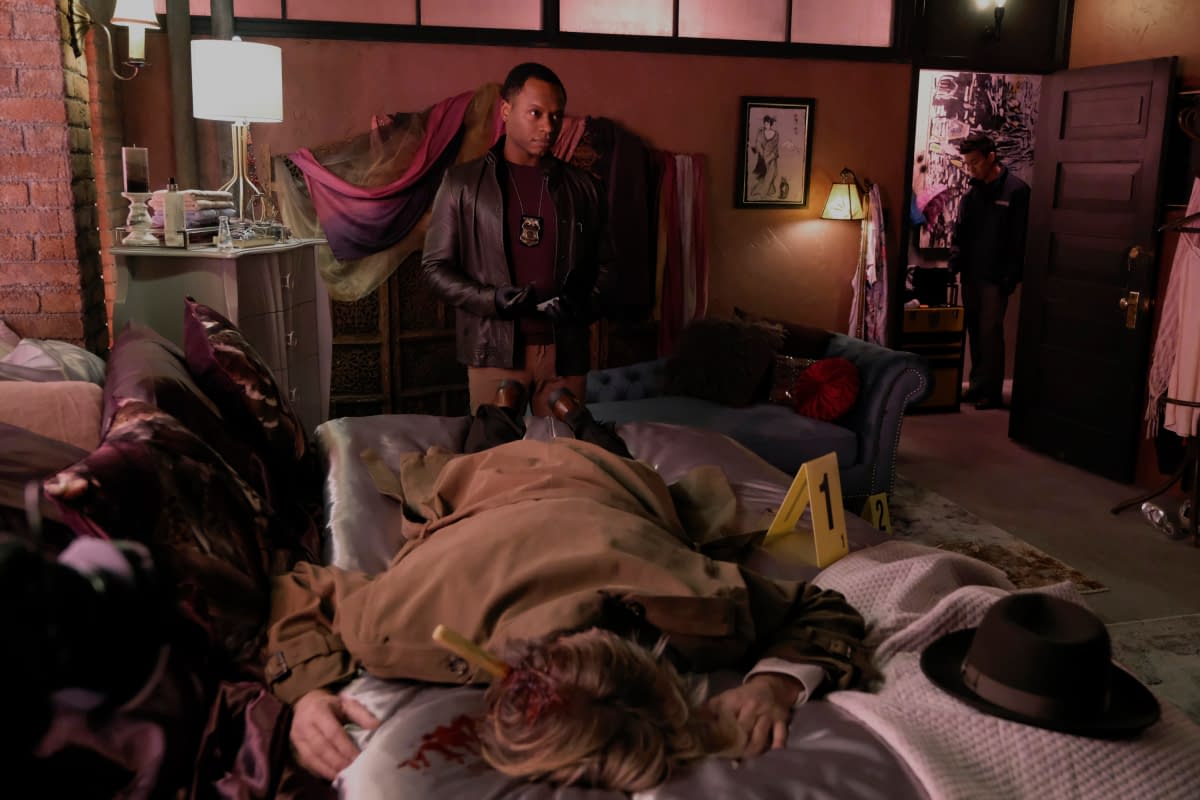 "Wipe your tears, kid. In this town, there will be more where they came from."
Frank Chisel is this week's victim, a private dick killed with an icepick to the head. Liv cooks up his brains and serves them as deviled eggs (a nice choice), puts on a trench coat and switches to black and white mode. The investigation leads Liv, Ravi and Clive to one still living waitress and a dead hooker. Using some rather 'skillful' deductive reasoning Bunny, the hooker did not do it. It was real nice to see the three of them investigating so closely again together and for the duration of the entire episode, such amazing on screen chemistry. A major motive is discovered worth killing for; Frank had on his person a vile of the cure. Blaine (David Anders) too gets wind of this when he kills and eats the brain of Jane aka the waitress and the killer. Blaine and Liv run parallel not so by the books searches of the stashed cure leading to some interesting confrontations.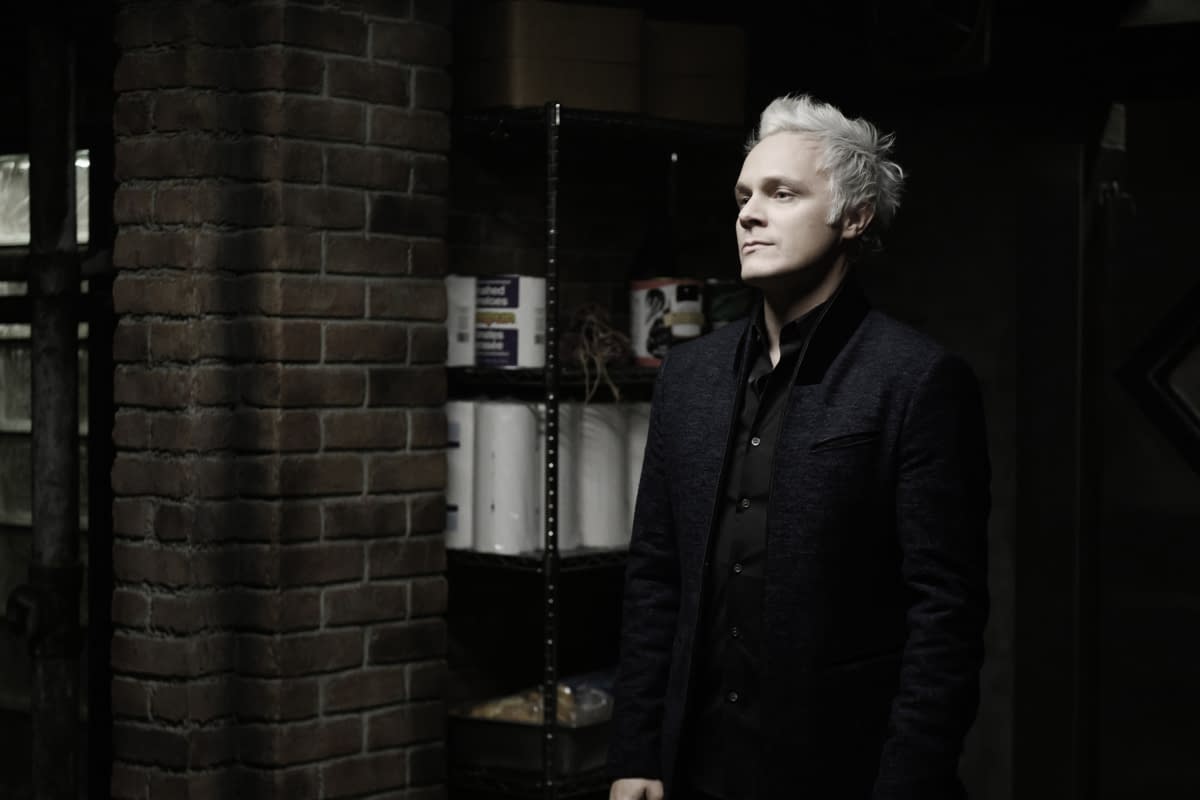 "Who are you, Jane… and what are you up to?
Blaine gets frustrated over the slow-moving process of having the Freylich children kidnapped, apparently they are not so easily found. He demands that more manpower is put on this. He has bigger problems when while on Jane's brain he gets brought in for questioning for her murder, is caught by Liv breaking in to Frank Chisel's office and then slams Liv in the face with a frying pan putting her in to full zombie mode, something which for me was fun to see since it rarely happens. Just as Liv is about to be taken down by Blaine and Cry Baby, Clive swarms in with troops in tow to save the day. Blaine in typical 'cover his own ass' mode says he will testify to Cry Baby killing Jane.
Meanwhile Martin comes to the morgue to pay Ravi a visit and offer his assistance in recreating the zombifying Utopium batch. Here is where I got a little thrown off, Ravi has always been very protective of Liv and suspicious of others, and yet, he takes Martin at his word, and runs his mouth about the Max Rager super drink supply being stashed at Fillmore Graves. Why give away so much information, why give away anything at all and then tell Liv that Martin "was very helpful", something that Liv in private dick mode was hesitant to believe.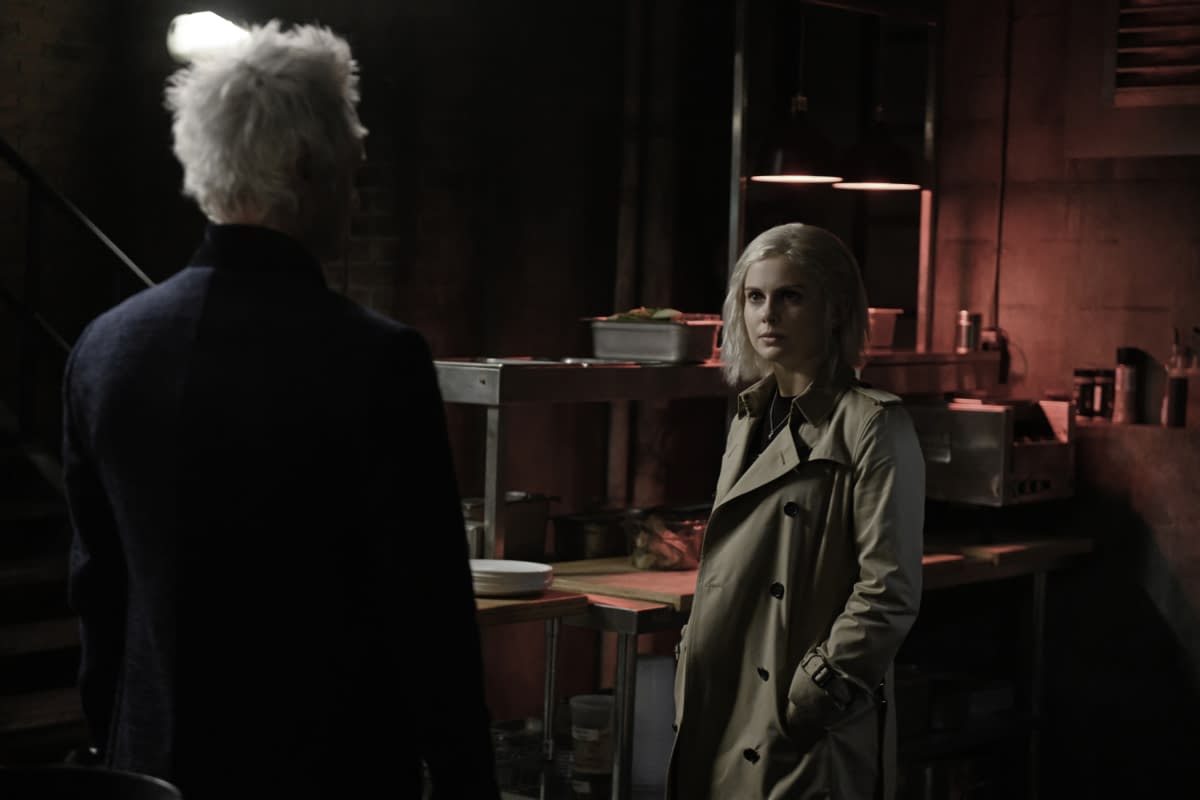 "All the pieces of our zombie plan are in place"
Upon getting ready to leave F-G, Major (Robert Buckley) bumps into the new janitor in the locker room. After an earlier conversation about issues with key cards with one of his soldiers he is given pause when he notices that the janitor has two key cards in his possession. He immediately questions the man who proceeds to run headfirst in to a towel hook, guess he won't be giving the answer up. Martin in turn celebrates with his team the possession of the Max Rager super drink and just how strong it has made his imprisoned and starved zombies – go team zombie takeover, they really will be setting the new world order in motion.
"All those in favor for launching 'Seattle Salvation'?"
While Peyton (Aly Michalka) bombs miserably at karaoke and Don E (Bryce Hodgson) proposes to Darcy, Washington comes to a consensus via tie breaker to not wipe Seattle off the planet. It appears that 6 to 5 believe zombies are not that much different than humans and can get violent for the same reasons. General Mills however is not on board, and contacts Dolly to talk strategy and assistance – very interested how this will play out.
I love the cliffhanger ending of this week's episode. Ravi and Liv break in to Martin's home and make their way into the basement to look for possible original traces of Utopium. They quickly find it labeled and dated – guess dad remembered the formula's after all – shocker. Pocketing a box they hear footsteps upstairs – being unable to make a quick getaway, they pull back a curtain and find the stashed celled zombies. Let's see how dad talks his way out of this one, or will he just attempt to kill Liv and Ravi?
With three episodes remaining and the decision to not nuke Seattle in play, the only thing left is for war to break out on New Seattle's front porch. I am very curious to see the zombie outbreak happen in Washington and how that will or will not be contained. Ravi too is now very close to having the cure at his fingerprints, will he create it in time and will it even matter?
iZombie season 5, episode 11 "Killer Queen": LIV GOES OLD SCHOOL – Liv (Rose McIver) and Clive (Malcolm Goodwin) investigate the death of an old school drag queen which leads Liv to eat and shift into the queen's brain. Meanwhile, Ravi (Rahul Kohli) reaches out to Major (Robert Buckley) with an interesting request. David Anders, Aly Michalka and Bryce Hodgson also star. Jude Weng directed the episode written by John Enbom & Kit Boss
CW's iZombie stars Rose McIver as Olivia "Liv" Moore, Malcolm Goodwin as Clive Babineaux, Rahul Kohli as Dr. Ravi Chakrabarti, Robert Buckley as Major Lilywhite, David Anders as Blaine DeBeers, Aly Michalka as Peyton Charles, and Bryce Hodgson as Don E. Filmed in Vancouver, British Columbia, Rob Thomas, Diane Ruggiero-Wright, Danielle Stokdyk, and Dan Etheridge serve as executive producers. Production is handled by Bonanza Productions Inc., in association with Spondoolie Productions and Warner Bros. Television.
iZombie airs Thursday nights at 8 p.m. ET/PT on the CW.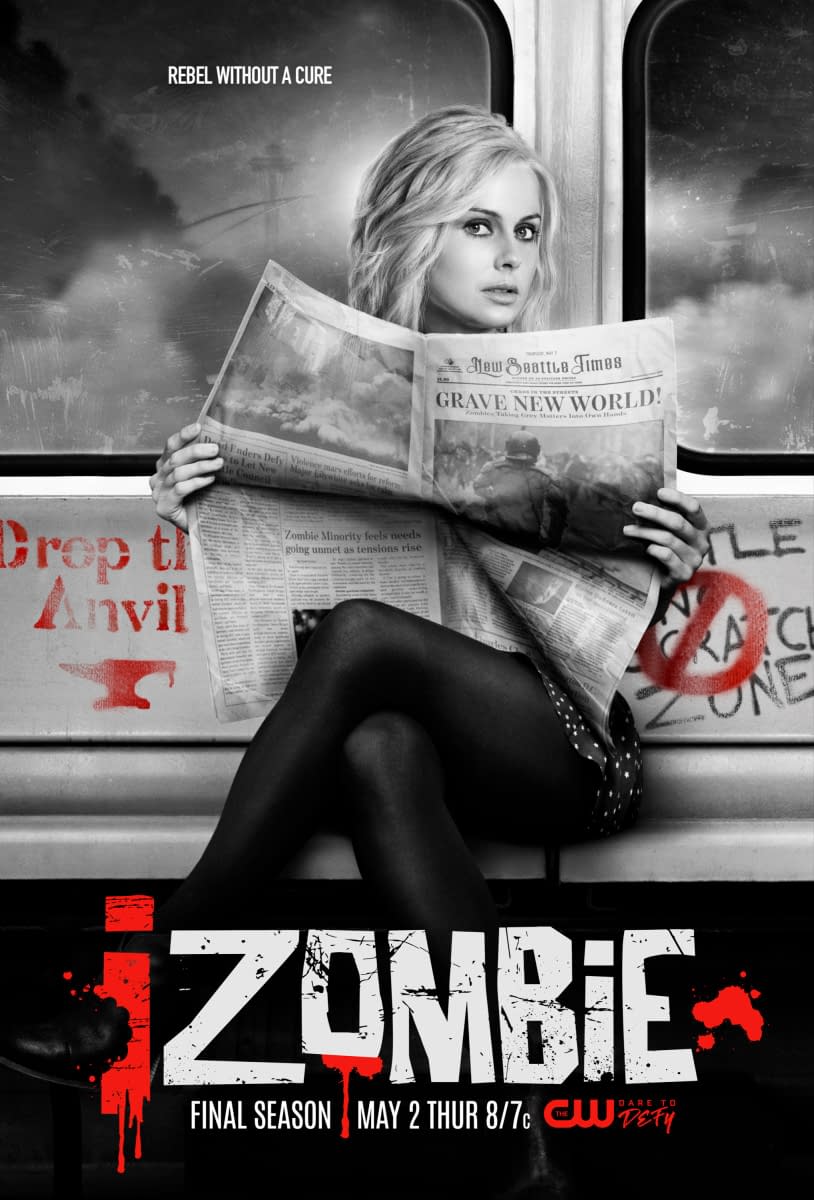 Aside from an avid iZombie fan, Margo Staten is a Ukrainian born, raised in Brooklyn, organically driven, coffee loving, twice-divorced mother of one baby Einstein. Has a passion for books, yoga in the park and all things 80's and New Orleans.